US Army Garrison Japan to begin flu vaccinations next week; nearby Yokota Air Base reports delay
by
Erica Earl
September 29, 2020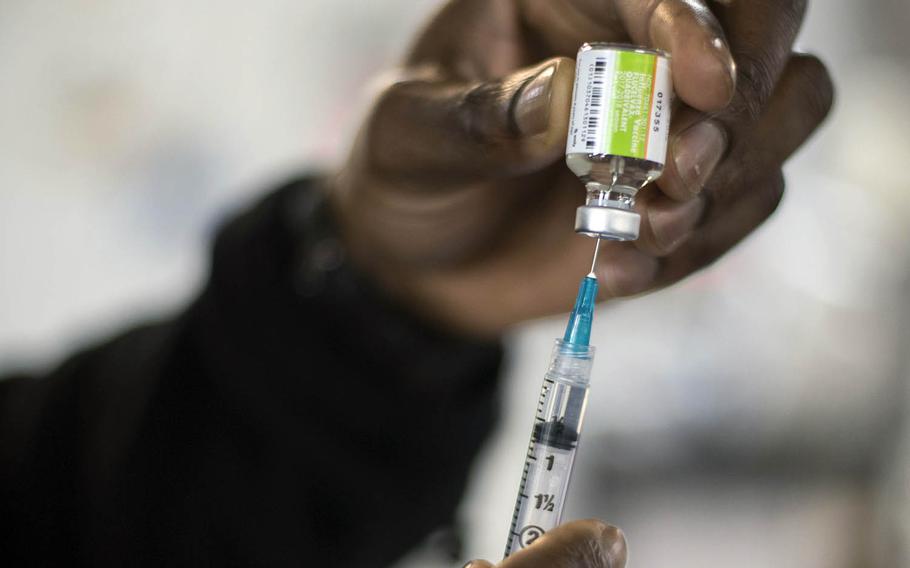 Stars and Stripes is making stories on the coronavirus pandemic available free of charge. See other free reports here. Sign up for our daily coronavirus newsletter here. Please support our journalism with a subscription.
TOKYO — U.S. Army Garrison Japan will start dispensing flu shots at Camp Zama early next week, the commander of the U.S. Army Medical Department Activity Japan said at town hall Tuesday.
Meanwhile, at nearby Yokota Air Base in western Tokyo, the 374th Medical Group announced Monday on Facebook that its vaccines would be delayed. The medical group did not respond to requests for further information.
"Our Immunizations Clinic is receiving numerous inquiries regarding flu shot availability," the medical group said on Facebook last week. "We will make a public announcement when the flu shot is available as well as rules of engagement for patients to receive their annual flu shot."
As of Tuesday, the Army had announced shot clinics only at Camp Zama.
"We will be administering the flu vaccine on time," said Col. Tanya Peacock, commander of U.S. Army Medical Department Activity Japan. "We are one of the few medical facilities within the region that has all of the flu vaccines that we requested."
This year's flu season coincides with the coronavirus pandemic, and military medical authorities must balance the need to administer the shots while reducing the risk of spreading the coronavirus. Army medical clinics are tailoring their shot clinics to reduce the coronavirus risk by mandating social distancing, masks and other measures.
At Camp Zama, flu shots for service members and "emergency essential" civilians will be available 8 a.m. to 4 p.m Oct. 6 to Oct. 8, according to a base Facebook post Tuesday.
Family members and Defense Department civilian employees will be vaccinated Oct. 17 at the Community Recreation Center and Oct. 24 at the School Age Center at Sagamihara Family Housing Area, according to the base. Times are 8 a.m. to 4 p.m. both days.
Flu shots will not be administered to students and staff at any Defense Department schools due to coronavirus precautions.
Maximum participation in the flu drive will ensure medical clinics are not overwhelmed with flu patients who would also need coronavirus tests, said Col. Marshall Mendenhall, the deputy commander for clinical services at Camp Zama, during Tuesday's town hall.
"Because the symptoms of the flu and COVID are very similar, anyone who has a fever is obligated to test for COVID-19," he said, referring to the respiratory disease caused by the coronavirus. "To help with our available resources and clinic access, it is wise to have as many people as possible get the influenza vaccine."
A flu vaccination does not safeguard against the coronavirus, Mendenhall said, but it does reduce the risk of influenza, and therefore the risk of suffering from both illnesses at the same time.
Patients may simultaneously contract the flu and the coronavirus, as well as other respiratory illnesses, according to the U.S. Centers for Disease Control and Prevention.
This year, the vaccines will target four viral strains: H1N1, H3N2, Victoria lineage and Yamagata lineage, according to the CDC website. September and October are optimal months for flu vaccinations; however, they are useful anytime the flu is circulating, even as late as January and February.
In South Korea, Army medical centers are scheduled to begin flu vaccine drives in mid-November, according to a news release from the 65th Medical Group on Camp Humphreys.
Vaccination procedures will include stationing patients six feet apart, and mandatory masks, the release said. Also, no one may enter the clinic other than those receiving the vaccine, with the exception of parents or guardians accompanying patients younger than 18.
Stars and Stripes reporter Matthew Keeler contributed to this report.
earl.erica@stripes.com Twitter: @ThisEarlGirl