U.S. soldier gets 10 years in rape of Korean teenage girl
by
Yoo Kyong Chang Jon Rabiroff
November 1, 2011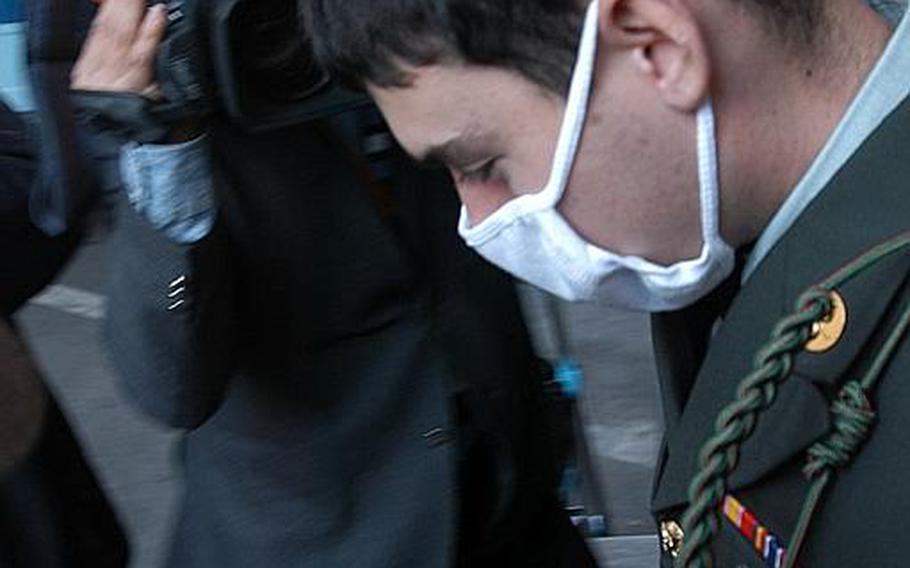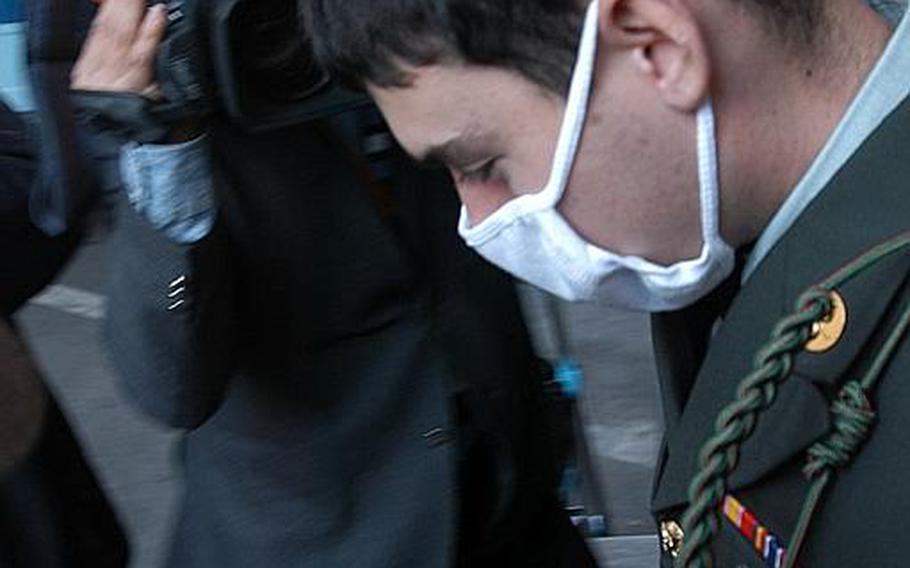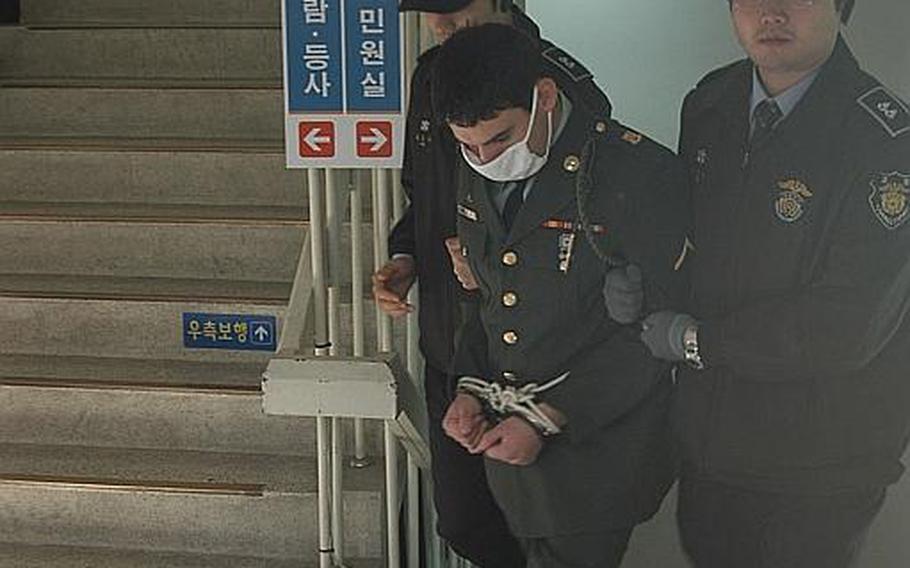 UIJEONGBU, South Korea – A U.S. soldier was sentenced in Korean court Tuesday to 10 years in prison for what the judge described as "sadistically and pervertedly" raping a 17-year-old South Korean girl.
Pvt. Kevin Lee Flippin, 21, nodded his head repeatedly as a translator told him what Uijeongbu District Court chief judge Park In-sik was saying.
"This is a very atrocious act... (that) should be punished very severely," the judge said.Prosecutors had recommended Flippin receive the maximum sentence of 15 years in prison for the crime that — along with a handful of other recent violent incidents involving American servicemembers — has prompted anti-American protests here and calls for revisions to the U.S.-South Korean status of forces agreement.
Some protest groups and news organizations have suggested South Korean authorities should have greater access to, and control over, the handling of U.S. servicemembers stationed on the peninsula who are suspected of crimes.Flippin's attorneys had asked for leniency on the grounds that the defendant was drunk at the time of the attack, but Park said "your contention will not be accepted" because of the severity of the crime.The victim, who was hospitalized for an extended period for physical and mental treatment, sustained "very deep psychological pain," Park said.On the opening day of his trial last month, Flippin admitted responsibility for the Sept. 24 rape and robbery of the girl in a dormitory-style apartment and hotel building near Camp Casey in Dongducheon.Flippin told the court that he had been drinking vodka and whiskey with friends before getting separated and wandering the halls of the Jihaeng goshitel. A closed-circuit video introduced as evidence in the case showed Flippin trying to open several doors before entering the victim's unlocked room.The soldier then slapped the victim and raped her multiple times, while threatening her with a knife and pair of scissors he found in the residence, according to court testimony. The victim fought back, sustaining injuries to her hand, and was dragged through the room during the attack. At one point, Flippin punched the victim and then burned her breast with a lighter, he told the judge during the trial.Flippin remained in the apartment for four hours and upon sobering up, begged for forgiveness. At some point during the night, Flippin also stole the victim's wallet, which contained 5,000 won, or about $4, according to testimony."I was wrong, I know. It's not an excuse," Flippin said during the trial.He made no comments during Tuesday's sentencing.As part of his sentence, the judge directed that Flippin receive 80 hours of "sexual behavior modification treatment."Maj. Gen. Edward C. Cardon, commander of the 2nd Infantry Division, issued a statement after the sentencing that said, "Our sincere apologies go out again to the victim, her family and the Korean community. "The 2nd Infantry Division has been proactive in its efforts to reduce crime," he said. "We have conducted and will continue to emphasize comprehensive sexual harassment prevention training, responsible alcohol use and cultural training with all of our soldiers."In addition, Cardon pointed out that U.S. Forces Korea commander Gen. James Thurman reinstated a curfew in the wake of Flippin's arrest, "and we have increased our joint patrols surrounding our installations."The sentence was the most severe handed down for a U.S. servicemember in South Korea in nearly 20 years, according to the Yonhap News Agency. In 1992, a soldier was sentenced to 15 years in prison for raping and killing a South Korean sex worker, the news agency reported.Before the last month's hearing, about 20 protesters gathered outside the courthouse and called for an immediate revision of the status of forces agreement, as well as an apology from President Barack Obama for Flippin's actions.The U.S.-South Korea status of forces agreement allows servicemembers to be turned over to South Korean custody if servicemembers are suspected of heinous crimes and law enforcement officials request it, which is what happened in Flippin's case. In lesser cases, suspects remain in U.S. custody but must be made available to investigators.When contacted after the sentencing, the leader of one protest group - Hwang Soon-won of the Korea People's Power - said, "I am sorry that (Flippin) was not sentenced to 15 years ... because his crime was grotesque and it hurt the girl mentally and physically, which will affect her until she dies."There were no protesters on hand Tuesday, but more than a dozen South Korean media representatives were in the courtroom during the sentencing.Flippin, of the 2nd Infantry Division's 6th Battalion, 37th Field Artillery Regiment, was dressed in his Army uniform and wearing a surgical mask as he was led in and out of the courthouse in handcuffs.rabiroffj@pstripes.osd.milyookyong.chang@pstripes.osd.mil