Two sub commanders relieved of duty in past week
by
Erik Slavin
September 20, 2010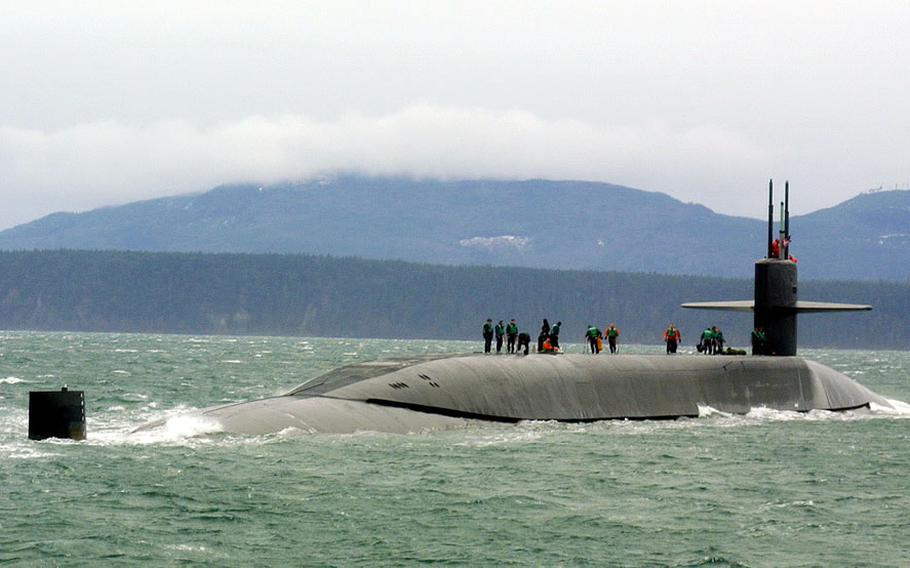 YOKOSUKA NAVAL BASE, Japan — The commanding officer of the guided-missile submarine USS Ohio was removed Friday, marking the second firing of a prominent officer in the submarine community in the past week.
Capt. Ronald Gero, commanding officer of the Ohio, was relieved by Rear Adm. James Caldwell due to a loss of confidence in Gero's ability to command, according to a Navy news release.
Gero became the 15th commanding officer to be relieved by the Navy this year. The 14th firing came Sept. 14, when Capt. David Solms was removed as head of the Trident Training Facility in Bangor, Wash.
The Navy did not disclose a reason for Solms' removal in its news release, but a Navy spokesman cited "inappropriate personal behavior," according to a Navy Times report last week.
Personal conduct has played some role in at least 11 of the 15 firings, according to Navy officials in past Stars and Stripes reports.
Sub Group 9 spokeswoman Lt. Kellie Randall told The Associated Press that on Friday Gero went before an admiral's mast, a nonjudicial hearing for offenses that do not rise to the level of court-martial. Caldwell determined Gero had violated Navy regulations for "conduct unbecoming of an officer and a gentleman."
Gero first came under suspicion during a Navy investigation into allegations of "inappropriate personal behavior," the Navy said.
Gero has been temporarily assigned to administrative duty within the sub group and no final determination has been made about his future, Randall said, according to the AP. She declined to provide further details, but said no one else was involved in the offense and it had nothing to do with submarine operations.
The Bangor-based USS Ohio, first of the Navy's Trident ballistic missile submarines, was converted in 2006 to carry Tomahawk cruise missiles with conventional warheads, instead of nuclear missiles. It has two alternating crews — Blue and Gold — and Gero commanded the Blue crew.
Cmdr. Theodore Schroeder, deputy commander of Submarine Squadron 19, has assumed command of the Ohio until a permanent replacement is named, according to the Navy. Schroeder previously commanded USS Pennsylvania.
Solms has been temporarily reassigned to Commander Navy Region Northwest, the Navy said in a release. Cmdr. Geoffrey James will serve as interim commanding officer pending selection of a permanent replacement for Solms, the Navy said.
---
---
---
---