Troops leave Korea with a little piece of history
---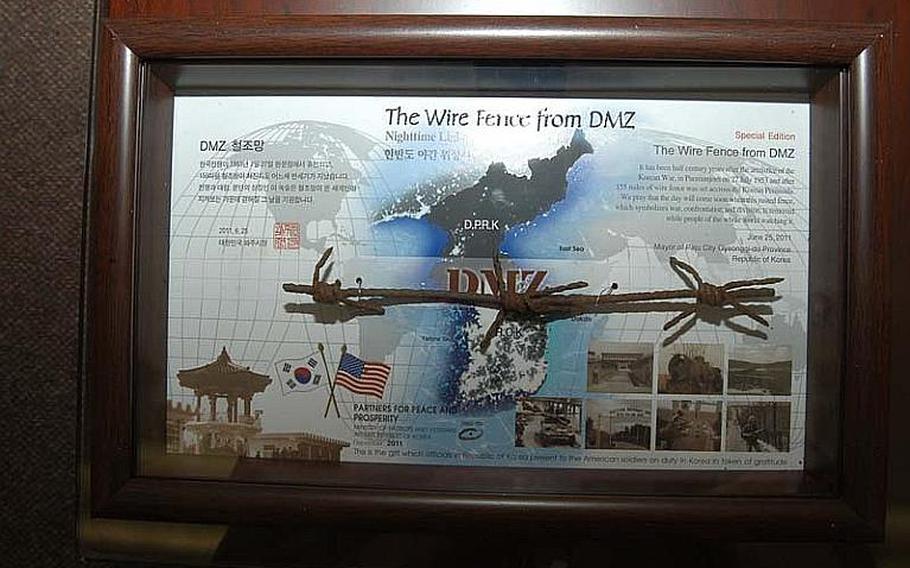 SEOUL - If you're looking for a souvenir, Mardi Gras has its beads, Florida has its Mickey Mouse ears, and South Korea has ... barbed wire?
U.S. troops who serve in South Korea are sent home with an unusual memento to mark their time on the peninsula: a plaque featuring a piece of barbed wire from the Demilitarized Zone.
The gifts - an unusual gesture from a host country - are quite popular with the troops, according to Steve Tharp, the chief of strategic outreach for U.S. Forces Korea's Public Affairs Office.
"To me, the barbed wire is not a big deal," Tharp said, recalling how as a young soldier on patrol while stationed at the DMZ, "I cut my shin on this enough times."
However, he said, "People seem to think this is something pretty neat … because it is something that comes out of the DMZ."
A Korean Ministry of Patriots and Veterans Affairs official, who asked that his name not be used, said the agency began giving gifts to U.S. servicemembers on an annual basis starting in 1989. That same year, the Berlin Wall came down, and pieces of it - like the barbed wire between the Koreas, a symbol of divide - became coveted souvenirs.
"We present them as a token of our appreciation," he said. "They are signs of our gratitude."
Past gifts have ranged from coffee mugs to a framed traditional Korean Hahoe mask or a Korean musical instrument, called a janggu. But, the barbed wire seems to be the biggest hit.
Ever the gracious hosts, the South Koreans asked for U.S. input on what makes the best gift.
"They asked us (last year), 'Hey, what do you guys think?'" Tharp said. "I said, 'I think we ought to go back to the barbed wire. Everybody likes that.'"
The Korean official said the plaques reflect the reality that North and South Korea are divided, but also the hope that the barbed wire will someday come down and the peninsula reunite.
The barbed wire on the plaques is actually from the DMZ, he said, set aside for the souvenirs when old wire is replaced with new. The plaque also features a satellite photo of the Korean peninsula and the American and South Korean flags.
"When they go back to the U.S. and look at the plaques, we hope they remember that South Korea is a special country," he said.
The agency official said more than 20,000 plaques were distributed over the past year at a cost of about $100,000.
---
---
---
---