Thousands of ammo rounds found on former military golf course on Okinawa
by
Chiyomi Sumida David Allen
September 17, 2010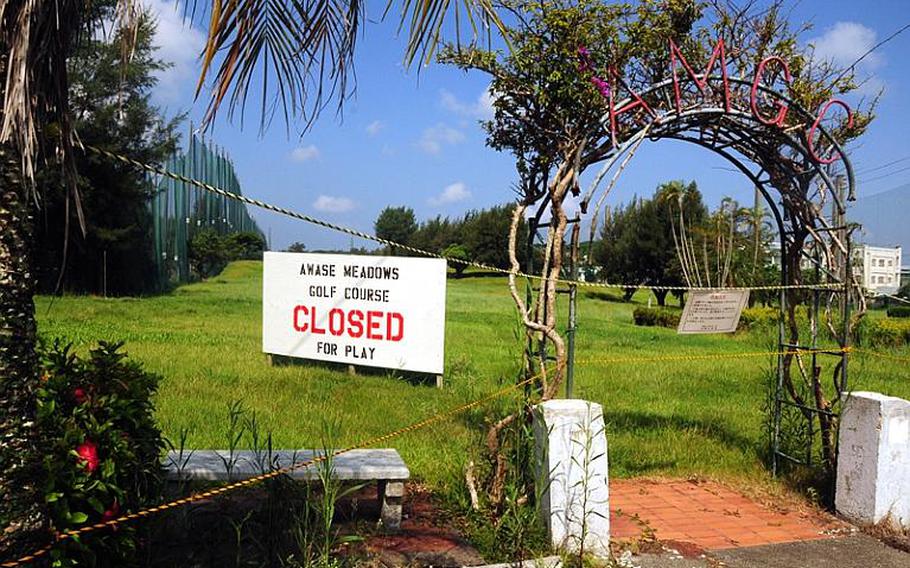 KITANAKGUSUKU, Okinawa — Sand traps aren't the only hazards being found on a former Marine Corps golf course here.
As of Friday, a World War II land mine and almost 8,940 rounds of various other munitions had been discovered during an ongoing magnetic survey of the 116 acres that was once the Awase Meadows Golf Course. According to Japan's Ministry of Defense Okinawa Bureau, the ordnance was detected in preparation for building what will be Okinawa's largest shopping mall.
Thirty-five 75 mm to 155 mm artillery rounds, 5,480 rounds of small-arms ammunition, and 26 signal flares, much of it corroded, were found on the site, an Okinawa police spokeswoman said.
About 2,500 rounds have already been removed by a Japan Ground Self-Defense Force disposal team.
Awase Meadows Golf Course was built in 1948 by the U.S. Army and was most recently operated by Marine Corps Community Services. It was closed in February and turned over to Japanese control in June as part of a 1996 agreement to return 21 percent of the U.S. military property on the island.
The discovery of unexploded ammunition dating from the Battle of Okinawa in the spring of 1945 is common on Okinawa, where the 83-day battle is called the "Typhoon of Steel."
"This is what we expected," said a spokesman for the Okinawa Bureau of Japan's Ministry of Defense. "That is why the survey is part of the restoring operation."
The ordnance was found between 18 to 40 inches underground throughout the golf course.
"We were shocked at the huge amount of ammunitions found through the magnetic survey," said Kanehiro Nakadomari, chief of the Awase Gold Course Re-development Project Promotion Team. "No one knows what may lay deeper underground."
The area is scheduled to be developed in several phases and will be centered around a shopping mall that will cover 46.8 acres, said Noboru Yamakawa of the Awase Landowner's Association. The mall will include a three-story building to include more than 150 shops and a movie theater. A hospital and housing developments also are planned.
Munitions recovery should be completed by the end of September, after which a cultural assets survey will be conducted, officials said.
"If all goes well, the re-development project should begin in 2012," Yamakawa said.
However, he remains troubled by the discovery of the ammunition and is worried soil might also be tainted by chemical waste. "We must make sure that all the hazardous materials are removed by the government," he said.
Okinawa officials say such concerns are a reminder that their demands for changing the U.S.-Japan Status of Forces Agreement have yet to be answered.
The SOFA exempts the U.S. military from any responsibility for the environmental cleaning of base property slated to be returned, said Susumu Matayoshi, director general of the governor's executive office.
"The [U.S.] military should be responsible," he said, adding that the Japanese government should also compensate landowners when the discovery of munitions and hazardous materials result in delays in reutilizing their land.
---
---
---
---