Study: Nuke-powered ships could save money if oil prices soar in long term
---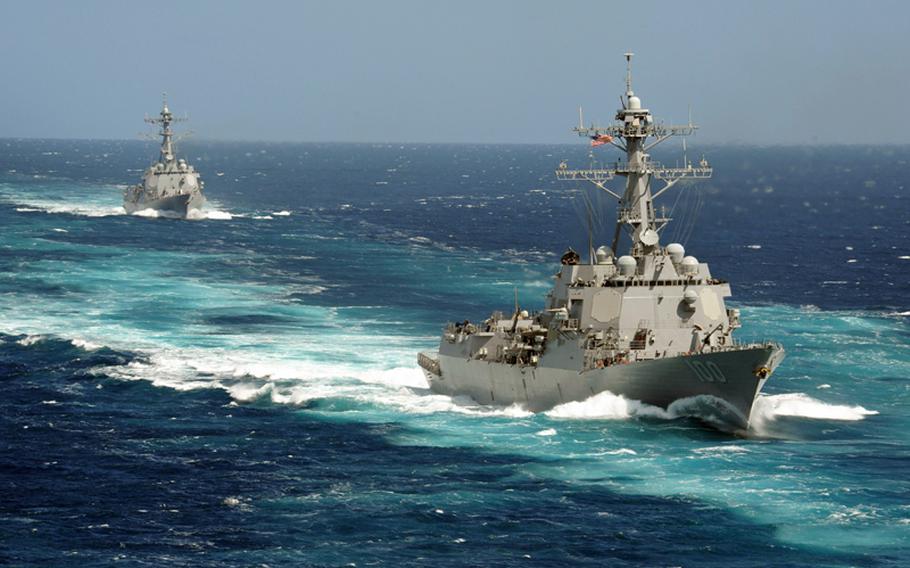 YOKOSUKA NAVAL BASE, Japan — The Navy could save money by converting its destroyers and amphibious ships to nuclear power if the price of oil climbs significantly in the next 30 years, according to a congressional study released this month.
However, a small but consistent increase in oil prices would leave an alternative nuclear fleet costing billions more than fuel-powered ships, according to a May 2011 study by the Congressional Budget Office.
All of the Navy's active aircraft carriers and submarines are nuclear powered, but its other ships still run on conventional fuel.
The 39 destroyers the Navy plans to build by 2040 would cost less to build with nuclear reactors if the price of oil steadily climbs to $223 per barrel by 2040, according to the report. The estimate is based on 2011 dollars and assumes inflation would increase the actual figure.
The Navy's five planned amphibious assault ships, which serve as helicopter carriers and transport for Marine expeditionary units, would become cost-effective with nuclear power if oil rose to $140 per barrel by 2040. The service's 12 planned amphibious dock landing ships would only offer savings if oil climbed to $323 per barrel in the same time frame.
"If oil prices rose substantially in the future, the estimated savings in fuel costs from using nuclear power over a ship's lifetime could offset the higher initial costs to procure the ship," according to the report.
The study was requested during the previous Congress by the Subcommittee on Seapower and Projection Forces of the House Committee on Armed Services. The Navy has not announced any plans or asked contractors to bid on nuclear-powered ships in its pipeline.
The study results do come at a time when the Navy is increasingly looking to non-oil alternatives to power its operations.
During a March 2 speech on renewable energy at National Harbor, Md., Secretary of the Navy Ray Mabus noted that for every dollar increase in the price of a barrel of oil, the Navy spends an additional $31 million for fuel.
The alternative nuclear fleet would use about 5 million barrels of oil less per year, reducing the Navy's current yearly oil consumption for ships and aircraft by about 15 percent, the report stated.
The report notes that projected costs are based on oil price projections that are notoriously difficult to pin down.
Spot prices of West Texas Intermediate crude oil traded at $99 per barrel as of Tuesday. Prices have ranged between $34 and $147 since 2008, with rapid fluctuations, according to market data.
The Congressional Budget Office's more conservative projections assume an average price of $86 per barrel of oil for 2011, and a one percent increase over the inflation rate annually through 2040.
At that rate, nuclear-powered destroyers and dock landing ships would cost an additional $19 billion combined, while the five amphibious assault ships would cost $600 million more than conventional ships.
From an energy security perspective, nuclear-powered ships do allow the Navy to be less dependent on imported oil. The disadvantages would include "concerns about proliferating nuclear material that would arise if the Navy had more ships with highly enriched uranium deployed overseas," according to the report.
---
---
---
---