State Dept. official in Japan fired over alleged derogatory remarks
by
Travis J. Tritten
March 9, 2011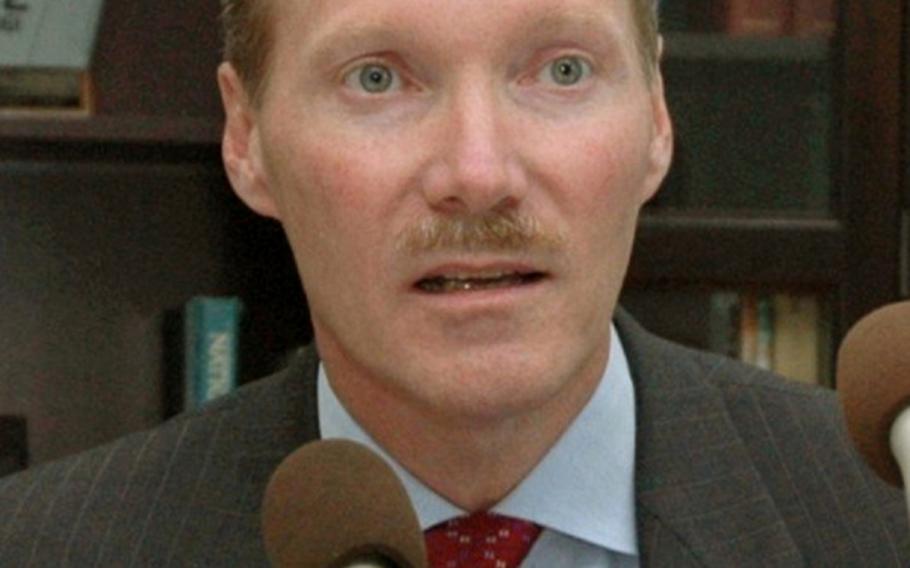 CAMP FOSTER, Okinawa — The head of the State Department Office of Japan Affairs was removed from his position Thursday following public outrage over alleged derogatory remarks about residents of Okinawa, the U.S. Embassy in Tokyo said.
While addressing a group of U.S. college students during a closed-door lecture in December, Kevin Maher, director of the Office of Japan Affairs and former U.S. consul general in Okinawa, is alleged to have said Okinawans are "too lazy to grow goya," a common island vegetable, and are masters of political manipulation and extortion.
Students who heard the lecture traveled to Japan and shared their notes with the Japanese media. Japan's Kyodo news service released a transcript of the student notes Wednesday.
Comments recorded in the notes have caused anger to swell across Japan this week, especially on Okinawa where prefecture lawmakers called for a formal apology on Tuesday.
Maher, reached through the State Department on Thursday, told Stars and Stripes that "the statements attributed to me are ... not accurate," but said he could not comment further on the situation.
Assistant Secretary of State Kurt Campbell "conveyed his deep regrets about statements attributed to Mr. Maher in recent news reports," the Embassy said in a press release Thursday. "He reiterated that these reported statements in no way reflect U.S. Government policy or the utmost respect the United States has for the Okinawan people."
Campbell flew into Tokyo on Wednesday for a previously scheduled trip and immediately issued an apology for the alleged comments from Narita Airport, saying he planned to offer apologies directly to Japanese officials as well, according to the embassy.
Rust Deming, a diplomat and former deputy chief of mission at the Tokyo embassy, was appointed to replace Maher at the Office of Japan Affairs, the embassy said.
The incident is surely an unwelcome development as the U.S. works with the Japanese central government to solve the controversial relocation of Marine Corps Air Station Futenma on Okinawa.
Many on the island have long opposed the air base, putting Tokyo in the awkward position of balancing the prefecture opposition to hosting the Marine Corps base with its agreement with the U.S. to move the air base to a site in northern Okinawa.
Defense Secretary Robert Gates said last month he believes Japan is making progress on the Futenma relocation — a key component of an historic military realignment in the region — and that design plans for a new runway on Okinawa could be completed this spring.
Stars and Stripes reporter Chiyomi Sumida contributed to this story.
---
---
---
---