Special operations Osprey squadrons stand up at US air base in Tokyo
---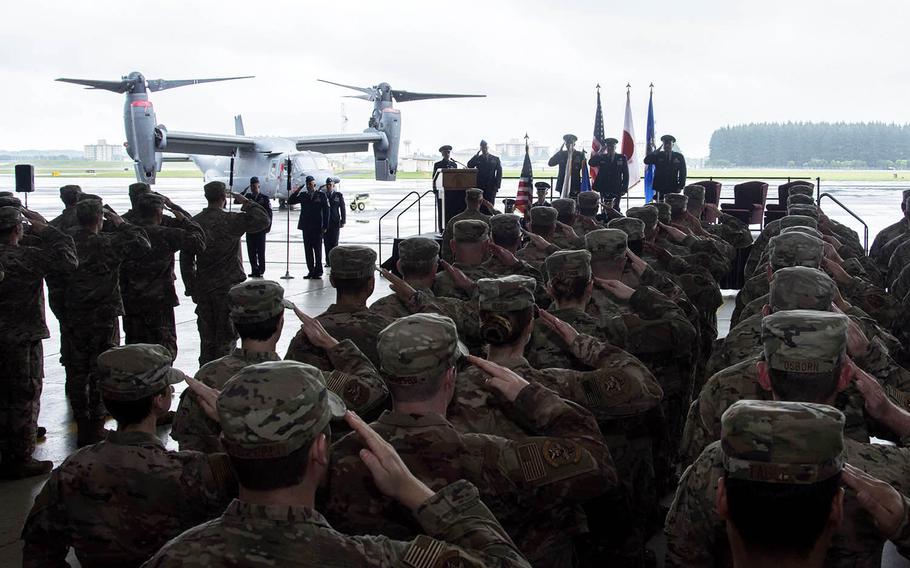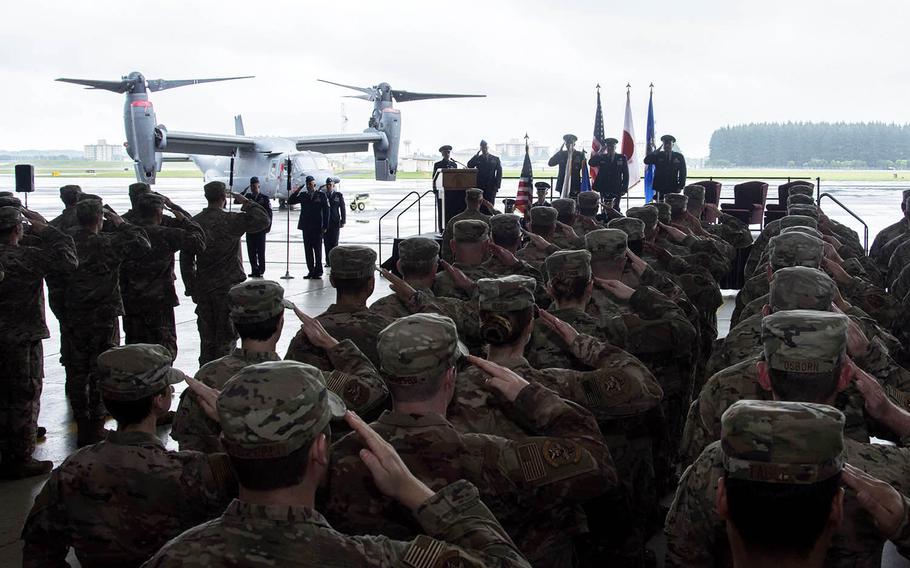 YOKOTA AIR BASE, Japan — The Air Force added a pair of special operations squadrons charged with flying and maintaining CV-22 Osprey tiltrotor aircraft to its line-up at the home of U.S. Forces Japan in western Tokyo.
The newly established 21st Special Operations Squadron — the Dust Devils — and the 753rd Special Operations Maintenance Squadron — whose emblem is the Heikegani samurai crab — will fly and maintain five CV-22 Ospreys.
The helicopter-airplane hybrids have been operating at Yokota as a detachment of the Okinawa-based 353rd Special Operations Group since October 2018. A series of protests by locals concerned about the safety of the aircraft were held outside the base that year after the detachment's surprise arrival in April, two years ahead of schedule.
During an activation ceremony Monday, 353rd SOG commander Col. Jason Kirby, whose unit oversees a dozen special operations squadrons, flanked by a pair of CV-22s, told airmen that they represent a commitment to the U.S.-Japan alliance.
"If you make your opponent flinch you have already won," he told them, quoting 17th century Japanese swordsman Miyamoto Musashi.
The ceremony was attended by members of the Japan Ground Self-Defense Force from Camp Kisarazu, near Tokyo, where Japan plans to send the first of 17 CV-22s that it is procuring, according to Defense News website.
After the ceremony, Lt. Col. Jason Hock, commander of the 21st Special Operations Squadron, told reporters he couldn't reveal the number of personnel in Yokota's special operations units so far. However, he said a plan is on track to eventually station 10 Ospreys at the base supported by 450 personnel.
Their mission is to deliver "reliable, professional Tilt-Rotor capability in support of [Special Operations Command Pacific] and [Special Operations Command Korea] Missions," according to the Air Force.
The units are still working out of temporary facilities at Yokota and will stay in them until purpose-built ones have been constructed, Hock said.
"We will safely operate these aircraft in support of missions in the Indo-Pacific region," he said.
Residents living near Yokota have complained about nighttime noise, lights and vibrations caused by the Ospreys.
Hock said pilots do their best to avoid overflight of populated areas.
"We are not here to make a lot of noise," he said. "We are not here to disturb anyone. We will take off out of Yokota and go to our approved training areas."
Historical information on the 21st Special Operations Squadron provided by the Air Force shows that the unit traces its lineage back to the 21st Pursuit Squadron that flew P-40 Warhawk fighters in the Philippines during World War II.
During the Vietnam War, it flew CH-53 Sea Stallion helicopters into Vietnam and Laos out of Thailand.
robson.seth@stripes.com Twitter: @SethRobson1
---
---
---
---