Soldier acting erratically when found after brothel fire, police testify
---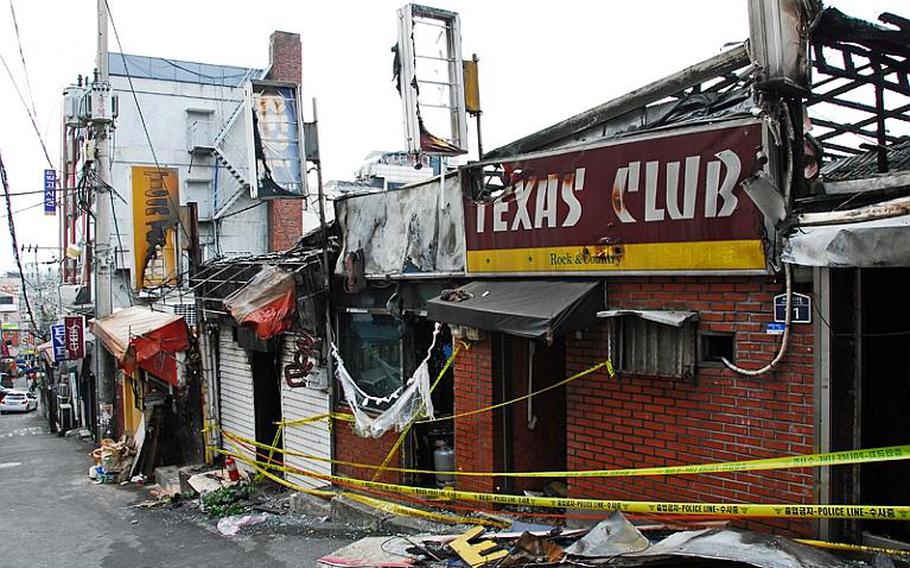 SEOUL - The U.S. soldier accused of burning down a Hooker Hill brothel last fall was acting erratically when police found him outside a nearby nightclub several hours after the fire, the investigating officer told a South Korean court on Tuesday.
The police officer, whose name was not immediately available, told the Seoul Central District Court that when he approached Pfc. Marcos Pedraza-Pascual around 5 a.m. on Nov. 15 outside the King Club, the soldier appeared to be "happy and smiling for no reason."
The officer said he spoke to Pedraza-Pascual because the soldier matched the description provided by the Tiger Tavern owner.
The soldier was "laughing and dancing and saying 'crazy' " as he pointed in the direction of the Tiger Tavern, said the officer, whose comments were translated through a court interpreter. He said the soldier, who asked him for a cigarette and a lighter, appeared to be "restless and ill at ease," and after he identified himself as a police officer, Pedraza-Pascual quickly walked away.
Pedraza-Pascual has admitted to starting the fire that burned down the off-limits brothel in Itaewon, but he said he did so unintentionally by knocking over a candle he had placed on a bed while using the restroom. He told the court that he ran out of the brothel in hopes of finding a fire extinguisher at a nearby motel, but the motel was closed. When he tried to return to the Tiger Tavern, emergency vehicles were blocking the street, and he left.
"At the time, I thought it was just a little fire on the bed," he said. "I thought it was no big deal."
Pedraza-Pascual testified Tuesday that when he spoke with the police officer, he had just left a transgender club, where he had seen a "lady boy."
"I was saying, 'Hey, this place is crazy,' " he said. "It was like a homosexual place. I was laughing at that, I wasn't laughing at the fire."
He said he wasn't trying to avoid the officer, but was tired, drunk and wanted to return to his base after the military-imposed 5 a.m. curfew ended.
Pedraza-Pascual told the three-judge panel on Tuesday that he had "suffered from depression for a long time" and was supposed to leave South Korea on Oct. 15, 2011. His departure date was delayed, he said, because he was trying to separate from the Army.
In response to further questioning about why he did not leave South Korea as scheduled and whether he faced any disciplinary action by the military, Pedraza-Pascual told the court he had tried to commit suicide and was supposed to be monitored at all times.
"I was supposed to be watched 100 percent of the time because I'd hurt myself," he said. "After that, they had to keep a pretty close eye on me, so I wasn't supposed to go anywhere without anybody else. I wasn't supposed to drink, either."
8th Army spokesman Col. Andrew Mutter said Wednesday that Pedraza-Pascual had not been confined or placed under 24-hour supervision before the fire.
He declined to comment further, saying "it is inappropriate to comment on specifics of the ongoing trial.
"The U.S. military authorities have been cooperating fully with Korean authorities during the investigation and trial. Any further specific facts regarding this case need to be addressed with the legal representative of the accused or the Korean Courts."
Pedraza-Pascual had previously testified that he drank a six-pack of beer in his barracks before going to Itaewon, where, over the course of the night, he drank four more beers.
During Tuesday's proceedings, the court also reviewed footage from several closed-circuit TV cameras in the area, taken around 2:45 a.m., that showed a lanky figure wearing a hooded sweatshirt and a backpack running through dark alleys. In one piece of footage, taken by a camera positioned inside a doorway and pointed outside, the figure was seen running by on the street. A woman wearing a tight shirt, shorts and boots ran out of the building's white-lace-draped entryway after him.
Pedraza-Pascual identified himself in the footage and said he was running through the streets trying to find someplace that was open and might have a fire extinguisher.
A judge asked Pedraza-Pascual why he was looking down as he ran and not at the businesses he was passing. The soldier responded that he could see that they were not open.
The owner of the brothel, Lee Seo-yoon, testified last month that she feels sorry for Pedraza-Pascual and does not want him to be punished.
A prosecutor, however, recommended on Tuesday that Pedraza-Pascual be sentenced to three years in prison.
A verdict will be announced on June 12.
---
---
---
---