School in DMZ's 'Freedom Village' becomes coveted learning spot for S. Koreans
by
chang.yookyong@pstripes.osd.mil Yoo Kyong Chang rowlanda@pstripes.osd.mil Ashley Rowland
August 13, 2011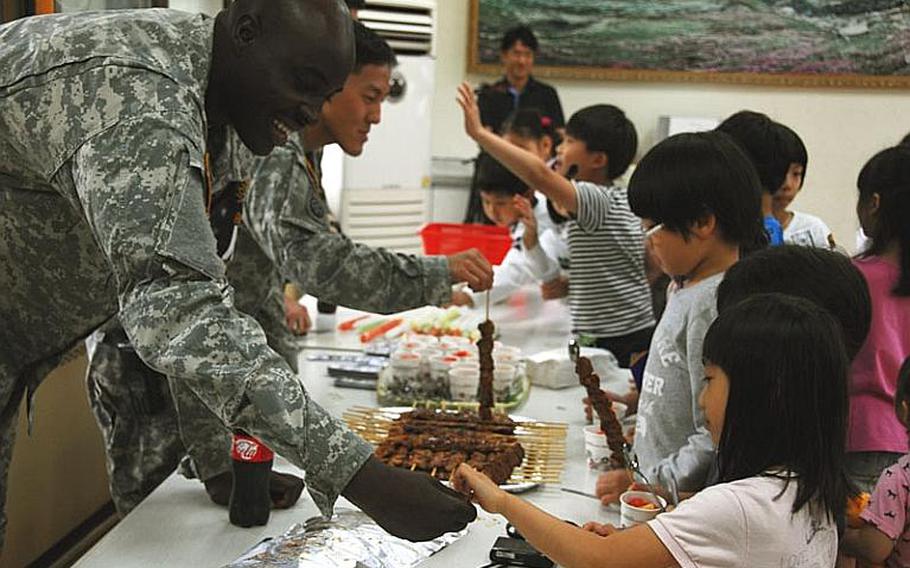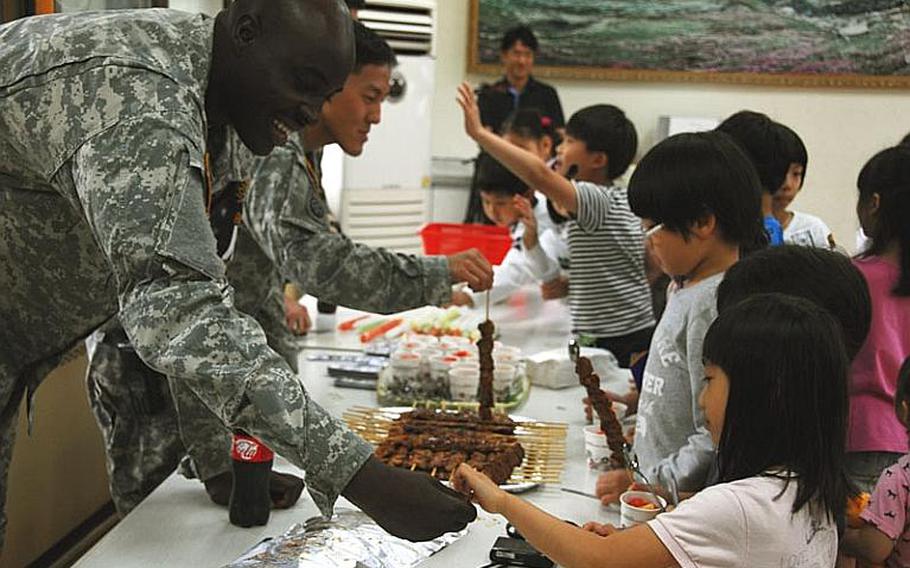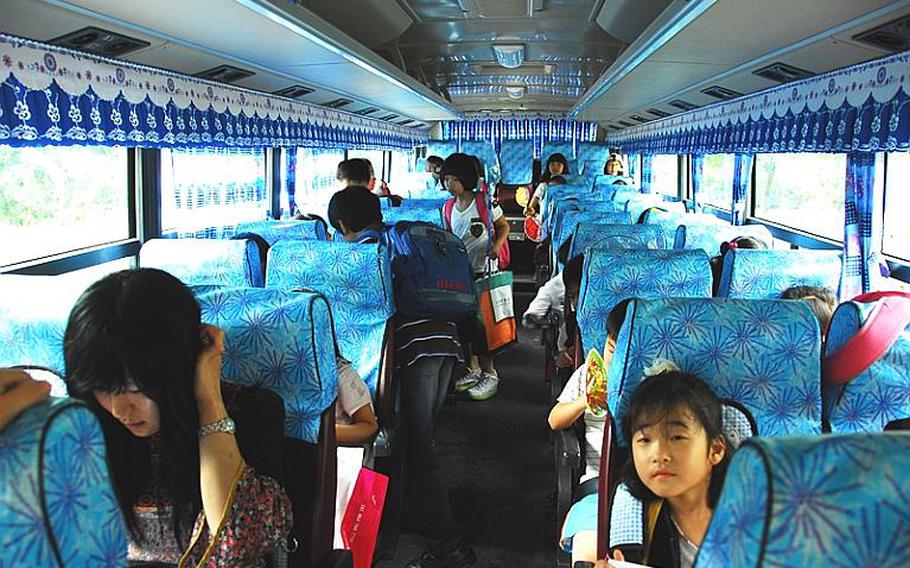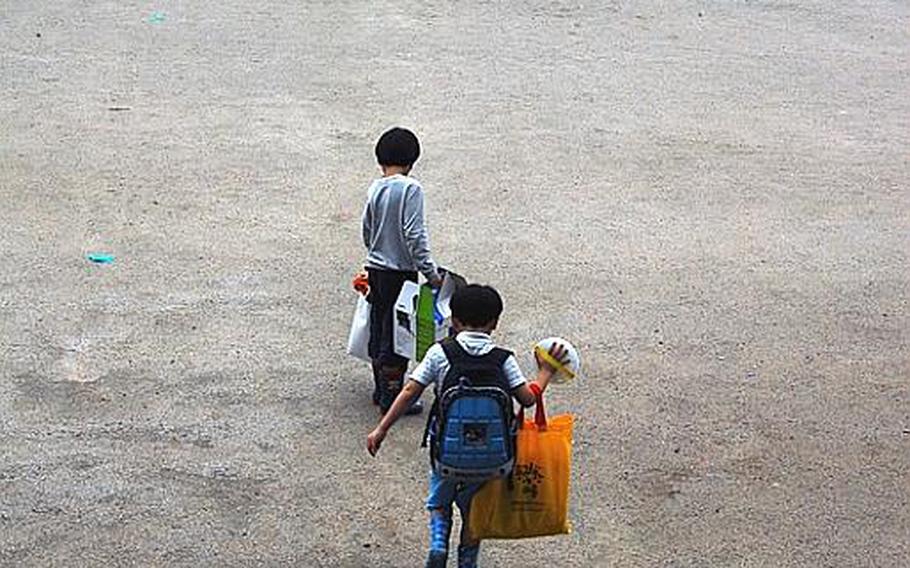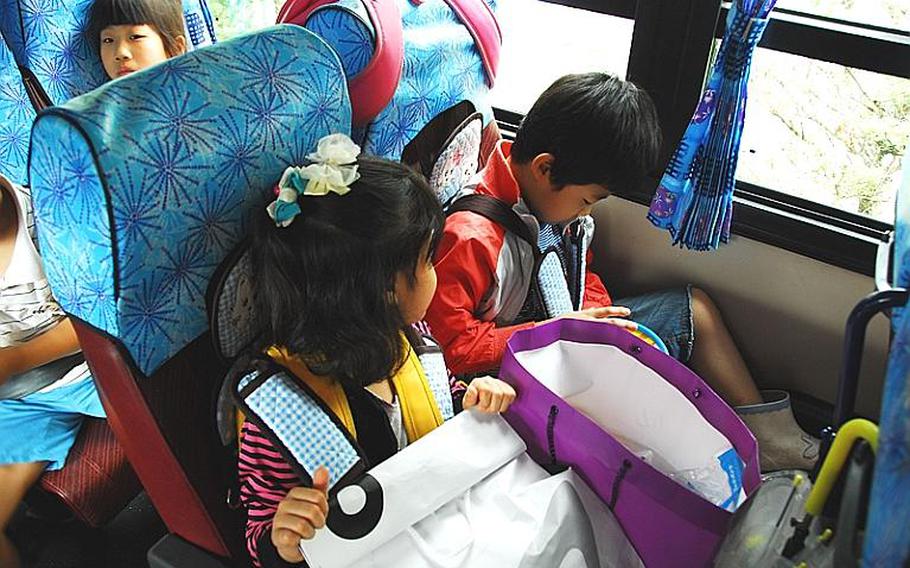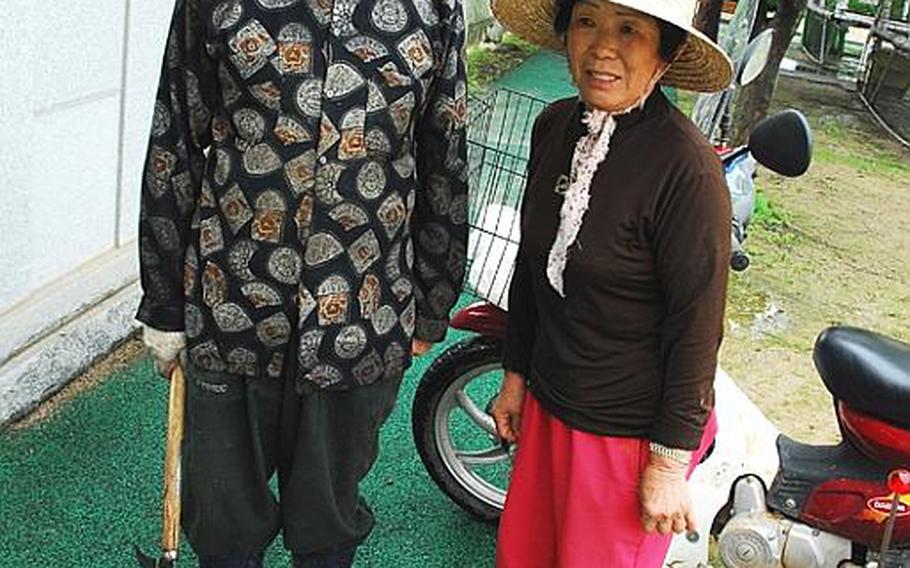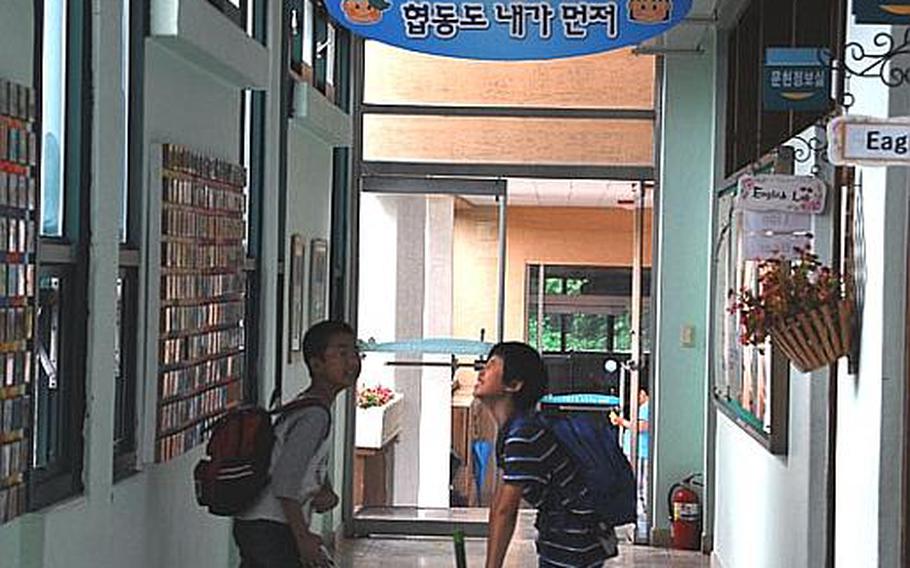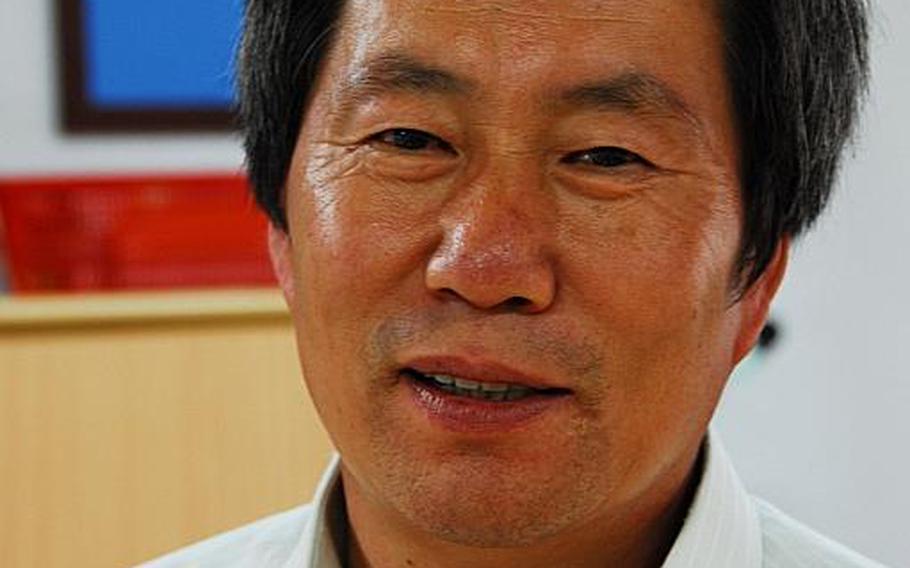 DEMILITARIZED ZONE, Korea — This could be any school in rural South Korea: a two-story brown brick building, fronted by a wide soccer field and surrounded by plots of sweet potatoes and beans.
But this is no ordinary school, and this is no ordinary farming village.
Just 300 yards from Daesungdong Elementary is the border with North Korea, one of the most heavily guarded demarcation lines in the world.
A few years ago, this school in the Demilitarized Zone was in danger of closing due to lack of students. Thanks to incentives — including free English lessons from American soldiers — Daesungdong is now turning away students from other cities and is rapidly becoming one of the most respected schools in the region.
"I'm proud that my kids attend this school," said Jung Young Sun, a hair salon owner whose son and daughter, ages 11 and 13, commute by bus from the nearby town of Paju. The children spent a year on a waiting list. "Other parents envy me."
The remarkable turnaround has kept the heart of the village intact.
While the closure of the school might not push residents to abandon the village and the perks that come from living there, it would alter the very nature of the community, with Daesungdong becoming little more than a collection of farms run by aging residents, said principal Kim Doek Won.
"The school is the symbol of the village," he said. "If the school is not there, it will not be a village anymore."
Daesungdong, also known as "Freedom Village," is a product of the 1953 armistice that ended hostilities of the Korean War, though the North and South technically remain at war, and allowed the North and South to each maintain one village inside the DMZ.
The village on the North Korean side, Kijong-dong, is uninhabited and is best known for the massive North Korean flag that flies over its empty buildings.
On the other side of the border is Daesungdong, which has 213 residents and is governed by the U.N. Command. To get here, visitors must pass through a military checkpoint and travel by armed escort past a landscape of rice paddies and forests that has gone virtually unchanged since the end of the war.
The danger is real. Residents sometimes work under the supervision of UNC Joint Security Area soldiers in fields deemed especially risky because of the threat of being kidnapped or attacked by North Korean soldiers. Students are strictly forbidden from venturing beyond the schoolyard gate, and they rehearse evacuating the village by bus twice a year in case of sudden hostilities.
Even with restrictions, the ever-present tension between the two Koreas has little impact on the students.
Lee Mi-young, a fifth-grade teacher at Daesungdong whose two children are on the waiting list, said students aren't afraid of North Korea and some even feel an affinity for the North because of their proximity to the border.
"If the area was dangerous, parents would not send their kids here," she said. "Some people tend to think Daesungdongis safer than other places because it is within the DMZ."
Two North Korean attacks along the border in 2010 — the sinking of a South Korean warship and the shelling of a civilian-populated border island — did little to dampen enthusiasm for the school. No students left the school after either incident. Both incidents took place on the sea border far from Daesungdong.
Jung said she was initially nervous about her children traveling to Daesungdong in the days after the November bombing of Yeonpyeong Island, especially because the school transported students to and from Daesungdong in cars with bulletproof windows instead of their normal school bus. But as the weeks passed and there were no more attacks, she relaxed.
Within the village, residents say they are more worried about possible reunification of the two Koreas than a North Korean attack because reunification could mean the loss of their land. Daesungdong residents have the right to cultivate but not own property within the town limits, and many believe that returning North Koreans or South Koreans displaced by the war might try to reclaim property owned by their families long ago.
Kim Dong-gyu, 72, dismissed the Cheonan and Yeonpyeong attacks as "just the vain meddling of North Korea."
"There is no fear for our safety," he said. "Why? Soldiers are guarding here. Here is better than in the rear."
'Parents' favorite school'
Aside from its proximity to North Korea, so close that the 34 schoolchildren sometimes catch a glimpse of North Korean soldiers patrolling in the distance, Daesungdong Elementary is notable for another reason: It is located in a village with virtually no children.
Here, stringent government regulations determine everything from who can live here to a midnight curfew. That, villagers say, has resulted in an aging population and an exodus of a generation of young adults who leave to work and to raise their families elsewhere.
In 2006, the school had only nine students and was on the verge of closing until the government decided to open enrollment to outsiders.
Today, more than 50 children are on a waiting list, and school officials say they get near-daily calls from parents eager to send their children to Daesungdong.
One of the main draws is the free English class taught twice a week by U.S. soldiers.
In South Korea, many, if not most, schoolchildren attend rigorous and often expensive private academies after school to get additional tutoring in English and other subjects in preparation for the competitive college entrance exams they will take during high school.
Parents say the Daesungdong program is especially strong because students can practice conversational English with the soldiers.
Children living in the village get priority for enrollment, though only three children currently live within the village boundaries. The school implemented a lottery last year to determine which children from outside get the coveted slots. Students are bused to and from the school each day from the nearby cities of Paju and Munsan.
"It is becoming the parents' favorite school," said Lee. Though her children are on the waiting list, she has little hope they will get in, based on the number of applicants.
She said parents like the school because it has a family feel. Classes have only four to six students. There are free after-school activities in music and sports that students would have to pay for at other schools. Because of its rural location, students go sledding during the winter, and each class has its own field for growing rice and vegetables.
On a recent afternoon, the entire school met in the sunlit auditorium for monthly market day, when they use fake dollars — earned by their performance in English class — to buy and sell stuffed animals, picture frames and other discarded toys from home during a mock auction. Later, they bought toys and snacks at tables run by U.S. soldiers, part of a rotating group of volunteers from troops stationed within the Joint Security Area who visit the school at least once a week.
At one table, Spc. John Anderson grinned and offered a skewer of grilled chicken to a girl of about 10 and asked her to guess how much it cost.
Silence.
"It's free!" he said.
The girl frowned; her English had failed her. "Discount?" she asked hopefully.
Soldiers visit the school for several hours once or twice a week, supplementing the students' regular English classes. They expose the students to conversation in many ways — by playing soccer and softball with them, or by practicing the grammar and vocabulary in their workbooks.
"It kind of breaks up the monotony of the everyday work," said Pfc. Bradley Chamberlain, 23, one of four U.S. troops volunteering at the school that day. "We love it. It's like a family."
He said developing relationships with the students and watching them grow, both physically and in their English skills, has been the best part of the job.
"They want to learn," he said. "They want to learn the language."
Village life
As part of the government's effort to keep the village populated, residents are exempt from paying taxes and farm as much as 10 times more land than the typical farmer. As a result, they generally earn salaries well above average in South Korea, sometimes in the range of $80,000. Males are also exempt from the mandatory 21-month military service.
But the perks are tempered by restrictions.
South Koreans must spend 240 nights per year in Daesungdong to maintain residency, and have a midnight curfew.
By law, the only new residents are women who marry into a family of current residents. Several years ago, a previous village chief tried unsuccessfully to have the law changed so daughters could remain in the village if they married an outsider.
The restrictions have resulted in a tight-knit community that residents describe as a large extended family. But it has also created a population that consists primarily of middle-age and elderly farmers, with few people in their 20s and early 30s.
Also missing are teenagers, who attend school outside the village because Daesungdong has no middle or high school. When they leave, so do many of their mothers. Fifty-three women now live outside Daesungdong with their children, often running dual households as their husbands live part-time in the village to tend the fields and part-time with their families.
Among them is Lee Gang-sook, 42, who lives in nearby Munsan with her two sons, one in middle school and one in high school. Her husband lives with them most of the time, but frequently sleeps at their home in Daesungdong because he is too tired to travel between houses after farming.
It is a common situation for other Daesungdong families, she said.
"The fathers are tired of it," she said. "It is also troublesome to them. They should not only have meals, but also be with their families."
For eight months of the year, life here is dominated by the planting and harvesting of rice and other crops.
The focus on agriculture and the village's small, insular population leaves its youth — teenagers in particular — with little to do, especially during the four months when there is no need for them to help with crops, said the village chief, Kim Dongchan.
He said the government must do more to provide entertainment for its young people, like building sports facilities and other places they can gather.
"The government says, 'You are living and farming well. Why do you need these places?' " Kim said.
He fears that the village may slowly die out if there is not enough incentive for young adults to return and raise families there.
"The village might become a ghost town," Kim said. "No young men, no babies. If the old pass away, our village can be ruined."
rowlanda@pstripes.osd.mil chang.yookyong@pstripes.osd.mil