Sasebo sailor headed to NATO Chess Championship
---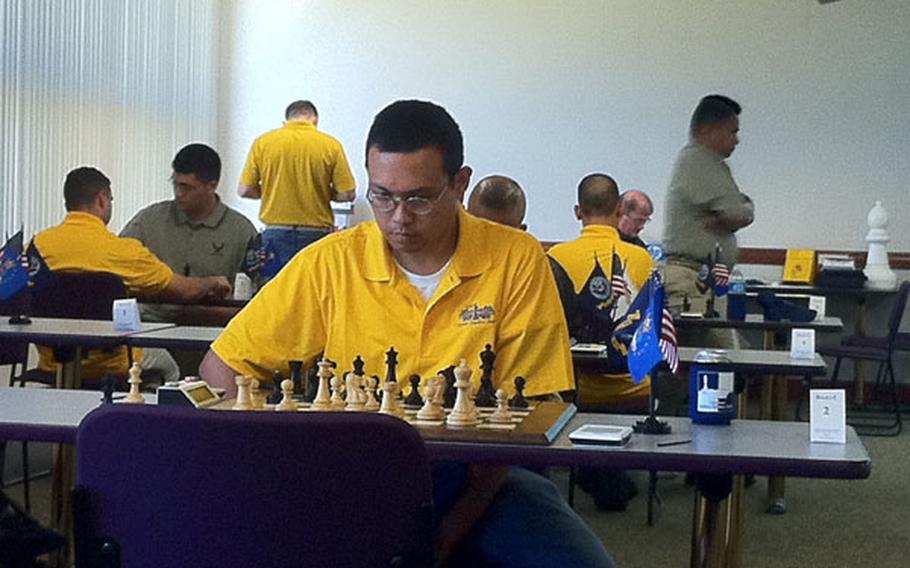 SASEBO NAVAL BASE, Japan — Petty Officer 1st Class Albertryan Hernandez finished second in a military-wide chess tournament in June, earning a conveted seat on the six-person U.S. military team that will compete at a NATO tournament next month – quite an accomplishment considering he hadn't played seriously in 11 years.
Hernandez, who joined the Navy in 1999, said deployments and finding people to play against have hampered his ability to sharpen his chess skills throughout his career.
"I'm looking forward to [competing in the NATO Championship] but it hasn't really sunk in yet," he said this week aboard the USS Denver. "We're working seven days a week … When I get the orders to go to Lithuania then it will."
The NATO Chess Championship takes place Aug. 8-12 in Kaunas, Lithuania, with teams from around the world competing. To get there, Hernadez said, the Navy paid his way to the Navy Chess Qualifier at Naval Air Station Meridian, Miss., in April and to Marine Corps Air Station Miramar, Calif., last month for the Interservice Chess Championship, where he placed high enough at each to advance to the NATO tournament.
"It's a big deal to make the NATO team," Jane Westbay, spokeswoman for U.S. Navy Chess, said in an email to Stripes. "You've got to be playing some really good chess to make it, and everyone playing at Interservice wants to go. It's an honor to get to travel to Europe and play against some of the best military chess players there are."
Hernandez – who grew up splitting time between New York and the Philippines – learned to play chess from his father, Abelino, in the Philippines when he was 17. His father, an accomplished player, taught his son the game, but not the strategy. The two would play three games a night. The father would "trounce" his son, thus motivating the high schooler to learn the game.
When he moved back to New York City in 1998, Hernandez spent his time at Washington Square Park, following in the footsteps of the legendary Bobby Fischer. He pored over books on chess and played the most talented players he could find, including two international masters. He beat one of them on his way to becoming rated as a U.S. Chess Federation Master.
"I spent a lot of time playing in Washington Square Park," Hernandez said. "I know a lot of people that [Bobby Fischer] played."
Then one night, Hernandez took two of three games from his father. They never played each other again. Abelino died in 2001.
He said his father would be proud of his most recent accomplishment.
"I'll be playing some of the best in the world," Hernandez was quoted in the Navy release as saying. "And regardless of the outcome, I'm just really happy to have this opportunity and represent my ship and the Navy as a whole."
U.S. military team members for NATO tournament:
Petty Officer 3rd Class Mario Vinoya Jr., Naval Medical Center San Diego
Petty Officer 1st Class Albertryan Hernandez, USS Denver, Sasebo, Japan
Master Sgt. Robert Bucholz, Peterson Air Force Base, Colorado Springs, Colo.
Master Sgt. Nate Ola, Buckley Air Force Base, Aurora, Colo.
Master Gunnery Sgt. James Adkins, Marine Corps Base Camp Lejeune, N.C.
Staff Sgt. Daniel Fissel, U.S. Army Special Operations Command, Fort Bragg, N.C.
---
---
---
---