Okinawa towns feeling pressure not to burn quake debris
by
Chiyomi Sumida Travis J. Tritten sumidac@pstripes.osd.mil trittent@pstripes.osd.mil
April 6, 2012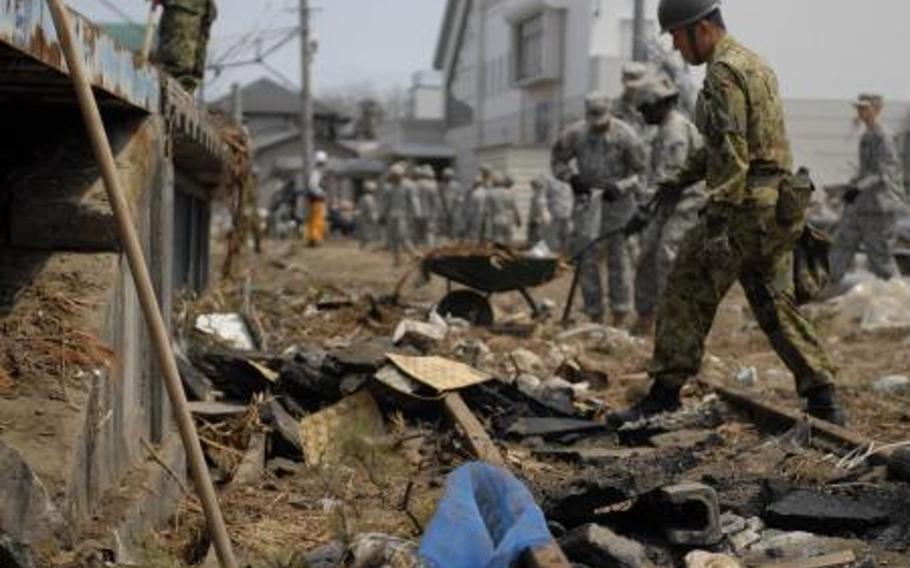 CAMP FOSTER, Okinawa — City governments on Okinawa are rejecting a proposal to help dispose of disaster debris from northeastern Japan amid radiation fears among residents and some in the U.S. military community, according to the Okinawa Times newspaper.
So far, 27 of 40 municipalities have said they are unwilling or unable to use local incinerators to burn some of the millions of tons of trash still plaguing the Tohoku region more than a year after a massive earthquake and deadly tsunamis, the newspaper reported.
The prefectural government had requested all cities to submit opinions on the waste disposal this week but said Friday it was not yet prepared to release the results.
The Japanese government is hoping to farm out debris disposal as a way to speed up recovery in the country's disaster zone, with Okinawa prefecture as well as three of its cities initially accepting the idea. But two of those cities and many others on the island have now decided against burning the waste, as opponents claim it could spread radioactive material across the island and cause illnesses such as cancer.
"Our facility is overloaded with little capability to accept extra debris," said Kazuo Funakoshi, a spokesman for Uruma city, which is located near the majority of U.S. military bases and had been leaning toward the disposal last month. "Many residents, parents from both within and outside the town voiced their uneasiness about burning the debris in their neighborhood."
Still, 13 municipalities remain undecided, but none are now saying they will accept the debris, according to the newspaper.
Okinawa City, which is also near U.S. bases, has also been fielding many public complaints about possible radiation contamination, said Masakazu Okuma, chief of the city's waste management office.
"As much as we want to assist reconstruction of Tohoku, we were given very little information to make a decision and to convince residents of the safety," Okuma said. "We will make our decision based on the voices of residents, as well as opinions from experts."
The national government has assured the public that incinerators can safely handle the waste and removed virtually 100 percent of any radioactive materials, but that has done little to reduce public skepticism.
On Friday, an online petition opposing the debris disposal had gathered nearly 1,100 names, many of them listed under U.S. military addresses. Tens of thousands of servicemembers and military family members live on the island.
James Pankiewicz, a bar owner on Okinawa who organized the petition and a Facebook page, said opponents doubt the Japanese government can safety monitor and dispose of debris coming from areas near Fukushima prefecture, home of the Dai-ichi nuclear power plant that was heavily damaged by tsunamis and spewed radiation for months.
Meanwhile, it was unclear how a rejection by Okinawa might affect those who are still struggling to dig out in Tohoku.
In the disaster zone, piled-up debris is still taking up land needed to rebuild lost homes, said Toshihiko Fujita, a resident of Ishinomaki whose house was washed away in the tsunamis.
"Purchasing new land and building a new home is almost impossible, except for well-to-do people," so residents are left with their cluttered lots, he said. "We have a plan to build homes after the mound of debris is removed."
But Fujita said he would not blame Okinawa if it decides not to help with the removal.
"It is a natural reaction and if the situation was the other way around, we would react in the same way," he said. "Today, few people would believe what the government says."
---
---
---
---