Officials scramble to eliminate venomous toads on Okinawa base
by
Chiyomi Sumida Travis J. Tritten
November 1, 2011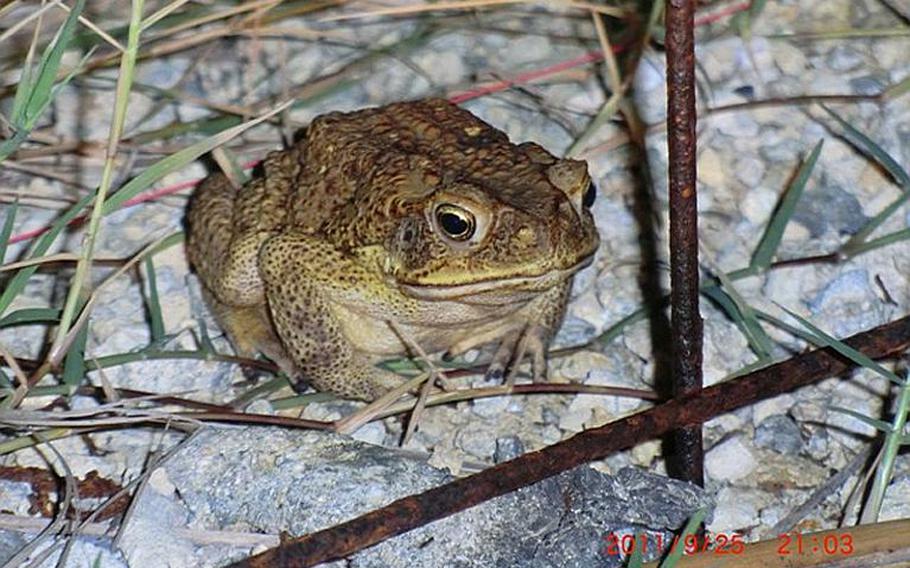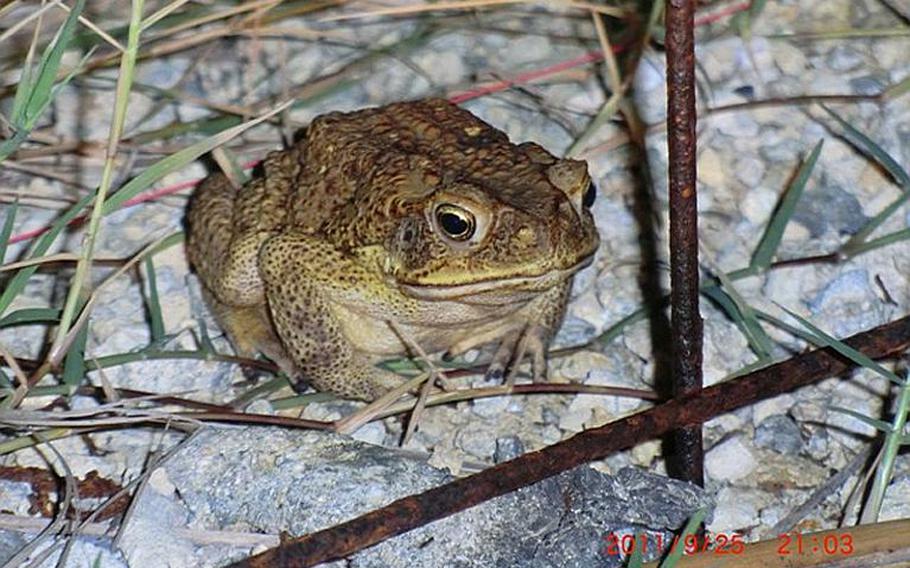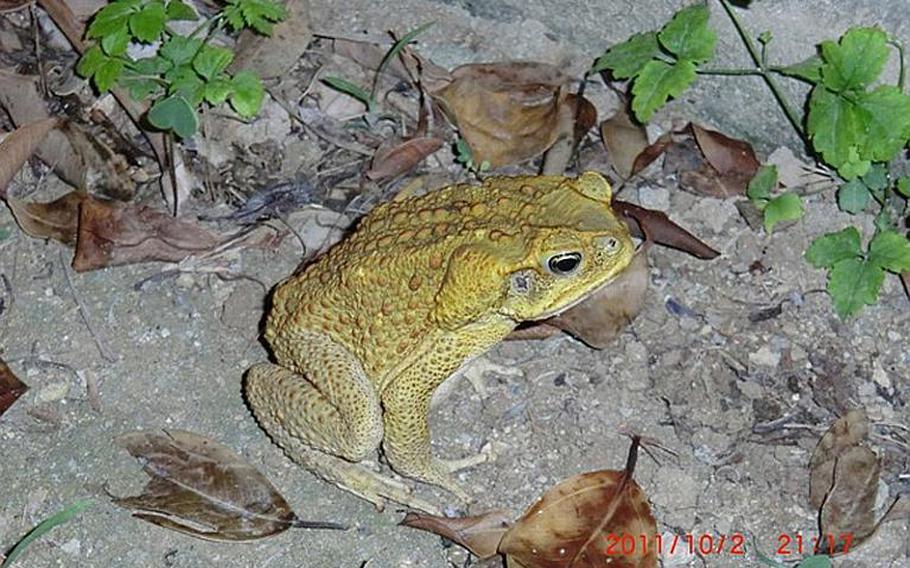 CAMP FOSTER, Okinawa – Hundreds of venomous toads have been found at Camp Kinser in what environmental officials say is the first infestation of a notorious pest on Okinawa's main island.
About 570 cane toads have been captured at the Marine Corps base since August, signaling a population boom since the invasive amphibian was first spotted on the U.S. Army's Torii Station about a year ago, according to the Marine Corps and the Japan Ministry of Environment.
When threatened, the cane toad secretes a milky toxin that has been known to kill pets and be painful — though rarely fatal — for humans. The large brown toads also decimate indigenous animals and insects and have proven extremely difficult to eradicate in other areas where it has been introduced, including Australia and Hawaii.
"They are great threat to the island's ecosystem," said Shintaro Abe, deputy chief of the wildlife division in the Naha Nature Conservation Office of the Ministry of Environment. "We must stop the spread at any cost."
Cane toads are easy to identify because they are light to dark brown and larger than other species of toads and frogs, about 4 to 6 inches long, Abe said.
They can be harmful to small children and pets, especially dogs, could die if they eat the toads or even grass that has touched the toxin, he said.
The appearance on Camp Kinser has Marine Corps Installations Pacific and Japanese environmental teams scrambling to eliminate the current generation of toads before they mature and begin breeding next spring.
Each toad can lay from 10,000 to 30,000 eggs during breeding and mature toads are rapacious eaters that devour anything that can fit into their mouths, including insects, snails and crabs, according to the ministry.
The Marine Corps said Tuesday it is "collecting and destroying this invasive species" at Kinser and "inspecting potential breeding areas in hopes of minimizing population growth."
The service said it first informed the Japanese government that it had discovered the toad in August.
So far, the spread of the cane toad on the base remains a mystery, according to the Marine Corps consolidated public affairs office on Camp Foster.
"It has not yet been determined how the invasive species arrived on the island or on Camp Kinser," the Marine Corps said in a statement Tuesday. "Records have not been found of this species of toad on any other Marine Corps installation."
The ministry said the one toad found last year on Torii Station is considered an isolated incident, and the Army has confirmed there have been no other reported sightings since then.
Meanwhile, Kadena Air Base said Tuesday it has not found any of the toads there.
In recent years, the cane toad has infested the remote southern Okinawan island of Ishigaki after being introduced to protect sugar cane from insects.
The population of up to 50,000 toads on Ishigaki has alarmed the Ministry of Environment and triggered fears that the pests could threaten endangered species on nearby islands such as the Iriomote wild cat.