Officials: Dioxin found near Camp Carroll doesn't point to Agent Orange
by
Yoo Kyong Chang Ashley Rowland
June 16, 2011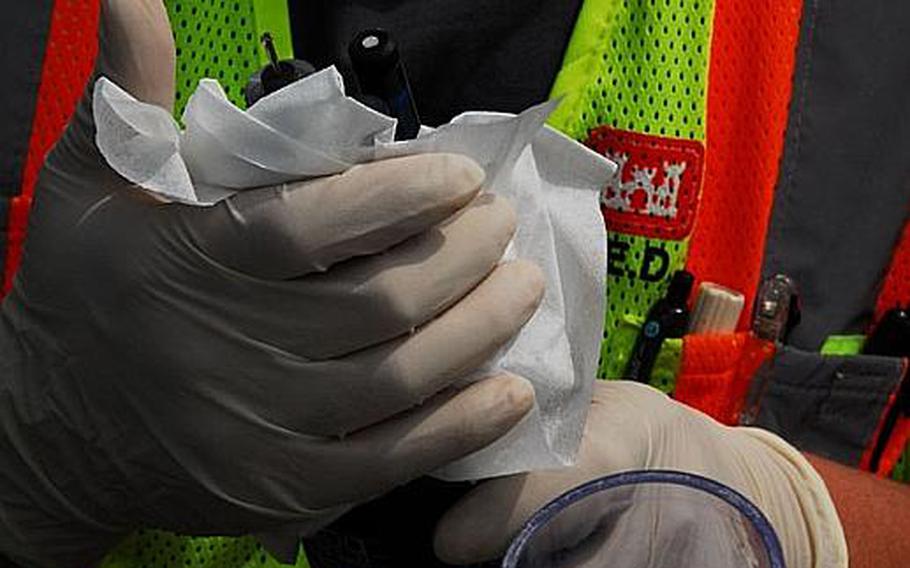 SEOUL — Trace amounts of dioxin have been found in streams near Camp Carroll, though both U.S. and South Korean officials say the amounts are too small to be hazardous to human health and do not indicate the presence of Agent Orange.
A joint U.S.-South Korean committee investigating the possible burial of Agent Orange at the base released on Thursday the results of water sampling tests. The samples were collected outside the 99-acre base by South Korean officials, 8th Army spokesman Lt. Col. Jeff Buczkowski said Thursday.
He said South Korean officials tested for a number of contaminants, but did not find a key chemical found in Agent Orange.
"That would have been a strong indicator that there was Agent Orange, but it was not found," Buczkowski said, adding that the dioxin found in the stream water was well below acceptable levels set by the U.S. and South Korea.
According to the report, dioxin was found in three of six streams tested between May 27-31, in concentrations between 0.001 picograms per liter and 0.01 picograms per liter. A spokesman for South Korea's Ministry of Environment said levels of 30 picograms per liter are considered hazardous by the U.S. Environmental Protection Agency.
Dioxin was not found in groundwater near the base, and no defoliants were found in groundwater or stream water, the report said.
Dioxin is a component of Agent Orange, though it is found in other industrial sources. Agent Orange is known to cause a number of illnesses and birth defects, and three veterans have claimed they were ordered to bury Agent Orange at Camp Carroll in 1978.
The U.S. military says records show that a large number of barrels of chemicals were removed from Camp Carroll in 1979 and 1980 and disposed of outside the base, along with 40 to 60 tons of soil. The military doesn't know if Agent Orange was among the chemicals removed, or where the chemicals were taken after they were unearthed.
A spokesman for the prime minister's office said officials have no idea if the dioxin found during the recent tests came from Camp Carroll or another source. An official with the Ministry of Environment's soil and underground water division said dioxin is commonly found in water sources across the world, and does not believe the dioxin originated at Carroll.
The U.S. and South Korea collected water samples from inside Camp Carroll earlier this month and are also using ground-penetrating radar to determine if anything remains buried near the base's helipad, where the veterans claim they buried barrels of the toxic compound in a large ditch.
Buczkowski said the military has found nothing so far to indicate the burial of Agent Orange. The military has interviewed more than 30 people about the possible burial so far, including veterans in the U.S. and South Koreans who may have worked at the base, he said.
Results from water samples collected by the U.S. are expected by the end of the month, he said. A spokesman for U.S. Army Garrison-Daegu has previously said that water is tested regularly at Camp Carroll and dioxin has not been detected.
The South Korean officials said Thursday that they will continue testing water from the three sites where dioxin was found.
chang.yookyong@pstripes.osd.mil