No strike planned when new company takes over base security in Korea
by
Yoo Kyong Chang Ashley Rowland
November 7, 2012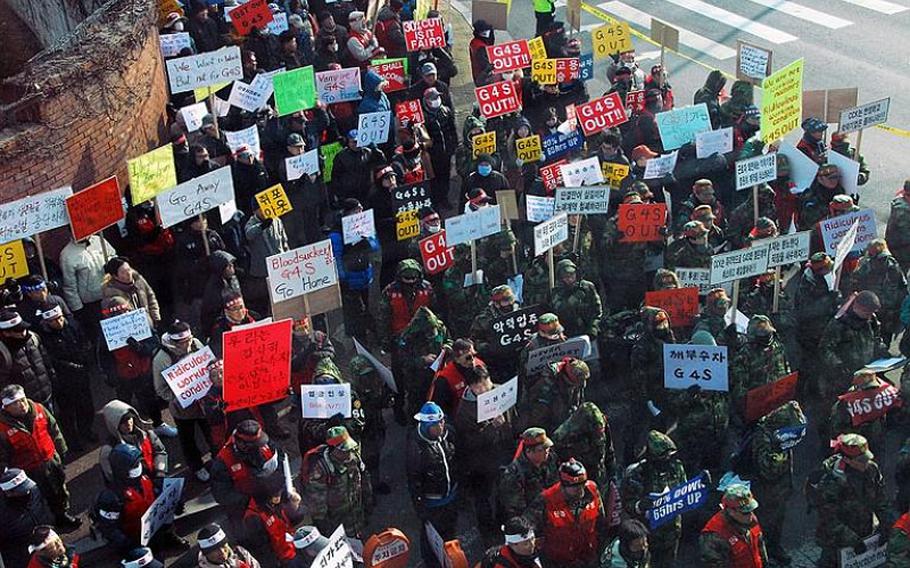 SEOUL – Civilian security guards at U.S. Forces Korea installations are not expected to go on strike Thursday and will work with a new security company set to take over gate duties at a number of bases across the peninsula, according to the military.
C&S Corp. will replace G4S, which failed to hire enough guards to staff entry gates when it began working for the military in December 2011. Guards held protests outside USFK bases for months, claiming G4S unfairly cut their wages and lengthened their work hours. USFK troops were forced to man gates until G4S reached adequate staffing March 23.
Since the handover was announced in September, some guards have threatened to go on strike again if they don't get a raise. Union officials have said the amount of C&S Corp.'s three-year contract with the military might not be enough to maintain current pay levels.
The $57.3 million C&S contract averages out to $19.1 million per year. The $108.3 million five-year contract with G4S averaged out to $21.66 million annually.
However, both C&S and the military said Wednesday that none of the several unions representing guards have indicated they will go on strike.
Larry Reilly, spokesman for the U.S. Army's Installation Management Command Pacific Region, said in an email that the only expected difference Thursday will be "the change in uniforms that the gate guards will wear."
One union leader, Kim Hyunjoong, said his members will work for C&S but plan to continue negotiations with the company.
Kim Ji-hyoung, leader of another union, said members reluctantly decided this week not to go on strike and wish "any company beside C&S would take over."
"Our members have had a difficult time financially because we've been protesting (against G4S) during the past year, so we need to make a living," he said.
Park Deok Seo, a union leader who has been outspoken in his criticism of both G4S and C&S, did not return multiple calls. In September, he said his union's members were prepared to go on strike if C&S does not provide raises.
G4S has agreed to repay the military $750,000 for its contractual failures.
chang.yookyong@pstripes.osd.mil