No evidence of Agent Orange found at Army base, tests indicate
by
Ashley Rowland
August 5, 2011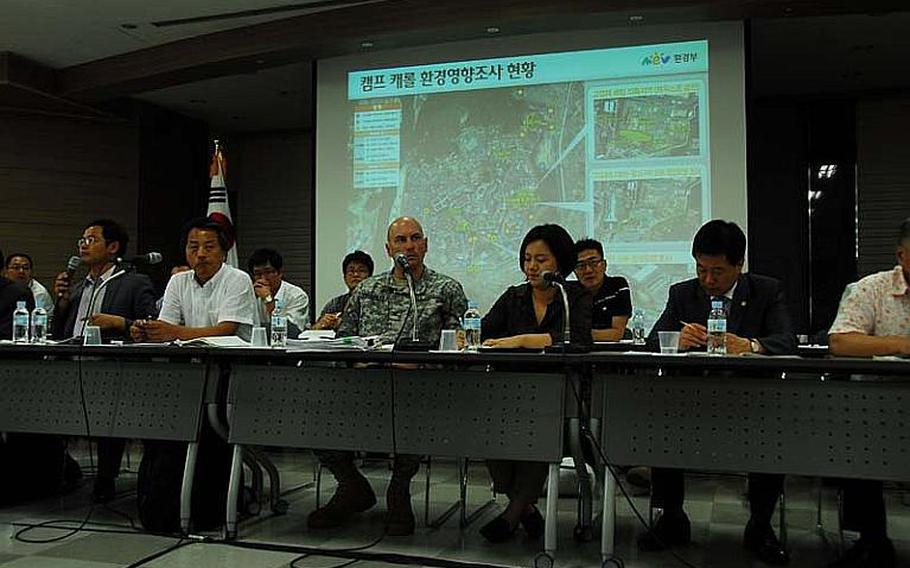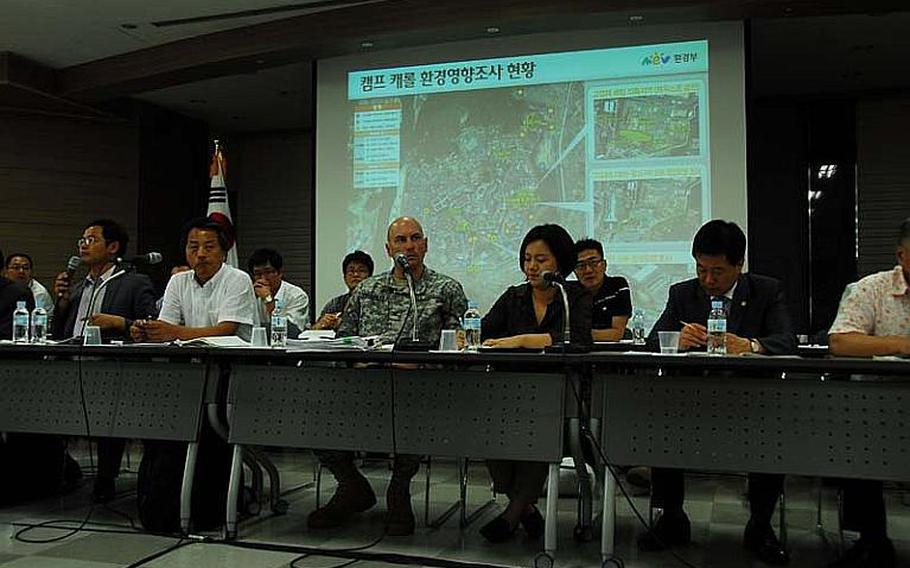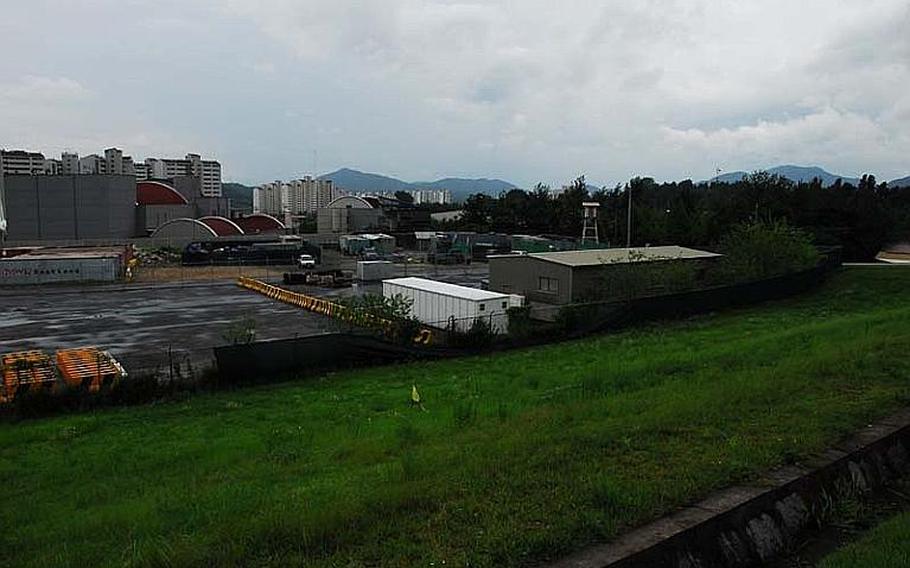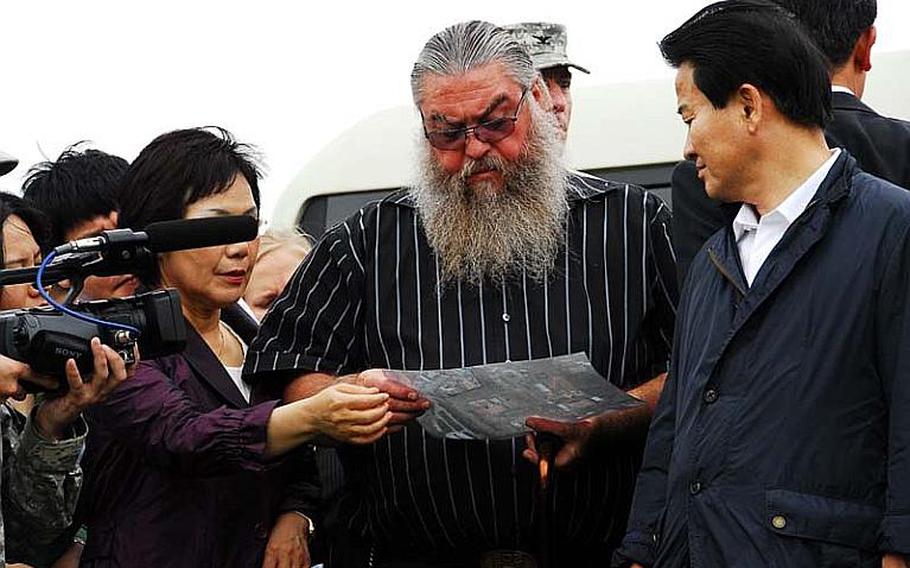 WAEGWAN, South Korea – A joint U.S.-South Korean investigation team announced Friday that it has found no evidence of Agent Orange in water or soil around Camp Carroll, though testing of the area will continue.
Testing of the area — a grassy expanse surrounding Camp Carroll's helipad — began earlier this summer after three U.S. Army veterans told a Phoenix television station that they buried the toxic defoliant there in a ditch a city block long.
However, the investigation team has yet to test a hillside adjacent to the helipad area that was pinpointed last week by one of the former soldiers as the site he claims hundreds of Agent Orange barrels were buried in 1978.
Military records indicate that unspecified chemicals were buried in a large trench in the area in 1978, but the chemicals were removed in the following two years along with about 60 tons of dirt. The military has yet to find records showing where the barrels were taken after they were removed.
"As far as where those records are, we really can't answer that question," Col. Joseph Birchmeier, a U.S. Forces Korea engineer and head of the U.S. side of the investigation team, told about 100 reporters and residents during a press conference at the Chilgok County Office on Friday. "That's why the search continues."
The test results released Friday are part of an ongoing battery of tests being conducted around the helipad. The investigation team said that groundwater collected from 22 locations on Camp Carroll, soil samples collected from 22 off-post locations, and five sediment samples from local rivers did not contain major components or by-products of Agent Orange.
Soil samples contained a lower level of dioxin than is typically found in soil in South Korea, according to the investigation team. Officials said in June that traces of dioxin had been found in streams near Camp Carroll, though the amount was far too small to be hazardous to human health.
The three Army veterans say they now suffer health problems from their alleged contact with Agent Orange.
The most vocal of them, 55-year-old Steve House, says he is dying from a combination of illnesses caused by exposure to dioxin, a key component of Agent Orange. House visited the base on July 27 as part of a weeklong visit to South Korea — paid for by a coalition of activist groups — that included testimony before members of South Korea's National Assembly and numerous meetings and press conferences with South Koreans and government officials.
Another veteran, Phil Steward, who claims the U.S. sprayed Agent Orange in and around U.S. bases during the late 1960s, traveled with him.
At Carroll, House toured the helipad area and told officials they had not tested the correct area, indicating the hillside as the location of the trench. Geophysical tests on the hillside are scheduled to begin Saturday.
A team of U.S. military officials interviewed House in the U.S. in late May, asking him to identify on a map where the trench he allegedly dug was located. Based on that interview, the military began geophysical testing around the helipad that included the use of ground-penetrating radar, electrical resistivity tests and magnetic survey.
Birchmeier said the investigation team has so far interviewed 171 people, including more than 100 South Koreans, who worked on or lived near Camp Carroll.
"In all the interviews we've conducted, no one has pointed to the same area Mr. House did in his visit on 27 July," he said. Nor have they said that Agent Orange was removed from the ditch when it was excavated, he said.
House was generally warmly received during his visit by South Koreans, who thanked him for coming forward with his allegations and traveling to their country. At one press conference, audience members took his photograph as he spoke and crowded around him to shake his hand as he walked out of the room holding a cane.
But there has been widespread anger and skepticism toward the U.S. military, with many environmental and political groups calling for a faster and more open investigation.
"Don't you think you have to apologize to the ROK people and the ROK government?" a South Korean reporter asked Birchmeier during Friday's press conference. Birchmeier did not address that comment.
Previous testing has indicated the presence of underground "anomalies" that officials say could be anything from metal barrels to pools of water. The investigation team is scheduled to release additional findings, including the results of core sampling to determine what those buried objects are, in late August.