Military spouses get hip clip tips from 'Extreme Couponing' show
---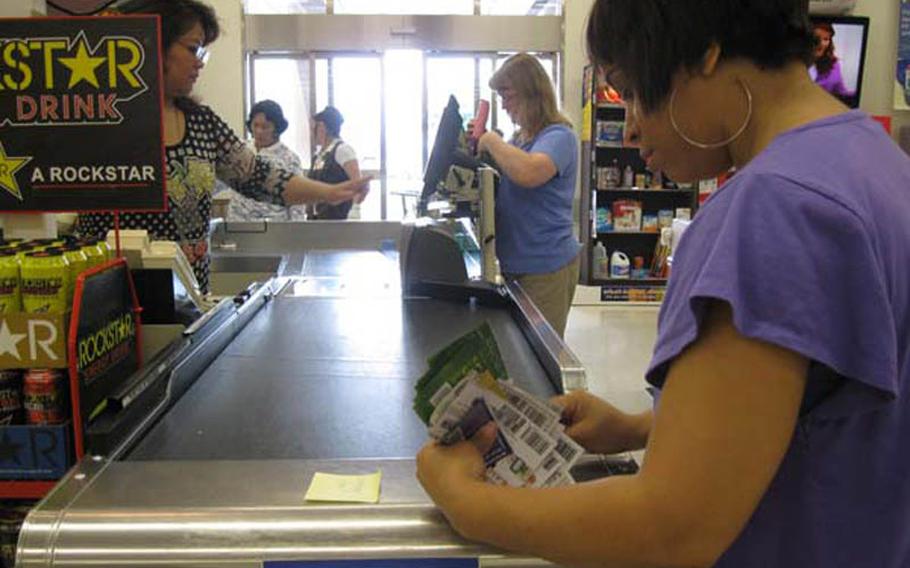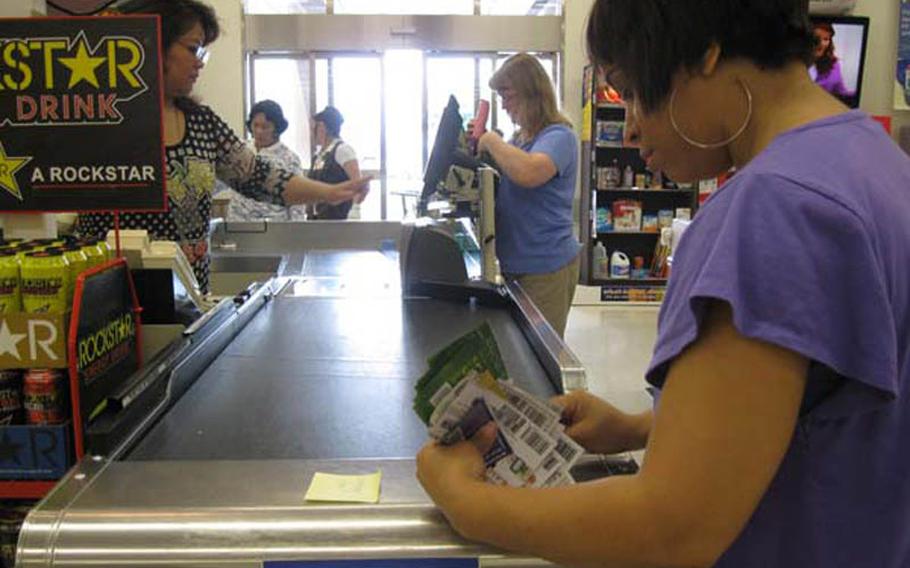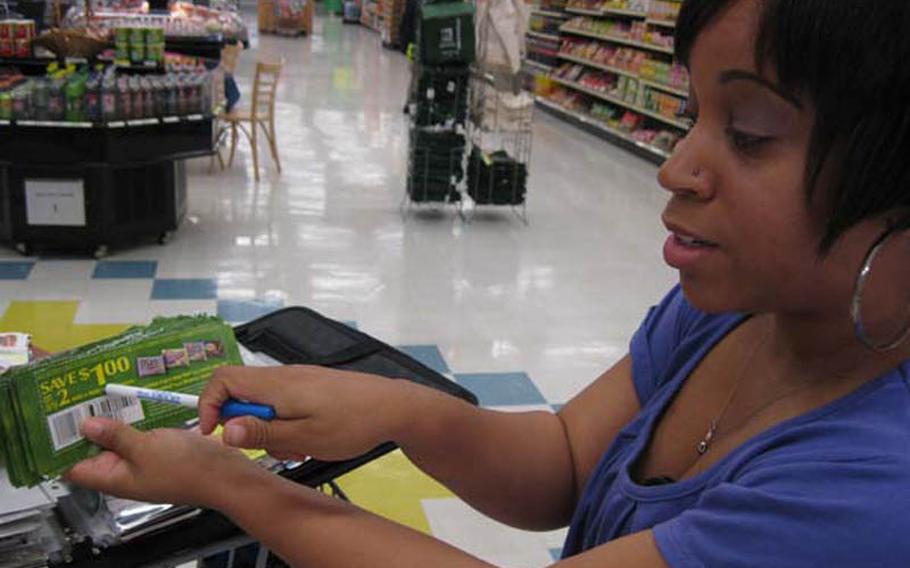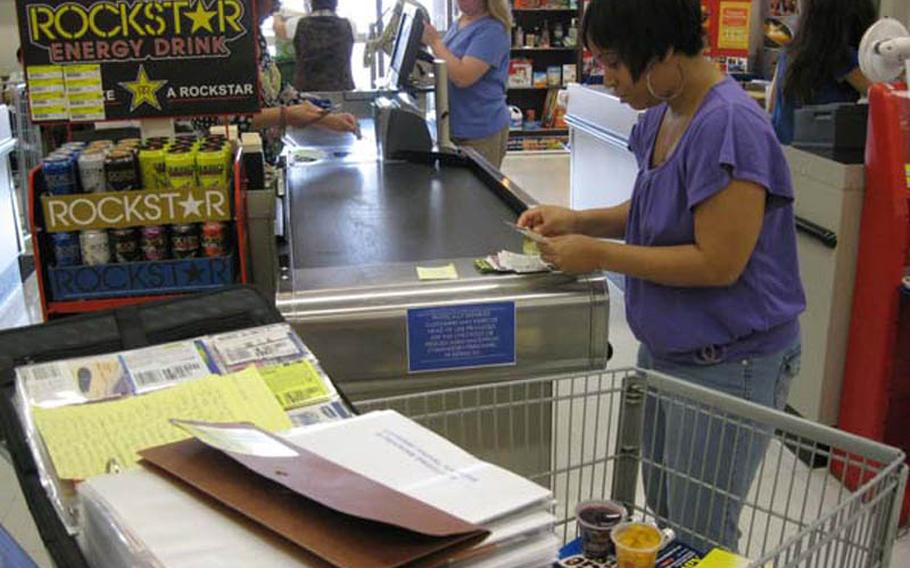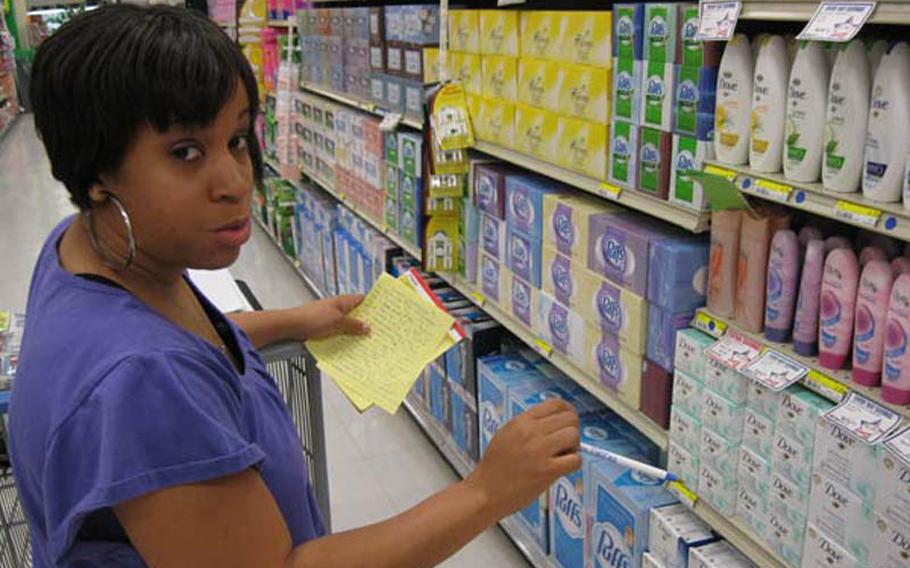 YOKOTA AIR BASE, Japan — Armed with two binders bulging with neatly clipped coupons every time she enters the commissary, Air Force wife Aprille Caesar shops for groceries like she's on a mission.
The objective: Save as much as possible.
Caesar has honed a military-like discipline for using coupons since tuning in to the reality TV show "Extreme Couponing," which debuted this spring on the TLC network. It features shoppers maximizing savings by using several coupons for items already on sale, then buying in bulk and walking away with hundreds of products for pennies on the dollar.
"If I don't have a coupon for something now, I usually don't buy it unless it's something I really need," said Caesar, 32, who over the past few months has cut her biweekly grocery bill by 30 percent, to about $100. She usually pays full price only for meat, vegetables and dairy products, for which coupons are typically scarce.
The stay-at-home mother of two had clipped coupons regularly in the past but began "taking it seriously" after seeing the show. That meant buying a coupon binder (a necessity to most avid "couponers") and creating a system based on her family's needs. She now pre-shops for upcoming sales to maximize coupon savings and sacrifices brand loyalty to make it work.
She claimed her greatest victory yet in July when she took home $337 worth of groceries from the Yokota commissary for about $25.
"I did it," Caesar exclaimed as she walked out of the store beaming. "It's not like the crazy savings you see on 'Extreme Couponing,' but I'm proud of myself."
Her husband, an Air Force technical sergeant, was proud, too. He briefly stopped in during that checkout to congratulate his wife on her accomplishment.
Although the Defense Commissary Agency hasn't seen a spike in coupon redemption since the show began airing in March, according to DECA spokeswoman Nancy O'Nell, blogs and social networking sites devoted to military spouses have been buzzing with traffic related to "Extreme Couponing."
Shoppers like Caesar praise the show for spurring their newfound sense of savings during tough economic times, but others have criticized it for encouraging unnecessary and obnoxious practices — such as buying out a store's entire stock of a particular item — and giving "couponers" a reputation for hoarding.
On a new Facebook group set up for military wives titled "Not so Extreme Couponing," one woman bemoaned the bad attitude she received from a commissary cashier.
"The cashier tried to tell me that I couldn't have that many coupons and then asked me 'I mean, do you even need all of this stuff?' Seriously!?" she wrote.
"That is what the show Extreme Couponing has done," replied one commenter.
Caesar said the backlash is understandable, considering similar experiences she's had with cashiers in the past few months.
"But they all know me now," she chuckled. "I'm the coupon lady."
Caesar said she is diligent, not fanatic. She does it to put extra money in the pocket of her one-income family.
However, she noted, there is such as thing as "coupon etiquette."
"Most people who coupon know you shouldn't clear shelves. That's the biggest thing I make sure not to do," said Caesar, who instead will pre-order items she anticipates buying in bulk.
U.S. retailers and supermarket chains have recently been adopting new coupon policies and other rules in response to the TLC show and the subsequent onslaught of shoppers it apparently has inspired.
DECA, the Army and Air Force Exchange Service and the Navy Exchange Service have policies that already prohibit many of the practices featured on "Extreme Couponing."
DECA, for example, does not allow customers to use more than one coupon per item but still ranks among the top 10 coupon-redeeming retailers in the U.S. alongside Walmart and Target, according to NCH Marketing Services Inc.
However, DECA permits shoppers to profit when a coupon is worth more than the item is listed for in the store. So, if you have a $5 off coupon for antacid and the antacid costs only $3.50, you get the item for free plus the $1.50 difference.
"That's the goal right there," Caesar said. "Why would you pay for something when you can get paid instead?"
And those stationed abroad, like Caesar, get the added bonus of being able to use coupons up to six months after they expire. The policy was created to help make up for the limited amount of U.S. coupons overseas. Many bases distribute stockpiles of expired coupons sent from stateside volunteers and coupon enthusiasts and most commissaries have a "coupon corner."
But while DECA, AAFES and NEX have not followed suit with civilian retailers' backlash to the show, officials said they continue to monitor trends and reserve the right to adjust their policies in the future.
Stay tuned.
COUPON TIPS
Aprille Caesar, a wife and mother of two, has reduced her grocery bills by 30 percent since she began cutting coupons a few months ago. Here are a few of her best tips:
Stay organized with a coupon binder.Break your family from brand loyalty.Redeem coupons on sale items to maximize on overages.Stock up on oft-used items to reduce shopping trips.Don't clear the shelves. Pre-order items you want to buy in bulk ahead of time.Read the fine print on the coupon and know your store's coupon policy.Stand your ground with a cashier when you know your coupon should be accepted.Connect with other couponers and retailers online for tips on how to save and where and when to find the latest deals.
---
---
---
---