Military, NGOs teaming up to deliver aid to earthquake victims
by
Seth Robson
April 6, 2011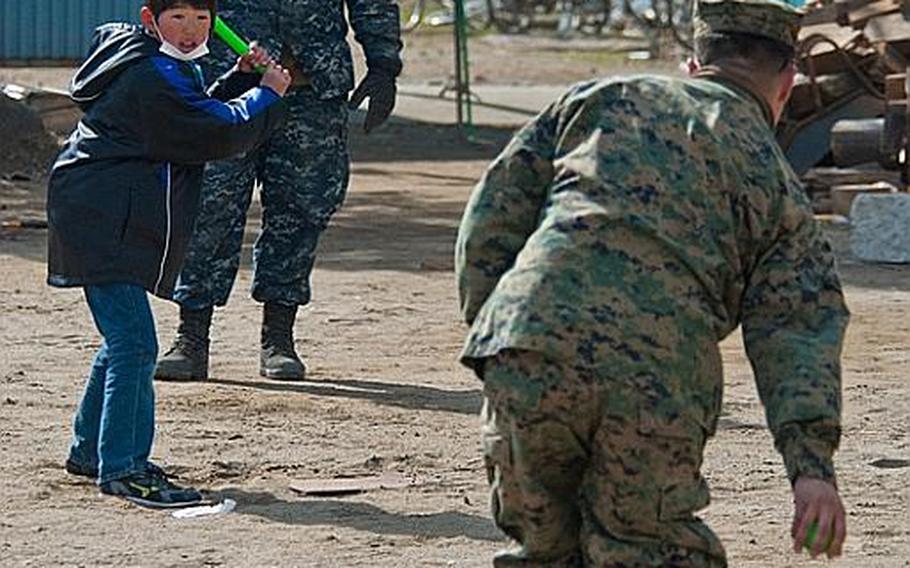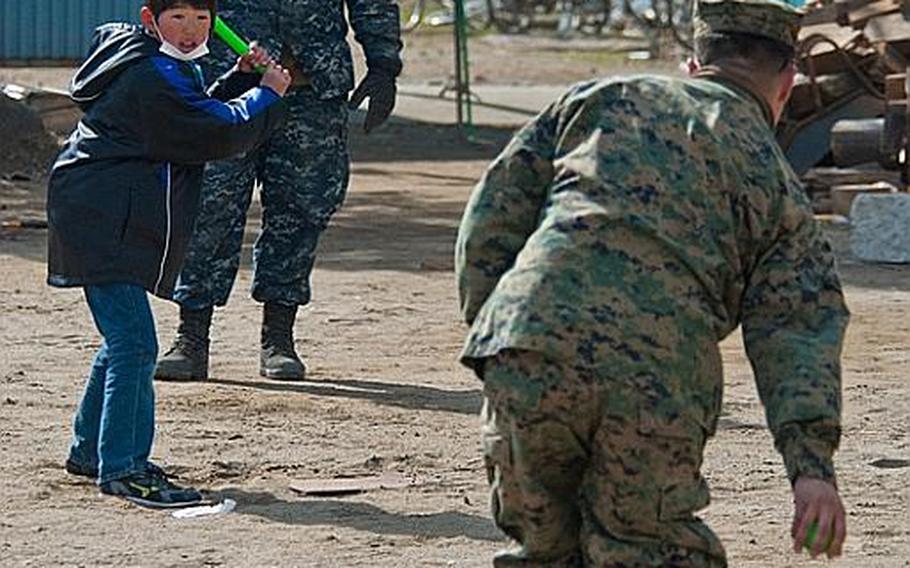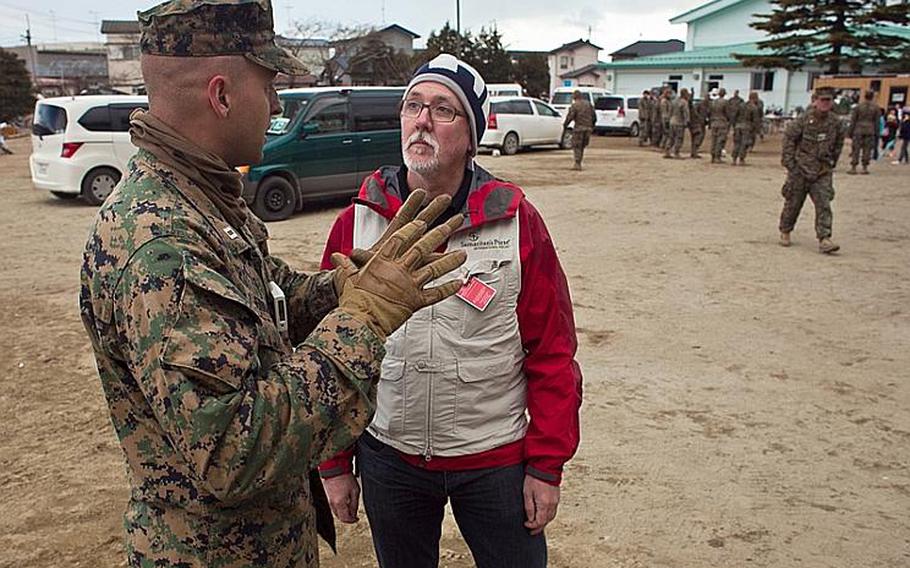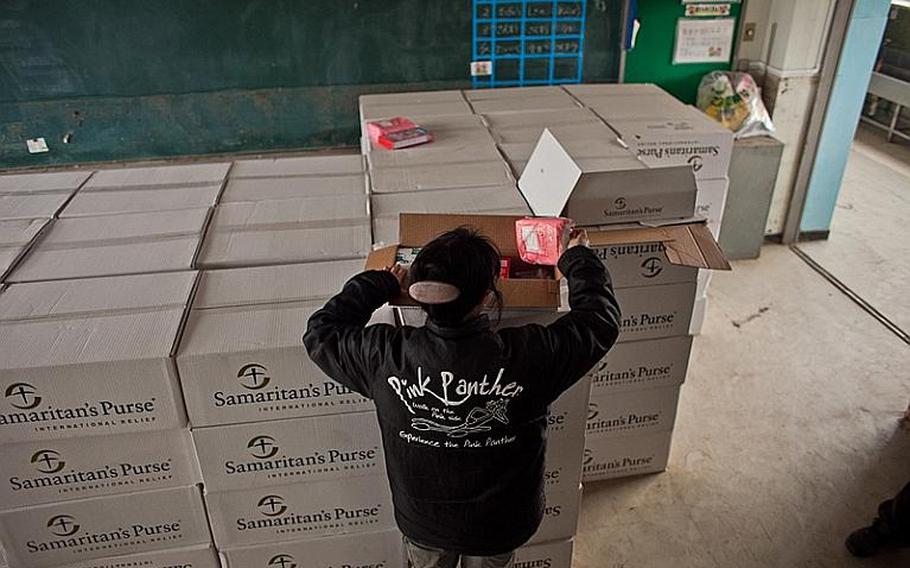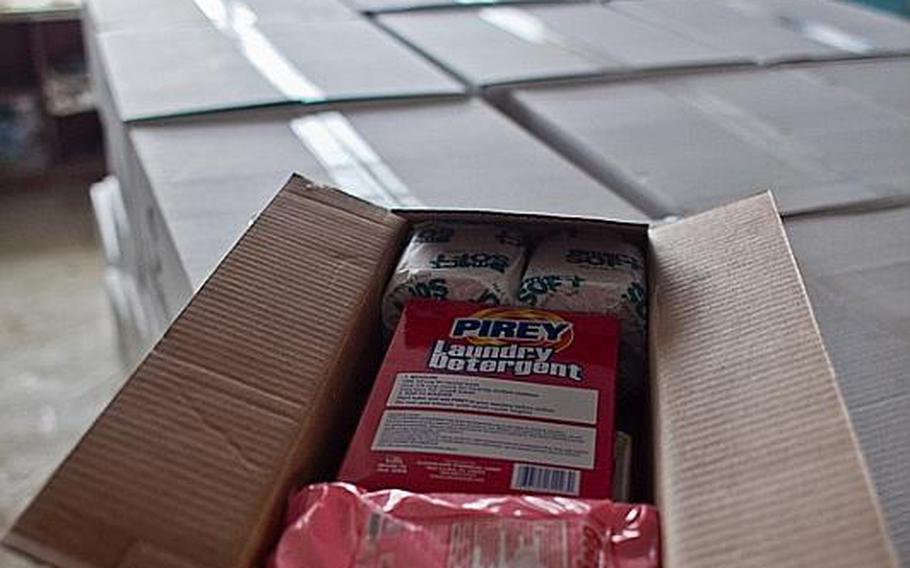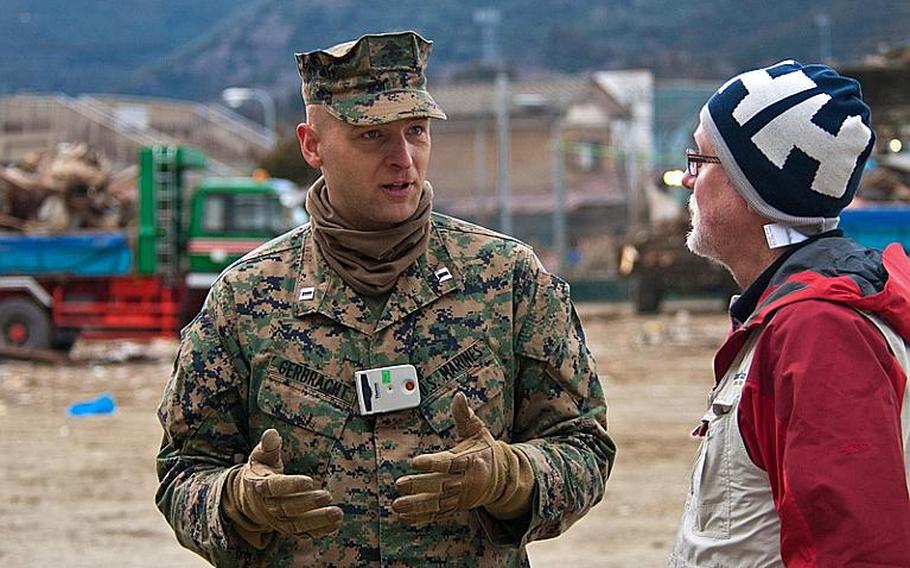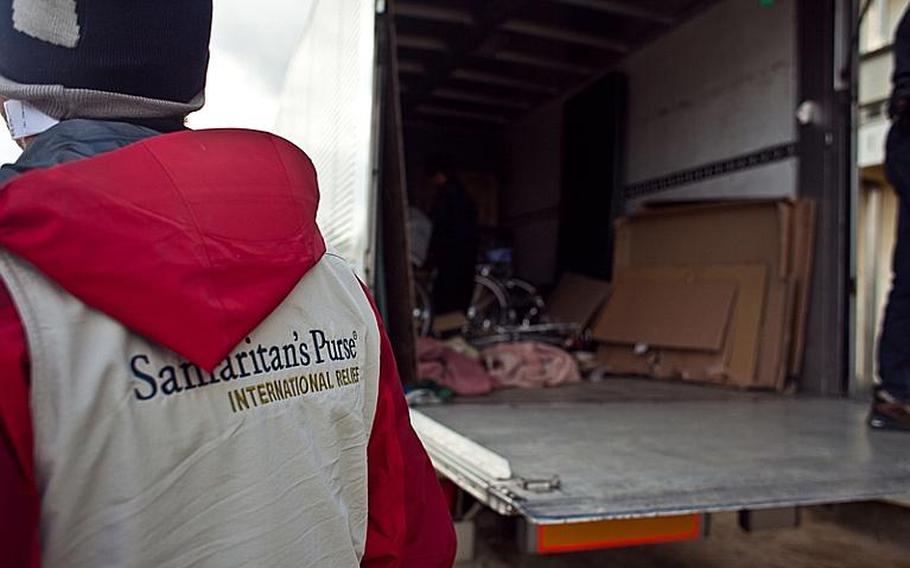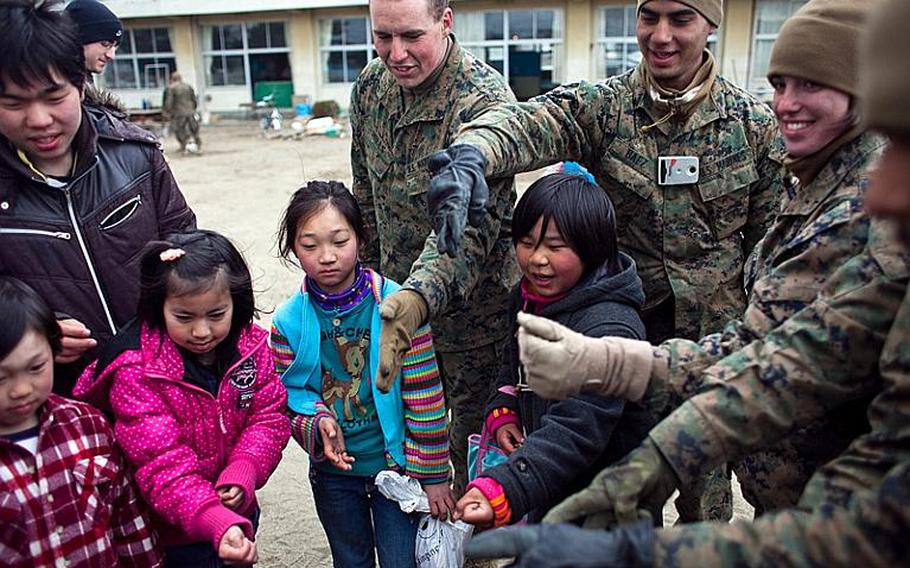 ISHINOMAKI, Japan – The U.S. military and private charities have been joining forces to distribute aid to tsunami-battered communities in northern Japan.
On Monday, Marines working in Ishinomaki — a city of 162,000 that suffered massive damage in the wake of the March 11 tsunami — stacked hundreds of cardboard boxes full of supplies in an evacuation center surrounded by splintered houses, wrecked cars and other debris. The packages, which contained items such as laundry and bathroom soap, were brought to Japan in a private cargo jet by Samaritan's Purse, a North Carolina-based Christian aid agency.
It was a chance meeting in the middle of a disaster zone that brought the two units together.
Darren Polischuk, 49, of Calgary, Canada, and other civilian aid workers of Samaritan's Purse arrived in Japan just four days after the earthquake to provide relief to the tens of thousands of victims.
Last week, when they were delivering 30 bicycles to a school here, the aid workers bumped into the Marines, who were clearing debris from the surrounding area.
"We said 'What if we try and do something together?' " Polischuk said. "We contacted some personnel in the Marines and arranged for the vehicles to come and deliver these goods."
Japanese government officials estimate there are more than 200 nongovermental groups, or NGOs, providing humanitarian relief in Japan. The aid coming from the U.S. is coordinated between the U.S. State Department and the U.S. Agency for International Development.
The State Department and USAID match up requests for support from the Japanese governments with the NGOs' offers of help, U.S. Forces Japan spokesman Sgt. Major Steven Valley said in an email to Stars and Stripes.
USAID validates requests and sends them to Yokota Air Base — the hub for U.S. relief efforts in Japan — and the military takes over from there, he said.
"In most cases, the military isn't speaking directly with an NGO," Valley said. "It's usually through the USAID rep."
A USAID official who has been working in the field to identify aid needs in affected communities said many NGOs - including groups such as the Adventist Development and Relief Agency and Save the Children - hook up with the U.S. military to get the goods delivered.
"We have seen it as one of our principle tasks to link up NGOs and government of Japan entities involved in relief efforts, with the U.S. military's very substantial transport capabilities," said the official, who asked not to be named.
So far, the U.S. military has moved more than 242 tons of food, 2.1 million gallons of water, 26 million gallons of fuel and 81 tons of other relief commodities to Japan's disaster areas, according to the latest Defense Department figures.
While the Marines were helping distribute the Samaritan's Purse supplies, missionary Cal Cummings, 69, of Philadelphia, looked on.
Cummings, whose church had brought eight truck loads of relief supplies to the devastated city, said he was going to head south, closer to the damaged Fukushima Dai-ichi Nuclear Power Station, to provide aid to communities that are getting less help because of radiation fears.
Tsunami survivors he's talked to are grateful for the work of the U.S. military in the disaster zone, he said.
"We just talked to a guy who said 'You Americans are putting yourself out. I can't thank you enough.' "
Polischuk said Samaritan's Purse and its 12 aid workers hope to coordinate more distribution efforts with the U.S. military.
"It is a good opportunity to work together," he said. "We don't have a lot of staff on the ground. We work on getting material into the warehouse, and we typically work with groups that are prepared to take material into the community."
Capt. Robert Gerbracht, 36, of Wantagh, N.Y. — one of the Marines who helped distribute the Samaritan's Purse aid in Ishinomaki — said the Marines and the civilian aid workers have the same mission.
"They want to give aid to people who need it the most," he said. "We want to clean up areas where people need it the most, so our missions overlap."
Samaritan's Purse has the humanitarian supplies, and the Marines have the vehicles and manpower to distribute it, Gerbracht said.
"It is a pretty effective example of an NGO working with the military," he said. "They are good at identifying those needs that people have. We are good at making things happen. We can do some humanitarian operations but they do this for a living. They know how to handle the people affected."
U.S. ground forces are moving their base for relief operations north from Sendai to Ishinomaki this week. Likewise, the Samaritan's Purse workers are planning to move their own base north from Sendai, probably to the town of Ofuna, Polischuk said.
Stars and Stripes reporter Charlie Reed contributed to this report.