Labor dispute could lead to U.S. soldiers guarding the gates in South Korea
by
Yoo Kyong Chang Ashley Rowland
November 30, 2011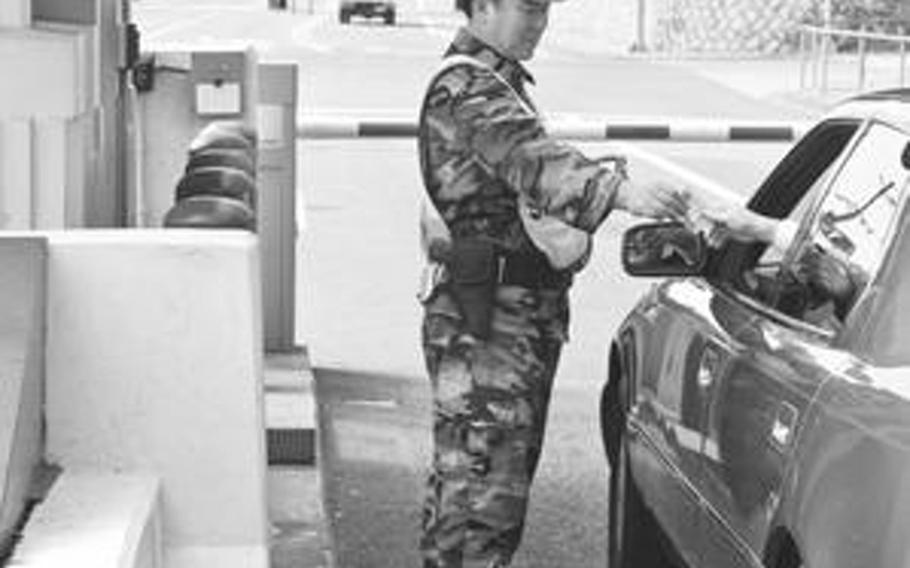 SEOUL — U.S. soldiers could be manning the gates at Army bases in South Korea beginning Thursday as hundreds of South Korean security guards are threatening to walk away from their posts rather than work for a new company that is offering them lower pay and longer working hours.
The United Kingdom-based G4S will take over security operations at a number of Army bases across the peninsula at midnight Thursday, when the military's contract with its former security provider, Joeun Systems Corp., ends.
Many of the estimated 850 guards who worked for Joeun are expected to protest outside four bases beginning Thursday morning: U.S. Army Garrison Yongsan in Seoul, Camp Red Cloud in Uijeongbu, Camp Casey in Dongducheon, Camp Humphreys in Pyeongtaek, according to leaders from several labor unions representing the security guards. One union leader said there would also be protests outside Camp Carroll in Waegwan and Camp Walker in Daegu.
Though technically not a strike because the guards have not signed a contract with G4S, the protest is expected to leave G4S short of the number of guards it needs to operate entry points at bases.
Eighth Army spokesman Col. Andrew Mutter said Wednesday afternoon that garrison commanders were in the process of determining how many soldiers might be needed to staff entry gates, and whether any gates would be closed.
"We expect minimal disruptions to entry procedures during this transition," he said, adding that terms of employment were a matter between G4S and the guards.
Although G4S was selected through normal bidding process, labor union leaders have said the guards will continue protesting until U.S. Forces Korea selects another security company.
"We will fight to the end until our requirements are fully satisfied," said one union leader, Park Deok Seo.
In a Nov. 28th letter sent to U.S. Forces Korea commander Gen. James Thurman, Park said guards decided to protest "in order to get back the right to maintain our own lives" after negotiations with G4S broke down.
G4S officials in South Korea refused Wednesday to discuss the situation. Park said the company has not been in contact with the labor unions since last week.
Security guards distributed letters this week to people entering U.S. Army Garrison Yongsan that outlined their concerns.
Eunho Peck, who leads another labor union, wrote in the Nov. 25 letter that the G4S demands would "critically undermine morale and life quality of those ordinary security guards, and in turn it will create the difficulty in recruiting new security guards."
The number of guards who are refusing to sign on to G4S' employment terms will lead to a "major shortage of personnel at each and every camp."
"Our labor union seriously worries about this catastrophe, and we would like to cordially inform you that the oncoming open post disaster has nothing to do with those ordinary [contract security guards] and [sergeant of guards]," the letter said.
G4S operates in more than 125 countries and has more than 625,000 employees, according to the company's website. Its work includes "logistics, technology, risk consultancy and project management and our experience of managing the world's largest force of security personnel," the website said.
Army installations in South Korea use contracted security guards to allow soldiers to focus on their military duties, military officials said.
As of August 2010, approximately 835 guards monitored 220 access control points at Army installations and the U.S. Marine Corps' Camp Mujuk, checking identification cards and controlling the entry of people and vehicles 24 hours a day.
The U.S. military extended its contract last year with Joeun, which began working for USFK in 2006, despite security lapses that included guards sleeping on duty and allowing a drunk driver without base access to enter a high-security compound.
Details about the military's contract with G4S were not available Wednesday.
Mutter said the company was selected through an open bidding process as the Joeun contract approached its expiration date.
chang.yookyong@pstripes.osd.mil