Kadena airman enters guilty plea in death of fellow servicemember
---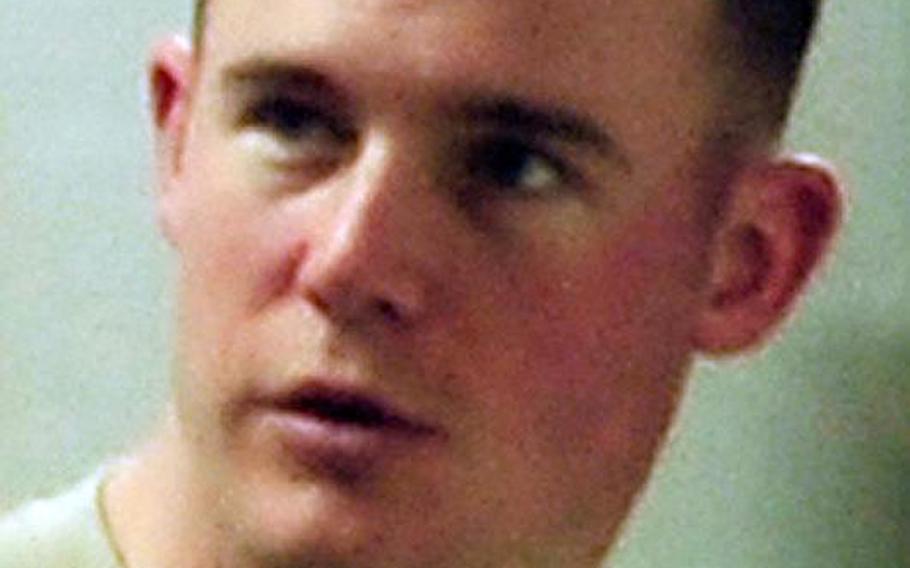 KADENA AIR BASE, Okinawa — A Kadena airman admitted in court Monday that he plotted with the wife of a fellow servicemember to murder her husband months before cutting his throat with a hunting knife in an off-base apartment last year.
Staff Sgt. Nicholas Cron, 26, of the 733rd Air Mobility Squadron, pleaded guilty to conspiracy to commit murder, premeditated murder and obstruction of justice during the opening day of his court-martial for the Feb. 6, 2011, stabbing death of Tech. Sgt. Curtis Eccleston, 30.
Cron pleaded guilty in November, according to the military judge in charge of the case, as part of an agreement with military prosecutors in order to avoid the death penalty.
Cron's trial now is focused on his sentence for killing Eccleston in cold blood, according to the court-martial judge advocate. He will receive a life sentence, but the court must decide whether he will be eligible for parole.
The victim's wife, Barbara Keiko Eccleston, 32, a Brazilian national, has been charged with murder by Japanese authorities. Her trial has not yet been scheduled by the Japanese court.
"In early to mid-November [2010], Barbara Eccleston sent me a text message asking me to kill her husband," Cron said in court Monday, while reading from prepared testimony. "I made a terrible mistake and hurt many people. I said, 'Yes.' "
According to court testimony and documentation, on a Saturday night in early February 2011, Cron packed a bag with two knives, surgical gloves and towels and went to the Ecclestons' apartment in the Mihama district near Kadena Air Base.
Dressed all in black except for a pair of dish gloves, he rang the Ecclestons' doorbell around 4 a.m. When the airman answered, Cron stepped into the apartment and slashed at Eccleston's neck with a boxcutter knife and the hunting knife.
"I could see blood coming out of his neck and he was having trouble breathing," Cron testified.
As Eccleston slumped on his kitchen floor, Cron called Barbara Eccleston so she could hear her husband die, according to the evidence in the case.
"While Barbara was on the phone, we could still hear a breathing sound coming from his body," and then Cron cut his carotid artery, he told the court.
Eccleston died of blood loss sometime before dawn, according to Japanese investigators.
Before leaving the apartment, Cron drank a can of soda from the refrigerator and took the airman's laptop and cell phone.
The theft was part of a ruse designed to throw off investigators, Cron said. Cron later told the Air Force Office of Special Investigations that Curtis Eccleston appeared to be mixed up with drug dealers and was storing drugs and money in his apartment.
According to facts laid out in the court-martial, Cron and Barbara Eccleston discussed making the airman's death look like an accident by drugging him and pushing his car off a cliff, or by tripping him on his apartment stairs and breaking his neck.
Cron and Barbara Eccleston had been lovers before she married Curtis Eccleston, and the two were having an affair during the months leading up to the murder, the court said.
During opening statements Monday, Air Force prosecutors portrayed Cron as a cruel, cold-blooded killer who killed Eccleston because he wanted his wife to himself.
Cron's defense said he is a naive young man who was manipulated into the murder by Barbara Eccleston, who told Cron her husband was abusing her and caused her to have a miscarriage.
The trial is expected to last through next week.
---
---
---
---