Japanese company offers limited chance to view MacArthur's office
by
Erik Slavin
July 19, 2012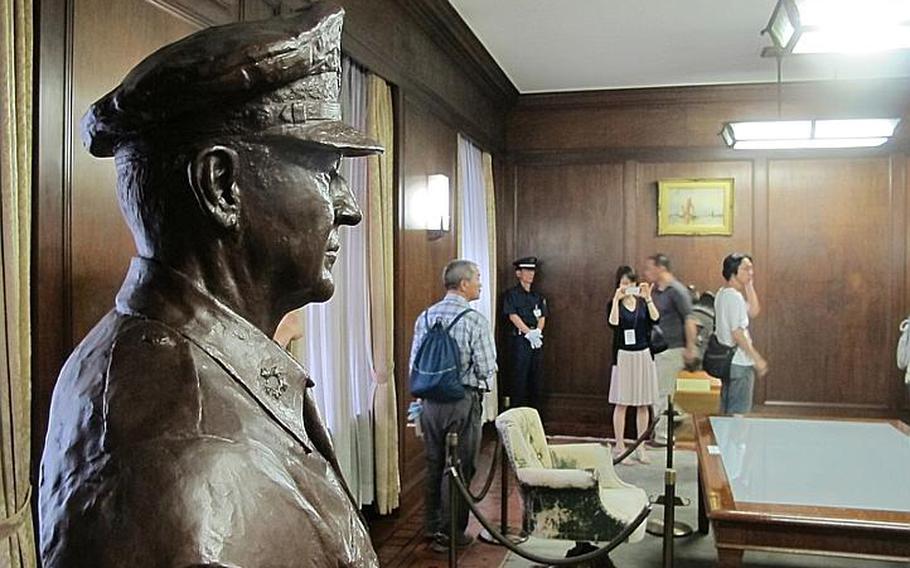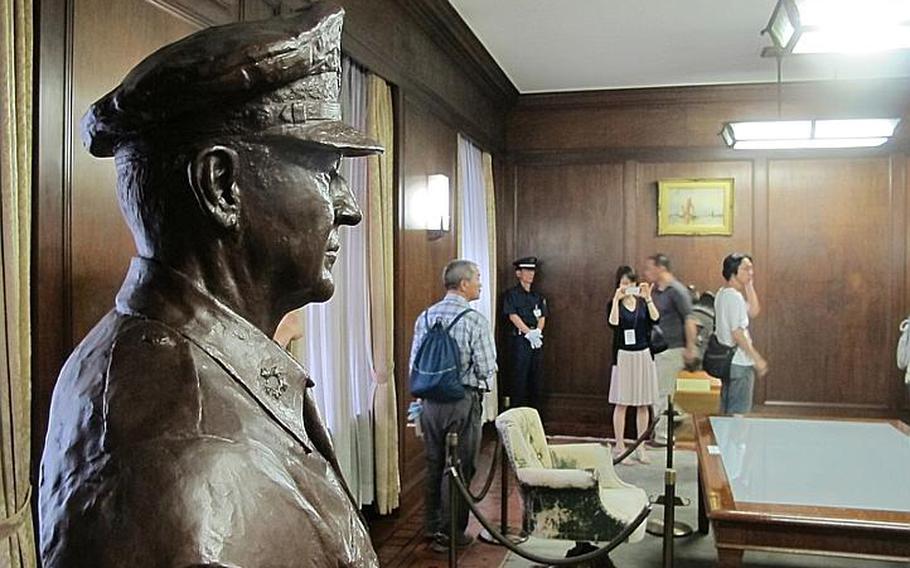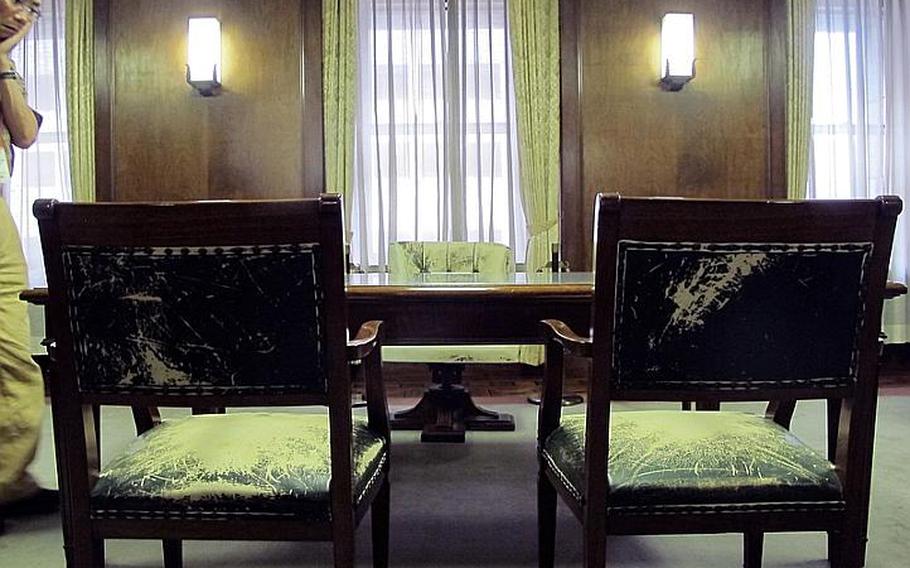 TOKYO – For nearly six years, Gen. Douglas MacArthur wielded power over post-World War II Japan from a sparsely decorated office on the sixth floor of an insurance company building.
Through Sunday, the public will get a rare glimpse of that office, which has been preserved as it was during MacArthur's time by the Dai-Ichi Life Insurance Co.
The 581-square-foot room — smaller than the offices some senior U.S. leaders in Japan have today — is adorned with a few paintings of yachts and has a weathered green carpet. MacArthur furnished his workspace with little more than three green leather chairs and a desk.
"The desk has no drawers," said Dai-Ichi Life spokesman Masanori Ibuki. "It shows how MacArthur made decisions swiftly and took action quickly."
A bronze bust of MacArthur now overlooks the room, along with a few glass cases that show off memorabilia from the occupation era.
When MacArthur moved in shortly after Japan's surrender in 1945, he saw a capital city "completely flat with destruction," where even "the rubble did not look like much," according to an American observer cited in the PBS documentary "MacArthur and the Japanese Occupation."
The building where MacArthur administrated Japan lies just across the road from Japan's Imperial Palace, where Emperor Hirohito resided at the time. Despite calls for Hirohito's ouster and trial as a war criminal, historians generally agree that MacArthur shielded the emperor and used his authority to legitimize the American occupation.
"Through him it will be possible to maintain a completely orderly government," MacArthur said of Hirohito, according to the PBS documentary.
Many historians credit MacArthur — a veteran of World War I, WWII and the Korean War and whose military assignments included colonial Philippines and Mexico — with running an administration in Japan that helped the nation begin the rise to its current status among industrialized nations.
During MacArthur's administration, Japan elected a democratic government, reformed the old feudal land system and passed its current constitution, which renounced war "as a sovereign right of the nation."
After MacArthur was dismissed by President Harry S. Truman in 1951, Gen. Matthew Ridgway occupied the office until April 1952. Gen. Mark Clark, who also oversaw the Army's forces during the Korean War, officially took over the office for about two months until Japan regained full sovereignty, in accordance with the San Francisco Peace Treaty.
MacArthur's office was open to the public until the 9/11 terrorist attacks, when the company decided to close it for security reasons, Ibuki said.
"We have no plans to open it again in the future" after this weekend, he added.
DIRECTIONS:
From Tokyo Subway Yurakucho Station or Hibiya Station: Go through the B2 exit near the Toei Mita line ticket gate. The building is in front of the exit. Walk in the front entrance and ask for a ticket to your left of the exhibit. The attendants do not speak English, but they will understand "MacArthur." Arrive early, as tickets for the 4:30 p.m. showing were being given out by 12:30 p.m. on Thursday. Viewing hours are tentatively from 10:30 a.m. to 4:30 p.m. and limited to 200 visitors per day.
From JR Yurakucho Station: The venue is a three-minute walk from the central west gate. Go out from the central west gate and walk straight toward the Imperial Palace. The room is in the white building facing the canal.
Stars and Stripes reporter Hana Kusumoto contributed to this story.
---
---
---
---