Japan offer could end Navy aircraft landings at Iwo To
By
Chiyomi Sumida Erik Slavin
July 8, 2011
---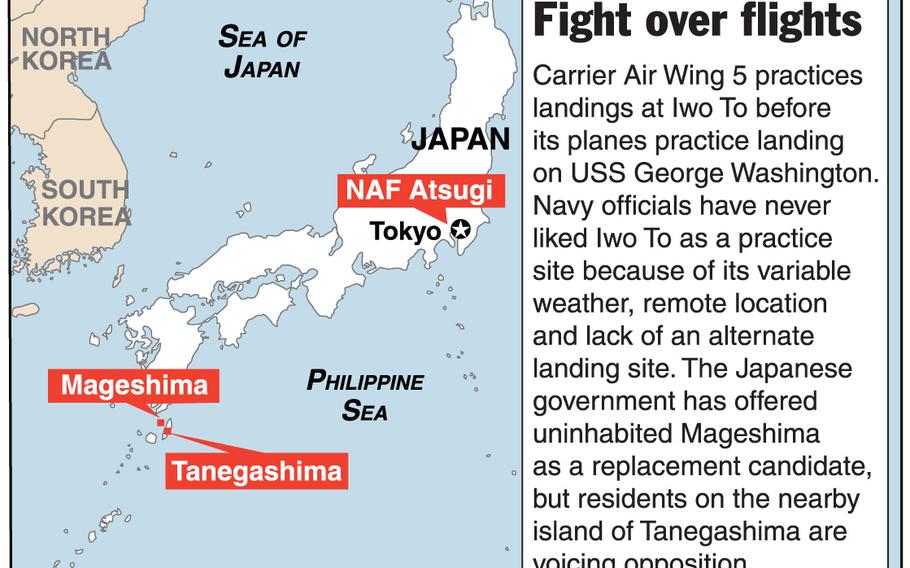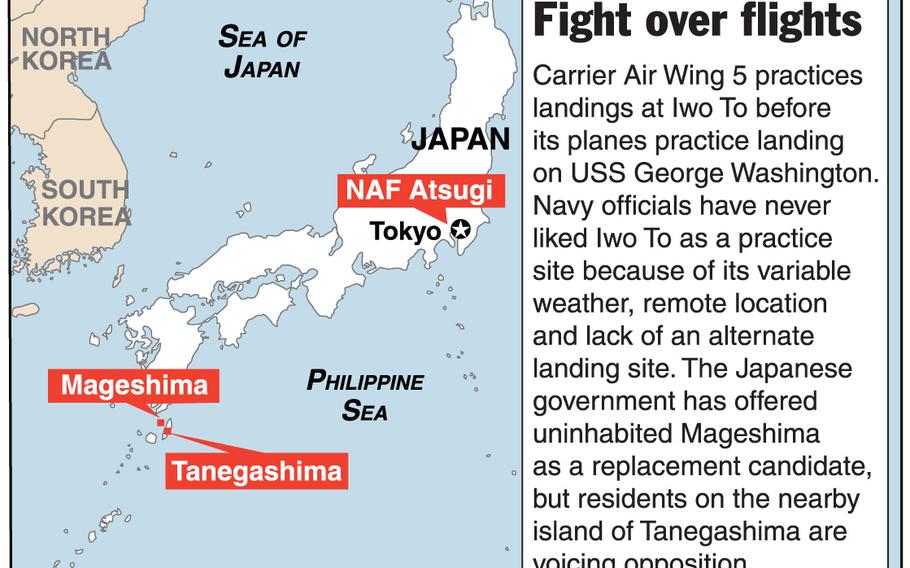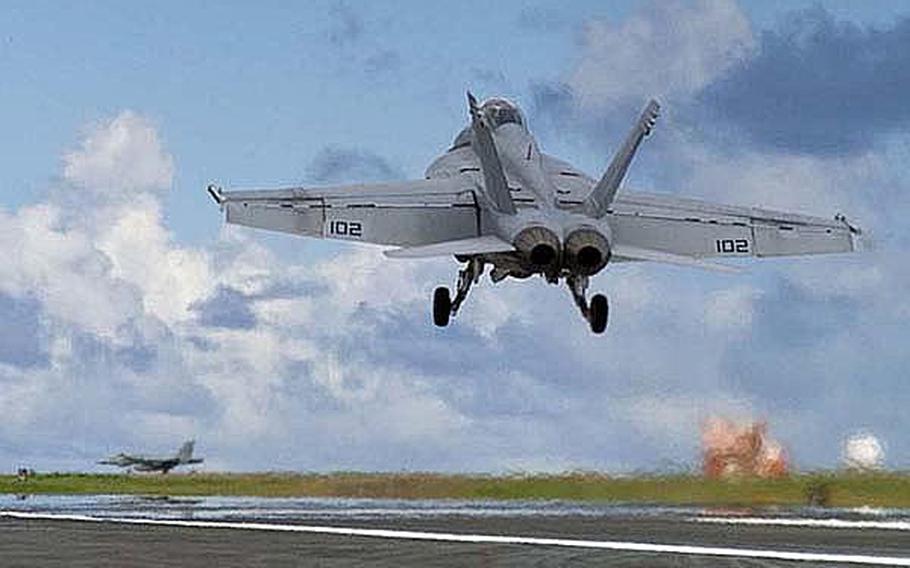 YOKOSUKA NAVAL BASE, Japan — The Japanese government has offered the U.S. Navy a site that would provide the USS George Washington's aircraft with a safer island to practice pre-deployment carrier landings, but the plan faces determined opposition from a neighboring island's residents.
The Navy is now studying the plan that would move carrier landing practices from Iwo To, formerly known as Iwo Jima, to uninhabited Mageshima, an island located in Kagoshima, mainland Japan's southernmost prefecture.
"We're currently staffing how [Mageshima] might meet our requirements," Commander Naval Forces Japan spokesman Jon Nylander said on Tuesday.
Two or three times per year, the George Washington's fighter pilots practice landings on Iwo To's airstrip for 10 days, before practicing landings on the carrier deck at sea.
The Navy has been using Iwo To's runway as a stopgap solution for more than 20 years, Nylander said.
The island, about 750 miles south of the Carrier Air Wing 5's home at Naval Air Facility Atsugi, is subject to variable tropical weather and nowhere near an alternate airport: If a plane were to crash on Iwo To's lone runway, there would be nowhere on the island for planes in the air to land.
Conversely, Mageshima is a short distance from alternate airports on Japan's mainland islands. It is about 200 miles from Marine Corps Air Station Iwakuni, which will be home to the George Washington's air wing if it leaves Atsugi in 2014, as scheduled under a bilateral security plan.
The Navy has purposely avoided using Atsugi, which is only 25 miles from Yokosuka, in order to avoid additional noise complaints from Japanese residents living just beyond the base's fences. Coincidentally, noise concerns from an island 7 miles east of Mageshima might become the biggest hurdle in relocating the carrier landing practices.
On July 2, Japanese vice minister of defense Katsuya Ogawa presented the relocation plan to officials in Tanegashima, a Kagoshima Prefecture island with 32,414 residents. Ogawa said that the Mageshima airport would be converted into a Japan Self-Defense Force base and used secondarily for the U.S. carrier practice landings.
Documents that Ogawa presented, now available in Japanese on Tanegashima town websites, illustrate growing regional security threats from North Korea, as well as from recent maritime incidents in the East China Sea. A Mageshima base also would allow the Self-Defense Force to respond to "large-scale disasters" in southern Japan, a Japanese defense official told Stars and Stripes on the condition of anonymity, which is customary.
The defense ministry says that aircraft noise won't affect most of Tanegashima. Even though noise from the Navy's F-18 fighter jet can reach levels of 150 decibels, the parts of the island that are affected will reach levels of up to 70 decibels, or the equivalent to the higher end of human conversation.
Nevertheless, the Japanese government's pitch hasn't convinced Tanegashima officials. Simply put, local leaders don't trust what the government is saying.
"The major concern is noise caused by flight training," said Yoshiyuki Yokoyama, spokesman for Nishinomote, the island's largest town.
Yokoyama says the island has voiced opposition ever since rumors of the plan began surfacing in 2007. They were repeatedly told that such a plan didn't exist, he said.
The government is only using the idea of disaster response operations to make the idea sound more appealing, he said.
"The true and sole purpose is to provide the island for [carrier landing] use," Yokoyama said.
A petition campaign began this week to oppose military operations and an islandwide rally is also in the works, Yokoyama said.
The Japanese government doesn't need Tanegashima's permission to build the base if it deems it necessary.
However, it has also shown reluctance to force the issue in other cases. Smaller islands than Tanegashima have successfully opposed the relocation of Marine Corps Air Station Futenma on Okinawa, a far more important asset to military planners.
Nevertheless, Mageshima remains "a strong candidate" to replace Iwo To, the defense ministry official said.
"We will move forward by continuing our effort to sincerely explain [the benefits] to local communities … while listening to their voices," the official said.
---
---
---
---