Iwakuni battles to keep black widow spiders confined to base
by
Elena Sugiyama Matthew M. Burke
June 7, 2011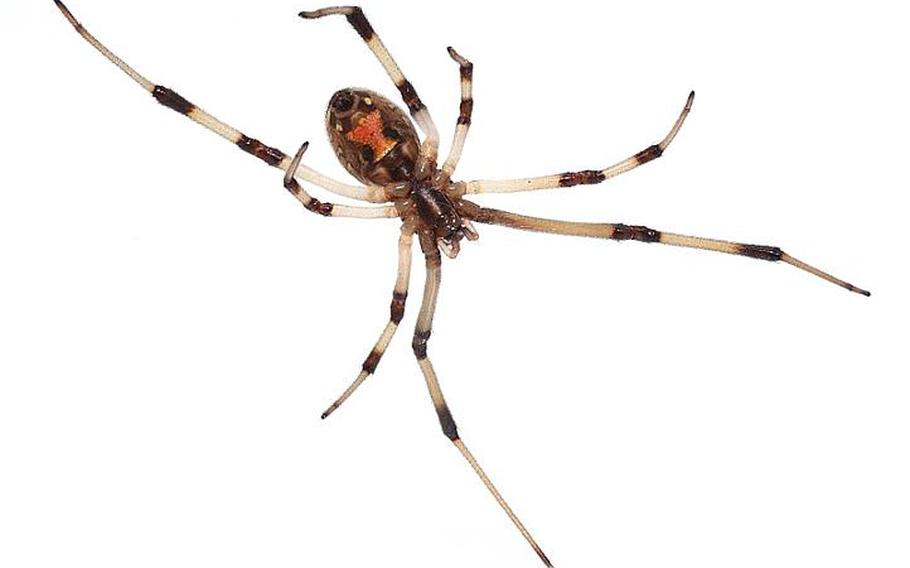 SASEBO NAVAL BASE, Japan — There is a battle being waged.
The enemy is elusive and must be rooted out virtually one by one — but has suffered approximately 25,000 casualties since 2000. Suggested solutions to achieve clear victory are varied.
We're not talking about insurgents in some sweeping valley thousands of miles away, rather poisonous spiders, including the storied black widow, which have been brought to Marine Corps Air Station Iwakuni as stowaways in crate and freight.
Base officials confirmed last week that both an adult and a juvenile brown widow spider — poisonous and in the same family as the black widow — were discovered and exterminated between February and April. This has Japanese officials asking the Americans to do more to eradicate the invasive species.
However, the issue is complicated. Both Japanese and base officials agree that stepping up the fight against the spiders with chemicals could pollute the environment. So for now, both agree that keeping them confined to the base will have to suffice.
"MCAS Iwakuni will continue to aim for black-widow-spider eradication," base spokesman Capt. Lawton King said in an emailed response to Stars and Stripes. "Total eradication is the goal, but progress is incremental due to ecologic reality."
There are four types of poisonous spiders found on the base, according to Hiroharu Doi, an official with the Iwakuni City Environmental Preservation Division. Doi said the black widow has been the most prevalent, followed by the brown widow, Yaeyama spider and the red back spider.
The poisonous spiders were first discovered on base in 2000, King said. Doi believes they were found before that, but it was not reported to Japanese authorities.
"The spiders might have been on base before 2000," said Doi, adding that the venom of the widow spiders is potentially life-threatening to infants, the elderly and pets. "But I think the Americans didn't think they were so dangerous that they had to report it."
King said the military takes the spiders seriously, explaining that on a daily basis trained civilian inspectors search for them, and if found, destroy them. In addition to good old-fashioned bug squashing, an over-the-counter insecticide is "judiciously applied," King added.
Between the months of October and January, inspectors discovered 11 males, 29 females, and 163 juveniles. Doi, who said there have been three reports of the poisonous spiders being found off-base along the fence line throughout the years, said the city conducts a search just outside the wire twice a week.
"We work closely with Iwakuni City and Yamaguchi Prefecture authorities to ensure all concerns are addressed," King said. "To date, I am aware of no reported cases of spider bites."
---
---
---
---