In wake of quake, Navy struggling to fill jobs on Yokosuka-based ships
by
Travis J. Tritten
August 2, 2011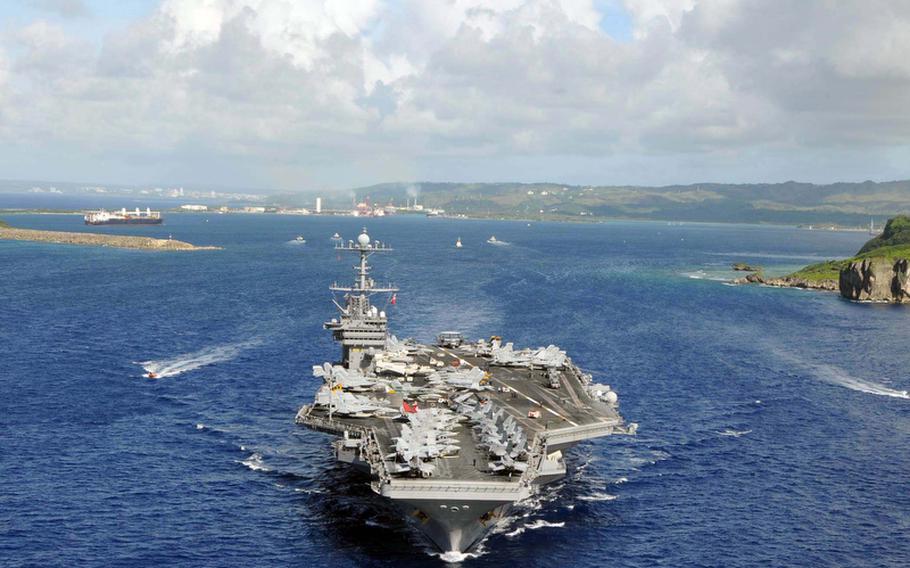 CAMP FOSTER, Okinawa — The Navy is having difficulty convincing sailors that it is safe to come to Japan and fill job openings on ships homeported at Yokosuka Naval Base following a massive earthquake and nuclear disaster earlier this year, officials say.
Commanders are growing frustrated as some key positions on 7th Fleet ships have not been filled as sailors currently working the jobs prepare to depart, according to Chief Petty Officer Tasha Wright, a career counselor at the base.
The Navy has blamed the problem on doubts over safety among sailors looking for a new duty station and recently launched a series of television ads on the American Forces Network to allay the concerns.
Meanwhile, other services say there have been no problems recruiting servicemembers to billets in Japan despite the earthquake that lashed the country's northeast coast and the subsequent near nuclear meltdown at the Fukushima Dai-ichi power plant.
"The news did a great job of making it seem like [the disaster] was right outside our front gate," Wright said. "Most people didn't have an idea of how close the disaster was."
The crippled Fukushima nuclear plant sits about 200 miles north of U.S. military bases in the Tokyo area such as Yokosuka and Yokota Air Base and hundreds of miles south of Misawa Air Base.
The distance is well beyond the radius of radiation danger calculated by the U.S. government but close enough to fray nerves. During the disaster, radiation concerns forced the USS George Washington aircraft carrier from its Yokosuka port and caused the voluntary evacuation of about 10,000 military dependents from mainland bases.
There has been no evidence so far that any U.S. personnel suffered dangerous exposure to radiation or any health problems following the disaster, military officials have said.
"It is absolutely safe to come over here," Wright said. "The experience here in Japan cannot be matched."
This PCS season, the Navy is advertising 779 sea billets and 271 shore billets in Japan, according to numbers released recently by the service.
Wright said she could not say how many billets were yet to be filled due to concerns that Japan might not be safe following the disaster.
Some of the billets might currently be filled with sailors who will be forced to move to new duty stations due to Navy rules that bar them from staying in Japan for too long, Wright said.
Yokosuka must convince sailors from other parts of the world who watched the earthquake and nuclear disaster unfold on television to come and take over the positions.
"The problem is that we have people who want to stay and [the Navy] won't let them stay," she said.
The vacancies have not affected operations and the Navy is not "strong-arming" any sailors into positions yet but that could occur if they are not filled, Wright said.
Japan has long been considered a coveted duty station for servicemembers because of its comfortable living conditions, lack of violence and proximity to other destinations in Asia such as Phuket, Bali and Manila.
"It is always something we are pushing, that this is a great assignment," said Maj. Neal Fisher, deputy director of public affairs for U.S. Forces Japan. "It's a great place to live, and we are paying you to be here."
The disaster does not seem to have affected filling billets at other bases on mainland Japan.
"I have not seen this with soldiers," Maj. Randall Baucom, spokesman for U.S. Army Japan and I Corps, said in email response to Stars and Stripes. "Some soldiers have had concerns as far as bringing their families but as far as their service in Japan, there have not been significant concerns."
Yokota Air Base has not seen problems recruiting airmen to fill billets at that base, according to spokeswoman Capt. Tanya Bryan.
Pacific Air Forces also said it appears there is no problem convincing airmen to take Japan billets following the disaster.