General: Lethal U.S. airpower ready to defend ally against North Korean threats
by
Franklin Fisher
July 26, 2010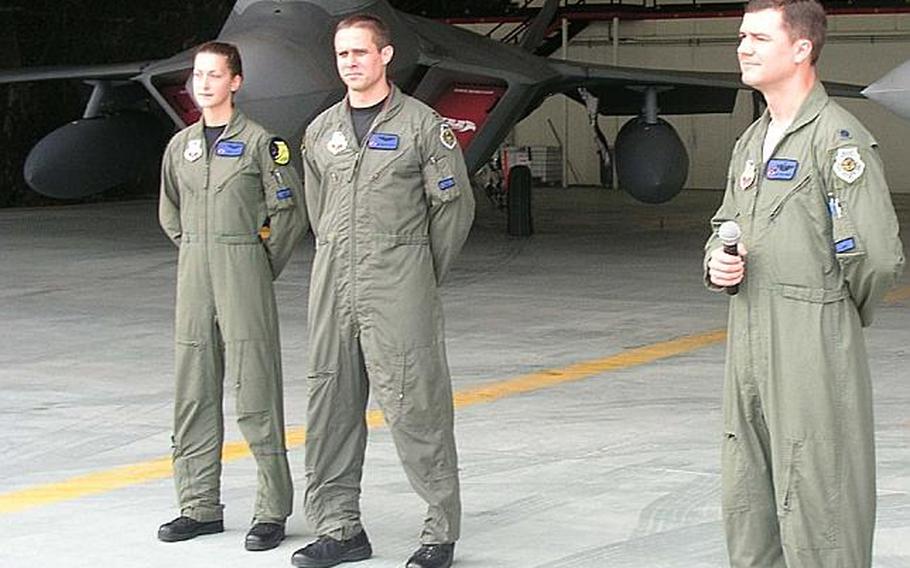 OSAN AIR BASE, South Korea — The United States stands ready to bring to bear military force – including sophisticated airpower – if North Korea pursues aggression against South Korea, a U.S. Air Force general said Monday.
With two advanced F-22 Raptor fighters on display in a hangar behind him, Lt. Gen. Jeffrey A. Remington issued the "defensive message" during a press conference at Osan Air Base as a large-scale show of force exercise entered its second day off South Korea's east coast.
The four-day "Invincible Spirit" exercise consists of about 20 warships, 8,000 U.S. and South Korean servicemembers, and about 200 warplanes from both countries, officials said.
"The United States of America and its air power will be there, and its naval power will be there, should we need to deter and, or, defeat North Korea," Remington told a group of mostly South Korean media.
Remington commands U.S. 7th Air Force (Air Forces Korea) at Osan and would head U.S. and South Korean forces in a wartime air campaign.
This week's show of force is "defensive in nature and designed to dissuade and deter further provocations from North Korea," he said.
The U.S and South Korea said they're staging the exercise in response to the sinking in March of the South Korean warship Cheonan, which South Korea blames on a North Korean torpedo. North Korea has denied responsibility for the incident, in which 46 South Korean sailors died.
Besides echoing the deterrence theme of other senior U.S. officials in recent days, Remington used the press conference to highlight the role of airpower in the exercise and its potential use in defending South Korea.
"The air component provides the full spectrum of combat missions," which include destroying enemy aircraft, striking at ground targets, rescuing downed aircrew members and suppressing enemy air defenses, he said. "The Republic of Korea Air Force and the United States are committed to providing the right combat power, the necessary fire power, to protect the Republic of Korea and regional stability."
Part of the U.S. air arsenal includes bombers, Remington said, noting that some are stationed on Guam.
"And we rotate them out here to Korea from time to time as well," he said.
But U.S. officials seemed especially eager to remind North Korea of the presence of the F-22.
The general did this early in his remarks, saying the exercise would see the use of about 200 South Korean and U.S. warplanes, "including the F-22 Raptors you see behind us." Until this week's exercise, no F-22s had operated in the Korean theater, officials said.
The Air Force flew the two Raptors from Okinawa, where they've been on temporary deployment from their home base in New Mexico.
"Because the F-22 is in Northeast Asia, we want to make sure we can demonstrate the ability to get it from its current location to any location we might need in the Pacific," he said.
Lt. Col. Robert Teschner, an F-22 pilot who commands the 7th Expeditionary Fighter Squadron, said the Raptor is known for its advanced, high-performance capabilities, including its ability to evade enemy radar.
"The F-22, because it's such a leap in technology, it can get places" earlier generations of fighters can't, he said.
"And it does so without the bad guys being able to detect it," said Teschner. "That's what makes it such a lethal fighter. That's what has people talking."