Former American POWs return to Japan to visit site of internment
---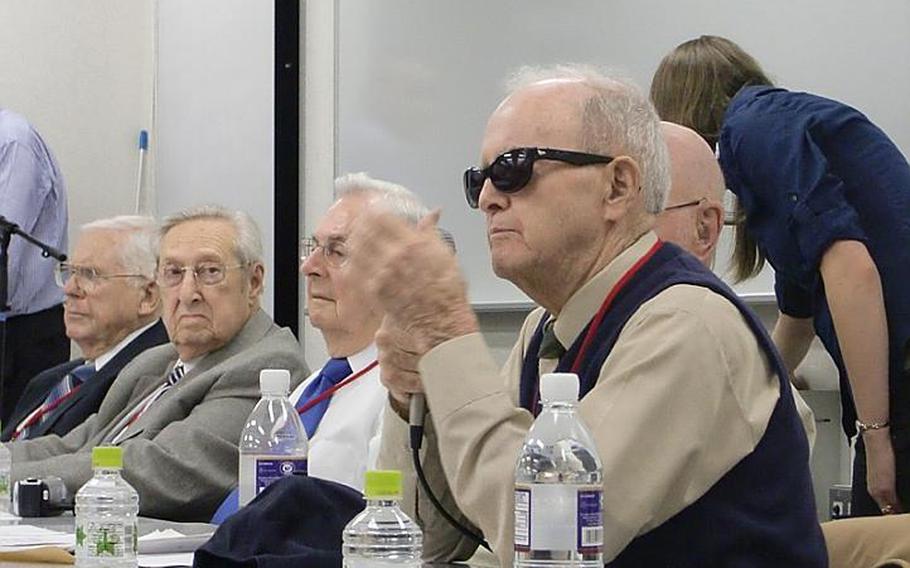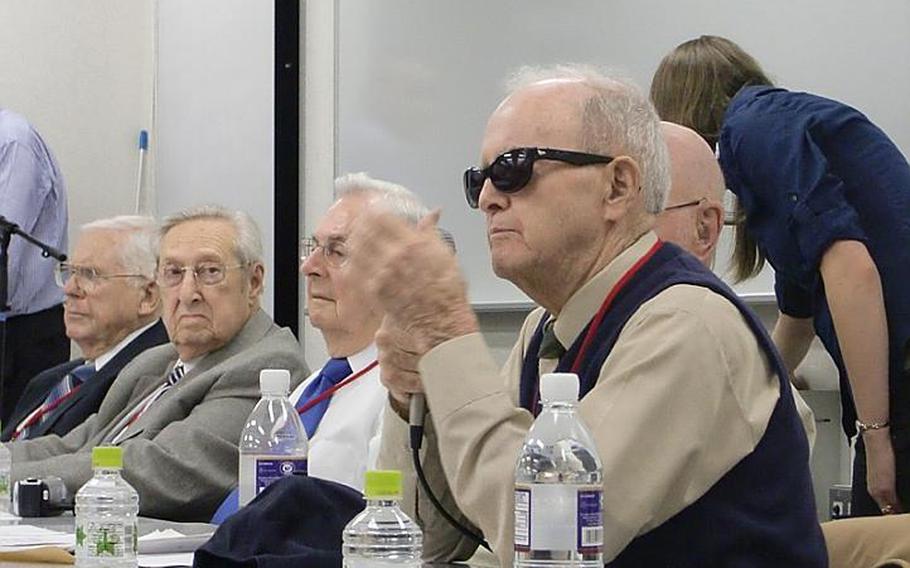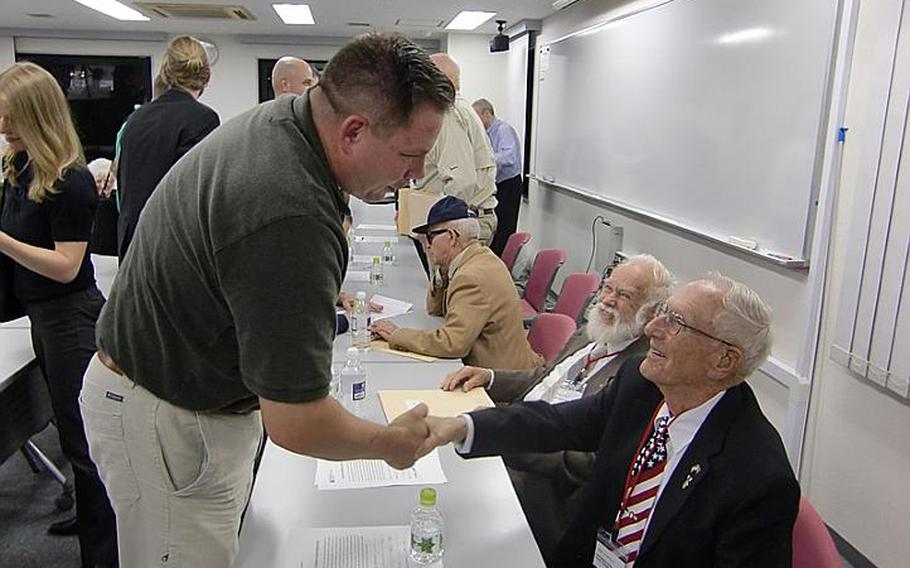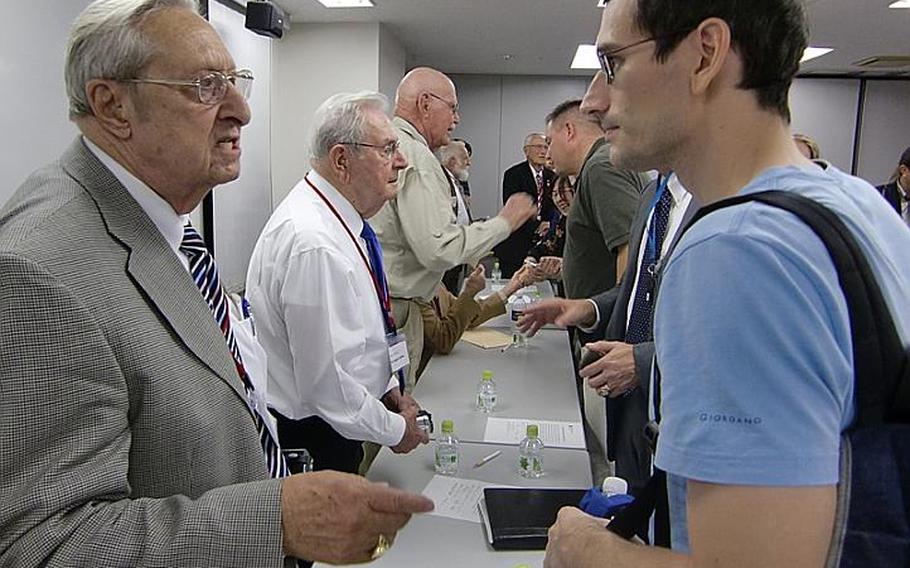 This story has been corrected. YOKOTA AIR BASE, Japan – Time doesn't heal all wounds.
If it did, 88-year-old Harry Corre wouldn't be in Japan right now.
Corre and six other men held as prisoners of war by Japan during World War II arrived in Tokyo Sunday for a weeklong "reconciliation tour" sponsored by the Japanese government.
Some 27,000 U.S. troops were captured by Japan during the war and forced into slave labor. The POWs suffered in hellacious conditions at the hands of their Japanese captors; torture, starvation, disease, exposure and the constant deaths of their brothers in arms.
Japan organized the trip to help the men gain a sense of closure to the horrific ordeal. For while they recovered from their injuries and renourished their bodies, many say the pain from their psychological wounds has not dulled with time.
"It doesn't go away," said Corre, who works for the Department of Veterans Affairs in Los Angeles. "And it never will."
Many of the Americans captured by Japan — including Corre and the others in his group — were sent to work directly for Japanese companies fueling the war effort at more than 100 camps throughout Japan. Several of the some 60 companies are still in business today, though only one agreed to participate in the tour.
Those not sent to the companies worked directly for the Japanese military in the Philippines, China and elsewhere in the Pacific.
Tens of thousands of other Allied troops and Chinese, Koreans and Filipinos were also captured by Japan during WWII and the preceding Sino-Japanese War and worked alongside the Americans at the corporate and military work camps.
Corre attributes his own survival at a work camp in Omuta in southwestern Japan to the demise of his fellow soldiers, some of whom would trade their meager daily mush rations for his cigarettes.
"I'm sure there's a lot of guys I starved to death," he said during a lecture Monday night at Temple University in Tokyo.
"I'm not proud of it, but I survived," Corre said. "When you are a POW, the only thing you think about is how to live, not the next guy."
The guilt and horror still consume his thoughts, even his dreams.
"The best thing you can do is talk about your experience," Corre said, echoing advice he said he doles out to other veterans at the VA hospital in Los Angeles. "But there's no way you forget it."
Following their release after Japan's surrender in August 1945, the POWs said they tried to forget. Most failed.
"The government said go home, forget about the war and don't tell anyone about the atrocities," Harold Bergbower, 91, said Monday at the Temple lecture. "It was terrible."
Bergbower, who now lives in Peoria, Ariz., returned to Japan with his family in the mid-1950s while still in the Air Force to help train the Japanese military. The Japan Self-Defense Forces were established under the auspices of the U.S. during its occupation of Japan following WWII.
Bergbower spent three years in Japan following the war, but until Tuesday had never gone back to the site of the chemical plant where he worked after being shipped to Japan from the Philippines after his capture.
He was joined by 88-year-old James Collier, also held captive at the chemical plant.
"We wanted to participate in the program in hopes that their visit to our company will help to mitigate the pains that they had to go through and the feelings they have harbored for many years," said company spokesman Takao Hamada. "I understand that it was a hard decision for them to make to come back here."
But hard doesn't come close to the emotions that played into Collier's decision to return to Japan.
"I was torn," said Collier, a retired teacher and guidance counselor from Salinas, Calif., who spoke to Stars and Stripes via telephone after touring the Takaoka factory Tuesday. "The company officials were so gracious and well-prepared."
But all the pleasantries essentially distracted him, he said, and the site had totally changed after decades of development.
"I didn't slay any demons today," Collier said. "It was a very nice distraction. ... But those feelings are always right there lurking under the surface, like a volcano."
CorrectionAn earlier version of this story incorrectly characterized the number of U.S. POWs who died or were killed after being captured by Japan during WWII. Of the approximately 27,000 POWs, roughly 40 percent perished, 1,115 of them after being sent to Japan to work as forced laborers.
The POWs who came to Japan were dispersed among more than 100 camps run by approximately 60 companies.
---
---
---
---