Fishing villages thank U.S. troops for Operation Tomodachi
---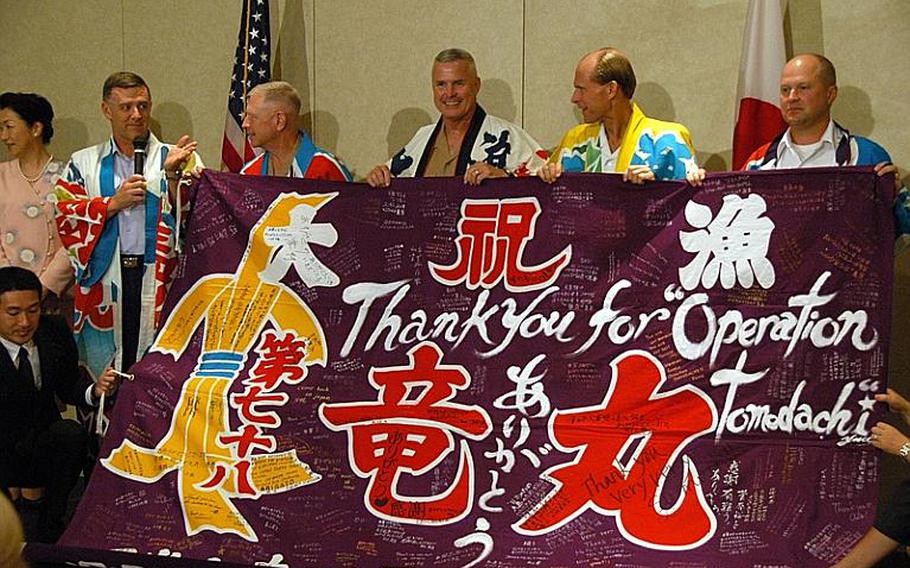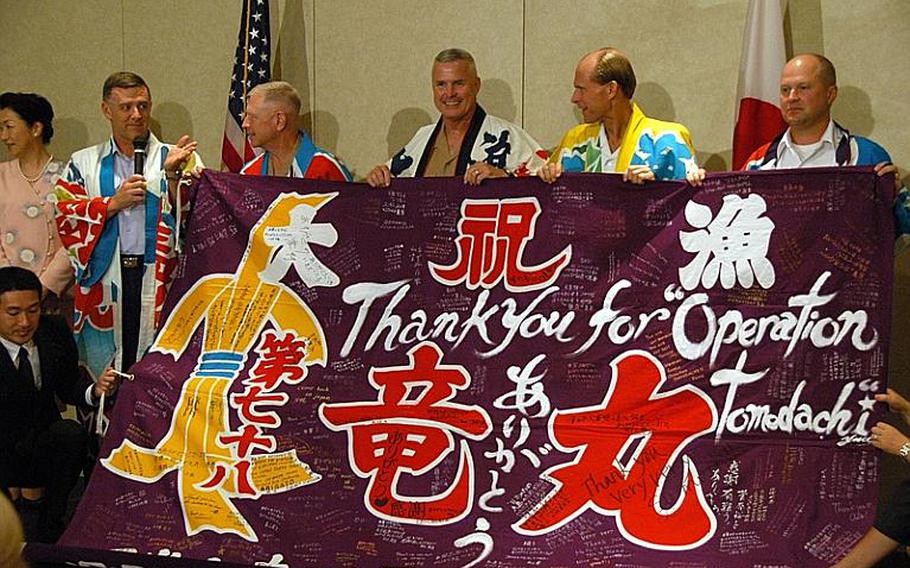 TOKYO — Japanese fishing boats arriving in port with their catch fly colorful flags called "tairyo-bata" as symbols of courage and bountiful harvests from the sea.
On Monday, residents of Japan's Miyagi Prefecture, which was devastated by the March 11 earthquake and tsunami, traveled to Tokyo to give U.S. military leaders a large tairyo-bata and thank them for their efforts during Operation Tomodachi.
Almost 20,000 U.S. personnel were involved in the relief effort, initially helping with search and rescue and, later, clearing tsunami debris from schools and providing food, water and hot showers to people left homeless after the disaster. Many of the places where U.S. personnel worked were fishing towns whose major industry was left in ruins.
Housewife Masako Matsuda, whose idea it was to present the tairyo-bata that was donated by a local fisherman's association, said many residents from Oshima Island and her hometown of Sendai — two tsunami-ravaged areas where U.S. forces worked — wrote messages on the flag to express their gratitude.
"During the worst times of the disaster your servicemembers came quickly," she told the U.S. leaders. "People appreciated the U.S. servicemembers swift and appropriate response."
Lt. Gen. Burton M. Field, the commander of U.S. Forces Japan who accepted the flag during a ceremony at the New Sanno Hotel, said U.S. personnel were honored to be part of the relief effort but stressed that the Japan Self-Defense Force did the bulk of the work.
The tairyo-bata "will occupy a great place of honor in our headquarters," Field said. "For me it will… represent the grace and dignity of the Japanese people and also the very large catches of fish yet to come."
---
---
---
---