Family, friends remember Marines killed in KC-130J crash off Japan coast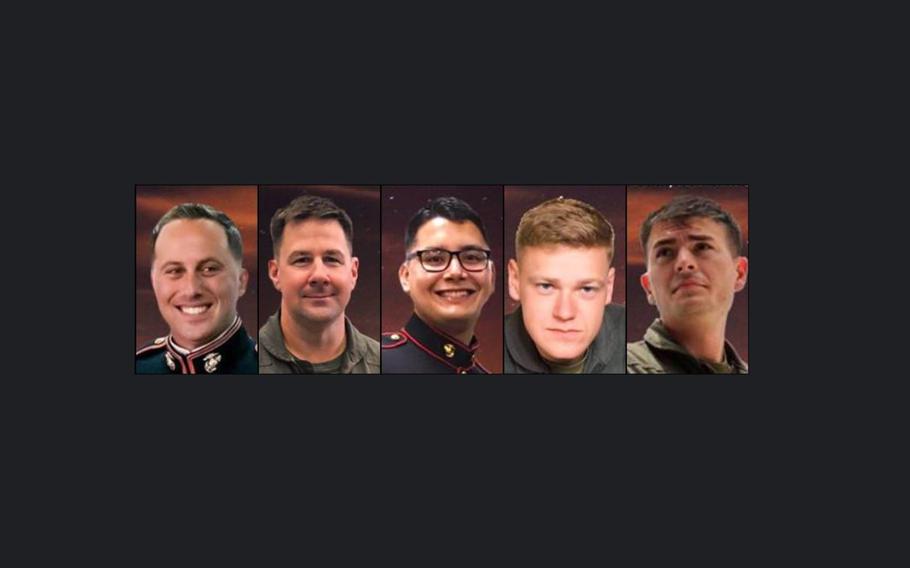 WASHINGTON — The five missing Marines who were aboard the KC-130J tanker plane that collided midair with an F/A-18 fighter off the coast of Japan last week ranged from young corporals early in their service to a veteran pilot, who was the executive officer of their Japan-based squadron. On Tuesday, they were declared dead, ending days of searching for them.
The crewmembers aboard the aerial refueling plane were Lt. Col. Kevin Herrmann, 38, of Fredericksburg, Va.; Maj. James M. Brophy, 36, of Staatsburg, N.Y.; Staff Sgt. Maximo Flores, 27, of Surprise, Ariz.; Cpl. Carter Ross, 21, of Hendersonville, Tenn., and Cpl. Daniel Baker, 21, of Tremont, Ill., the Marine Corps announced Wednesday.
The fallen crewmembers belonged to Marine Aerial Refueler Transport Squadron 152, nicknamed the Sumos, and were based at Marine Corps Air Station Iwakuni in Japan. Their bodies were not recovered during a five-day search that spanned 35,000 square nautical miles of the Pacific Ocean following the midair collision at about 2 a.m. local time Dec. 6. Marine Lt. Gen. Eric Smith, the commander of III Expeditionary Force, called off the search effort Tuesday, after American, Australian and Japanese forces spent about 900 hours searching for the missing crew.
The KC-130J crewmembers were not the only Marines to perish in the crash. Capt. Jahmar Resilard, a 28-year-old pilot of the Hornet, was also killed in the incident. His body was recovered in the hours after the crash alongside another unnamed Hornet pilot, who survived and has been released from the hospital.
Marine officials are investigating the cause of the crash. In a statement Tuesday, the Marines said they had not determined whether the two aircraft were in the refueling process when the planes collided.
Lt. Col. Kevin Herrmann: 'He loved his family'
On the day of what would be his final flight, Lt. Col. Kevin Herrmann called his mother, Mary Herrmann. He knew she had recently undergone some medical tests, so he wanted to see how she was feeling.
"How good is God that he urged him to call me?" Mary Herrmann said Saturday night to the crowd gathered in Fredericksburg, Va. to pray for her son and the four other Marines still missing after a midair crash in Japan to be found.
Because of the time difference, it was her morning, and his evening. After that call, her son boarded his flight.
During the vigil, held in the town where the Marine's sister lives, it was clear Mary and Kevin Herrmann Sr.— though strong in their faith — expected the worst.
"Losing a child is hard and we'll get through it with God's help and support," retired Marine Corps Col. Kevin Herrmann Sr. said at the vigil.
Their son joined the Marine Corps after graduating in 2002 from Appalachian State University in North Carolina. He was the pilot of the ill-fated KC-130J Hercules tanker plane that night and the executive officer to the 152nd Marine Aerial Refueler Transportation Squadron. He joined the unit in 2016 and moved to Japan with his wife and their three daughters, ages 12, 10 and 7. He was posthumously promoted to lieutenant colonel, a rank that he had been selected for before his death.
"Kevin is everything that a man and a father and a son should be," the elder Herrmann said. "He enjoyed everything that life threw him. He loved his family. He cherished every moment with his kids."
Before arriving in Japan, Kevin Herrmann earned his master's degree at the Marine Corps University at Quantico, Va., according to his LinkedIn profile. He deployed to Afghanistan in 2011 as an operations officer and KC-130 aircraft commander. He served as a pilot in Iraq in 2005 and 2007.
His decorations included the Air Medal with twenty-four Strike Flight Awards, two Navy and Marine Corps Commendation Medals and two Navy and Marine Corps Achievement Medals, according to the Marine Corps.
Since the announcement of the end of the search for the missing Marines, the family has asked the media for privacy as they grieve. On Saturday, speaking to local TV station WJLA, Kevin Herrmann Sr. said, "We've shed enough tears to fill all the oceans."
Staff Sgt. Maximo Flores: 'I'm going to the Marines'
Staff Sgt. Maximo Alexander Flores' was fulfilling his childhood dream to follow his father's footsteps into the ranks of the Marine Corps, family members told local news outlets near his hometown in Arizona.
Shortly after graduating from Valley Vista High School in Surprise, Ariz., in 2009, Flores enlisted in the Marines, choosing a career in the aviation field which would send him onto the crews of aerial refueling aircraft, his mother Rosa Bennett told azfamily.com, the website for television stations 3TV and CBS 5 in Phoenix. He aimed to make a full career out of the Marines, she said.
"Ever since he was a little kid he would always say, 'I'm going to go to the Marines. I'm going to the Marines,'" she told the television stations before flying to Japan to be closer to the search efforts. "And he did. He graduated, he went into the Marines and was doing really well. He loved serving his country."
His military service made his family proud, even as it sent him to far off places, such as Japan where he had been serving with Marine Aerial Refueler Transport Squadron 152 at Marine Corps Air Station Iwakuni for more than a year.
In an interview with Phoenix's 12 News, Flores' father, whose name is also Maximo Flores, said his son's Marine service was superior to his own.
"I am proud of a lot of the things I did, but he is someone who can be proud of everything he did," the elder Flores said.
The news of his son's disappearance was difficult, the Marine veteran said, growing emotional during the interview.
"It's like this is something that only happens in the movies, you know, when the two Marines were approaching my apartment," the father said. "That's when the gloom set in. After that, I've been in a fog for days. It's a very, very hard feeling to endure."
In Facebook posts, family members remembered Staff Sgt. Flores as a caring and driven man.
"The world has lost a honorable, respected, kind and loving young man," Hope Flores, who identified herself as the Marine's aunt, wrote in a public post on the social media website. "Our family is very proud of him … [rest in peace] our dear angel, Staff Sergeant Maximo A Flores. Maxie you did well."
Flores had been married nearly six years to his wife, Rebecca. Photos of the couple posted on their public Facebook pages showed them exploring Japan, dancing at Marine balls, firing rifles on shooting ranges, and posing together at their wedding in January of 2013.
Flores, who was the crew chief of the KC-103J, had earned decorations including Navy and Marine Corps Achievement Medal, the Humanitarian Service Medal, and a Marine Corps Good Conduct Medal with one bronze star, according to the Marines.
"He was just very sweet," Bennett said of her son. "Always happy, real smart and just a good guy."
Cpl. Daniel Baker: 'A great young man'
A sense of adventure called Cpl. Daniel Baker into the Marines in 2016.
The 21-year-old was a stellar student, a member of his high school robotics team and a prime candidate for pursuing a degree in engineering. It's what his parents saw as "the logical choice."
But the quiet Marine crewmaster, whom friends said stood out with his blond hair and country drawl, had other plans.
"He wanted to see the world and felt called to serve his country in the Marines," his parents said in a statement shared with Stars and Stripes on Tuesday. "He wanted to do his part and join the ranks of some of the toughest, most committed men and women in the world and we are so proud of him for it, even though we feared a week like this one might come."
During his two years in the Marines, he had received the National Defense Service Medal and the Global War on Terrorism Service Medal, according to the service.
For the past four days, the Baker family in Tremont, Illinois, waited with desperate hope that Daniel and four other missing crewmembers would be found alive after their KC-130J Hercules refueling aircraft collided with an F/A-18 fighter jet Thursday off the coast of Japan.
On Tuesday, the Marines announced they were calling off the search, saying all five crewmembers were dead. The Bakers were notified of Daniel's death, said longtime family friend Matt Miller, who was asked by the family to speak on their behalf.
News spread quickly among the 2,200 residents of the town in central Illinois. Tremont High School, where Baker graduated in 2015 and his younger sister is now a student, held a moment of silence Saturday night at their home basketball game.
"It's been a difficult couple of days here," said Jeff Hinman, superintendent of Tremont School District No. 702. "This is an extremely tight-knit community and our residents support these kids in an unbelievable fashion. So they watched him grow up."
For those who knew Baker, the world lost a little of its kindness Thursday. The Baker family released a statement recounting stories from his family and friends. Nearly all described his enormous compassion –- a person who was always willing to offer friendship, host church youth group parties or listen if someone needed to talk.
He had the ability to reach out to the people around him and bring them in as friends regardless of their background, one friend said. In his quiet way, he touched the lives of many.
"He was a great young man," Miller said. "He was a joy to be around. He was quiet, but willing to do whatever you asked of him."
When Baker stopped by the school a few months ago while on home leave, Hinman said he was struck by how eloquently the young Marine spoke about his work.
"He always had a great deal of confidence but there was a poise about him that was different," Hinman said. "I remember just how well he articulated his service and how much he truly loved what he was doing."
Tremont High School had another home game scheduled Tuesday night. Hinman said the community would once again stand in silence, this time in full-on grief.
Cpl. William Carter Ross: 'Furiously loyal'
Cpl. Carter Ross, 21, from Hendersonville, Tenn., was a jokester who loved to work on his cars and listen to old music such as Johnny Cash and Creedence Clearwater Revival.
"[Carter] wanted to make everybody laugh," his mother Michelle Ross said Tuesday.
Continuing his family's tradition of military service that goes back to World War I, Ross joined the Marine Corps in 2016 because "he wanted to make a difference," said his father Todd Ross, a veteran of the Navy and the Army National Guard.
Cpl. Ross worked on the plane's maintenance and aerial refueling duties, his father said. This was his first assignment in the Marine Corps and he was working toward becoming a crewmaster. His decorations included the National Defense Service Medal and the Global War on Terrorism Service Medal, according to the Marines.
He was "furiously loyal," the elder Ross said. "He would do anything for anybody. But you didn't want to disrespect people that he cared for."
His mother added: "If he loved you, he loved you with everything."
Todd Ross said he's "finding out more and more [his son had] friends all over the world by reading the posts of people that knew him from boot camp and through the schools," like Marine Combat Training.
"People just loved him. He was a good Marine, he was a good human all the way around," said his father.
Cpl. Ross also has twin sisters, Katherine and Sarah, age 16.
A GoFundMe page has been set up for his family by two friends, according to WSMV News 4 in Nashville, Tenn. As of Tuesday afternoon, more than $4,000 of the $5000 goal has been donated.
"Anyone who knows Carter Ross would say he is an amazing person all around," the fund description reads. "He is one of the silliest and most compassionate people you will ever meet."
Maj. James Brophy
The second pilot aboard the KC-130J was Maj. James M. Brophy.
Though his family has requested privacy following Brophy's death, some Marines who served with him described him in social media posts as a respected leader.
Trey Perkowski, who describes himself as a former KC-130J crew chief, said he knew Herrmann and Brophy.
"Terrible tragedy," he wrote on Twitter. "…Two great Marines who it was a true honor to know and fly with."
Brophy, 36, commissioned in 2006 and served for 12 years before his death, according to the Marines.
His decorations include the Air Medal with two Strike Flight Awards, one Navy and Marine Corps Commendation Medal and one Navy and Marine Corps Achievement Medal, according to the service.
Brophy's father, Mike Brophy, is a retired captain from the Poughkeepsie Fire Department, according to the Daily Freeman newspaper in Kingston, New York.
He is survived by his wife, son and daughter.
As a student, Brophy was in the National Honor Society, jazz band and was a three-season athlete in cross country, track and field, Superintendent Greer Rychcik of Hyde Park Schools told the Poughkeepsie Journal.
"James was also named the scholar-athlete during his senior year, a regional award for athletes for his participation and high academic performance," Rychcik said to the newspaper.
---
---
---
---