Curfew for all troops in South Korea extended until Jan. 6
by
Yoo Kyong Chang Ashley Rowland
November 2, 2011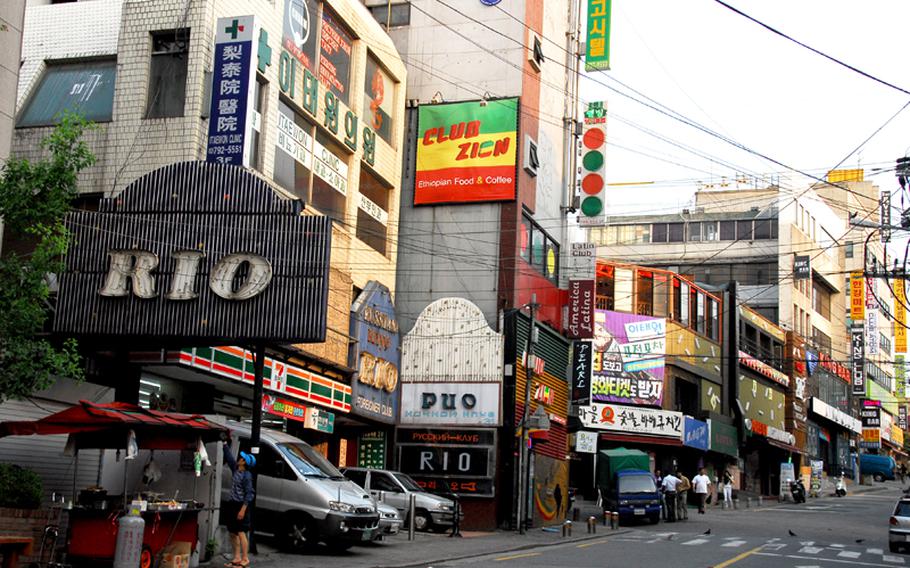 SEOUL — The U.S. military on Wednesday extended its temporary curfew for servicemembers in South Korea until Jan. 6, following the sentencing of a U.S. soldier to 10 years in prison for the brutal rape of a South Korean teenager.
U.S. Forces Korea commander Gen. James Thurman had put a 30-day curfew in place on Oct. 7 after a spate of incidents involving troops, military family members and civilian workers, including two allegations of rape against U.S. troops.
Thurman decided to extend the curfew after consulting with service component commanders and South Korean leaders. A USFK news release called the curfew a "temporary force protection measure to ensure the continued mission readiness of the command and to assess the current operational environment."
"I firmly believe that military discipline is the foundation of mission-ready, well-trained and effective organizations," Thurman said in the release. "We must maintain mission readiness and the strength of the Republic of Korea-U.S. Alliance."
The off-installation curfew applies to all U.S. troops except those attached to the U.S. Embassy or Joint U.S. Military Affairs Group-Korea. Family members, DOD civilians and contractors are encouraged to follow the curfew, which is in effect from midnight to 5 a.m. on Mondays through Fridays, and 3 a.m. to 5 a.m. on Saturdays, Sundays and U.S. holidays, South Korean holidays observed by the U.S. military, and military training holidays.
The previous USFK commander, now-retired Gen. Walter Sharp, rescinded an unpopular 9-year-old curfew in July 2010, saying there was no reason to keep it in place and troops could be trusted to "do the right thing."
"I personally believe in personal responsibility and making that the top thing that we do with our servicemembers, rather than trying to impose restrictions on them because of the acts of very, very few," Sharp said during a June interview with Stars and Stripes.
However, the Sept. 24 rape of a 17-year-old South Korean woman by Pvt. Kevin Lee Flippin sparked anti-American protests and generated significant anger against the U.S. military. Flippin, 21, stationed with the 2nd Infantry Division, was sentenced in Uijeongbu District Court on Tuesday to 10 years in prison – the heaviest sentence levied against a U.S. servicemember in South Korea in nearly 20 years.
Other members of the U.S. military community also have been implicated in recent crimes.
A second U.S. soldier, who has not been identified by police, has yet to be charged in a Sept. 17 incident that took place in Seoul. A Mapo police official said the soldier has confessed to stealing the woman's laptop but says they had consensual sex after a night of drinking in Apgujong and Hongdae.
Five children of servicemembers – ranging in age from 15 to 20 years old – are being investigated in the beating a 27-year-old South Korean man in Itaewon on Oct. 4 and stealing his cell phone and cash, worth approximately 200,000 won or $178.
Another man, a 32-year-old computer engineer civilian contractor for USFK, was charged with driving under the influence of alcohol after hitting a taxi in Seoul on Oct. 19.
Dongducheon police chief Park Sang Yung told Stripes on Monday that a curfew might help prevent crime, but must be applied carefully because it may violate U.S. servicemembers' human rights. He suggested that USFK do a better job of educating servicemembers about what they should and should not do when on leave, and be supervised while on vacation.
Park Kyung-soo, coordinator for the National Campaign for the Eradication of Crimes by U.S. Troops, said the curfew should be lifted only if USFK takes additional measures to curb servicemember crime, such as education efforts aimed at crime prevention.
"It is hard to prevent servicemembers from committing crimes just through the curfew or the MPs increasing their patrols," he said.
chang.yookyong@pstripes.osd.mil
---
---
---