Combatives teaches soldiers to use hands, not guns, in war zones
---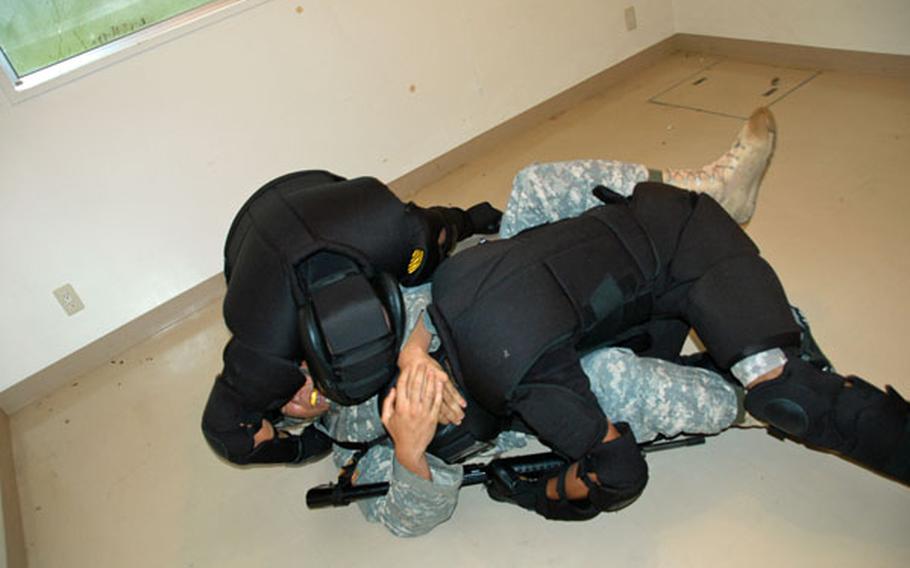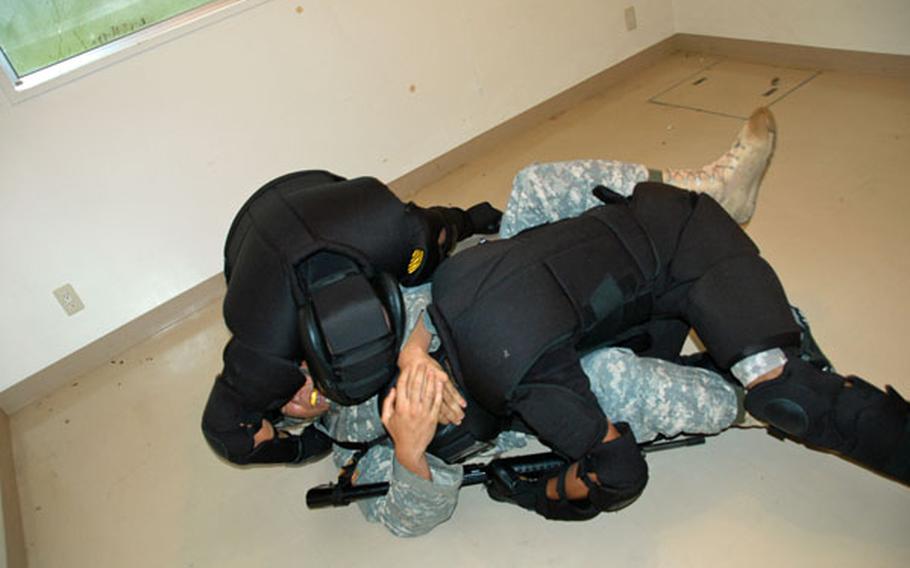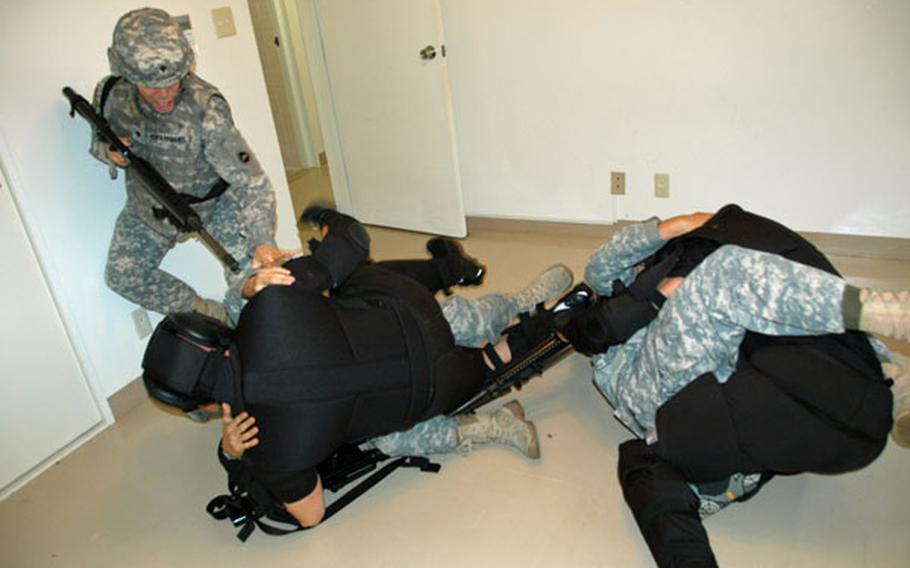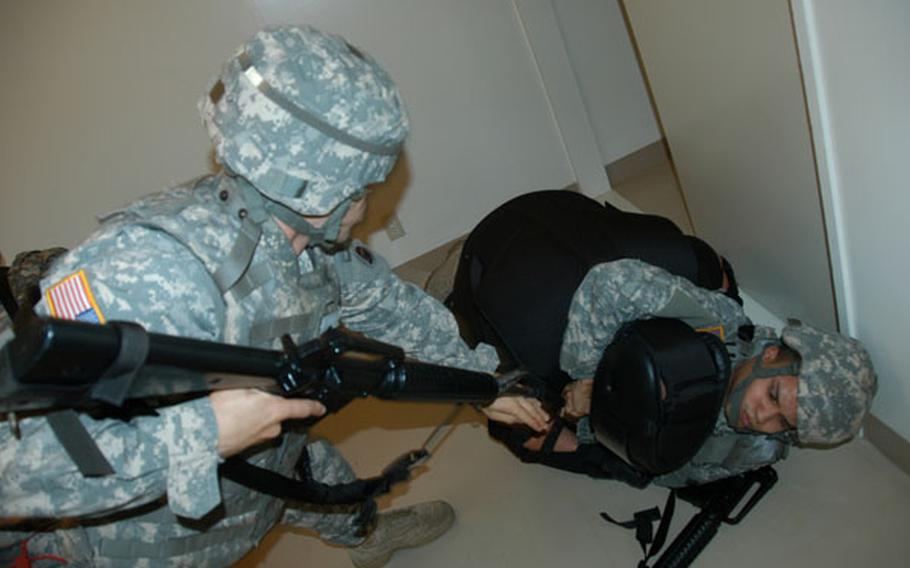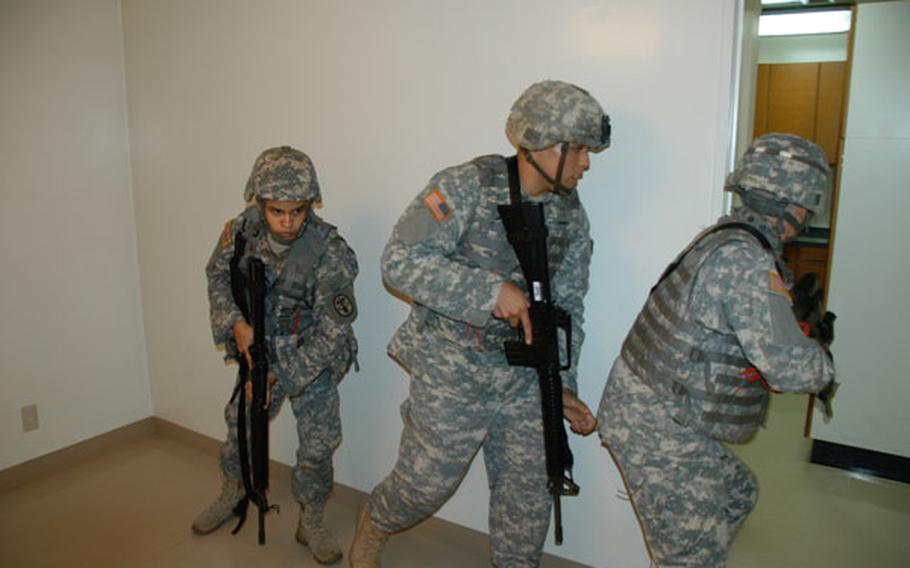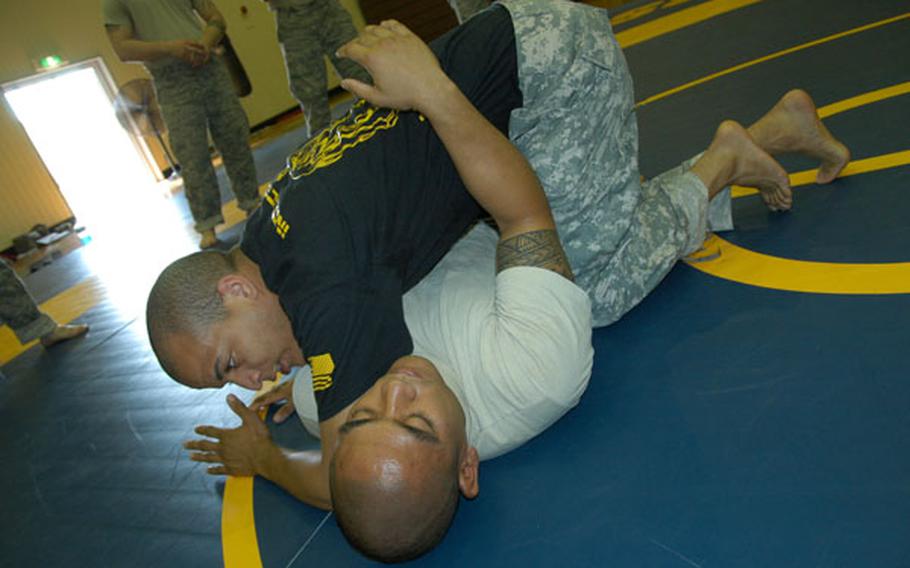 CAMP ZAMA, Japan — Loud yells and heavy thumps echoed through an on-post housing unit at Camp Zama this week as soldiers practiced the Army's latest unarmed combat skills in an environment designed to replicate battle zones in Iraq or Afghanistan.
The Army recently revamped its hand-to-hand combat training to give soldiers more realistic experience in the sort of close-quarters fighting they might encounter downrange.
The change, which was ordered in November and implemented in Japan at the beginning of the year, came after surveys of hundreds of soldiers who have engaged in hand-to-hand combat showed that close to one in three fights ended with gunshots, according to an Army Combatives handbook distributed last year.
"Fighting in an environment where everyone is armed means that very frequently the fight is over who controls the weapons," the handbook states.
Army leaders have mandated that every soldier be proficient in Level I Army Combatives techniques, according to Army officials. The training is divided into four levels.
Until the change, Combatives Level I and II training focused on ground fighting. But now it includes stand-up punching, kicking and grappling by soldiers in "full battle rattle," according to Camp Zama instructor Leonardo Munoz.
Munoz, a 42-year-old civilian, oversaw the updated version of the Level I training at Yokota Air Base last month as part of an effort to teach combatives to airmen, whose service, along with the Navy, lacks the sort of martial arts training developed by the Army and Marine Corps. He has been putting two dozen soldiers through the new Level II course at Camp Zama over the past two weeks.
During the Yokota training, airmen put on helmets and vests, picked up plastic M-16s, and practiced walking through groups of potential attackers the way they would if they were on patrol in the war zone.
Staff Sgt. Thomas Bonte, 27, a security forces airman who did the training, said it taught troops to use their weapons to their advantage without having to fire.
"You had to pretend you were walking in a crowded street and people would attack you," he said, adding that the airmen also did the exercise with their eyes closed.
Munoz said the old Army Combatives training stressed closing the distance with an opponent.
"Now the Army's philosophy is creating distance and using your primary or secondary weapons," he said.
Troops learn how to stiff-arm attackers, control their heads with fingers to the neck or a hand to the chin and push them to the ground by shoving their shoulder, Munoz said.
They also learn the "muzzle thump" — a way to gain distance from an opponent using a malfunctioning M-16 or M-4 rifle, he said.
If an opponent grabs a soldier's weapon and pushes it toward the ground, troops are taught to step back and point the muzzle at them, he said.
Sgt. Matthew Prout, a 26-year-old combatives instructor at Camp Zama, said rules of engagement can vary with different missions, but standard escalation-of-force rules advise troops to shout (at people to get back), show (a weapon to get people to comply), shove (people back), shoot (a warning shot) and then shoot (to kill in self defense).
On Tuesday, when the three-person teams entered one of the rooms in the housing unit, two instructors in protective suits and helmets emerged from a closet and leapt on them.
Soon two of the soldiers were on the ground as the instructors rained punches down on them — the sort of thing that might happen during a raid on insurgents.
It took several minutes, but eventually the troops overpowered and handcuffed the instructors using the hand-to-hand combat skills they'd learned.
Sgt. Maximilian Curtner, 28, who plays trombone in the 296th Army Band at Camp Zama, was one of the soldiers wrestling in the house. When he deployed to Iraq from 2007 to 2009 he spent his time cleaning a gym and playing his trombone at Camp Liberty, so he didn't get in any close combat with insurgents, he said.
"I felt pretty safe, but things happen and you have to be prepared," he said.
---
---
---
---