Civilian guards at Korea bases might strike next week over pay
by
chang.yookyong@pstripes.osd.mil Yoo Kyong Chang Ashley Rowland
November 1, 2012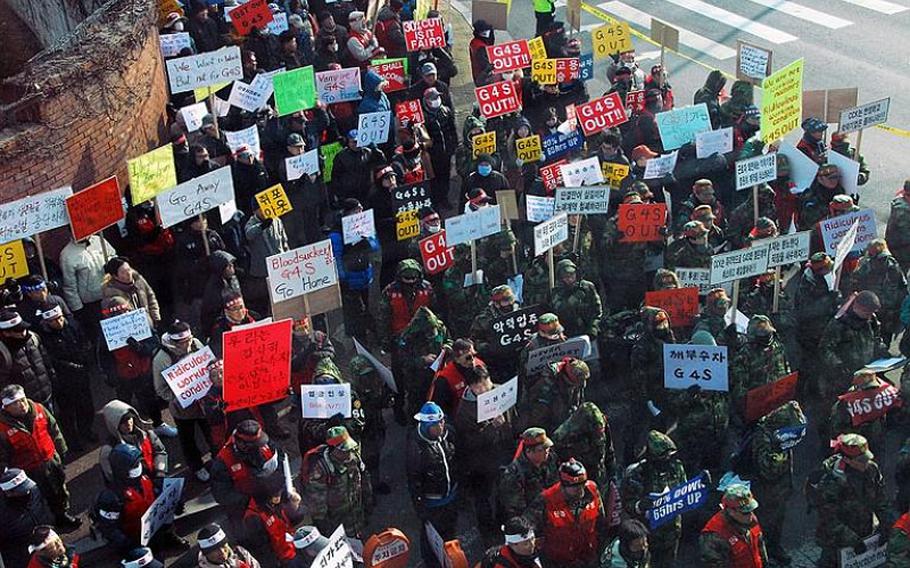 SEOUL — Some civilian security guards tasked with staffing entry gates at a number of U.S. Forces Korea installations could go on strike as early as next week if their new employer does not offer better wages and working hours, a union official said.
The military announced in September that G4S, the Great Britain-based security company hired last year, would be replaced this month because of contractual failures. However, the handover has been delayed by a week to Nov. 8 so the new company, C&S Corp., can complete a 60-day phase-in period, said Larry Reilly, spokesman for the U.S. Army Installation Management Command Pacific Region.
G4S could not hire enough guards to fulfill its contract until late March 2012, forcing USFK to temporarily close some gates and use servicemembers to perform security duties for nearly four months. A number of South Korean guards refused to work for G4S and protested for months outside USFK bases, saying the company offered lower wages and unfairly long hours.
Union leaders have said the amount of C&S' three-year contract with the military may not be enough to maintain current pay levels, much less increase them.
The $57.3 million C&S contract averages out to $19.1 million per year. The $108.3 million five-year contract with G4S averaged out to $21.66 million per year.
Kim Ji-hyoung, leader of one of several unions involved, said it is considering going on strike if C&S doesn't raise wages to levels paid by G4S' predecessor, Joeun Systems Corp., which also was plagued by performance problems during the approximately five years it worked for USFK. His union is expected to meet over the weekend and decide if and when it will go on strike.
Yi Kang U, leader of another union, said some employees are unhappy with C&S because they fear it will give the former protesters preferential treatment. However, the union plans to continue negotiations with C&S and will "never ever" go on strike, he said.
A C&S official in Seoul said the company plans to raise guards' wages and cut working hours, though he would not offer details.
He said he does not expect G4S guards – most of whom are expected to remain at their jobs when C&S takes over — to go on strike.
Neither does the military.
"The U.S. Army does not expect any disruption in services nor does it anticipate any of the gate guards to go on strike; however, we are prepared with contingency plans for any such situation," Reilly said in an email.
G4S has agreed to reimburse the military $750,000 for costs associated with its contractual failures. The company received international attention last summer for failing to hire enough guards to staff the London Olympics, forcing British military personnel to provide security.
rowlanda@pstripes.osd.milchang.yookyong@pstripes.osd.mil