Camp Carroll soldier's sentence for rape reduced, suspended
By
Yoo Kyong Chang Ashley Rowland
June 28, 2012
---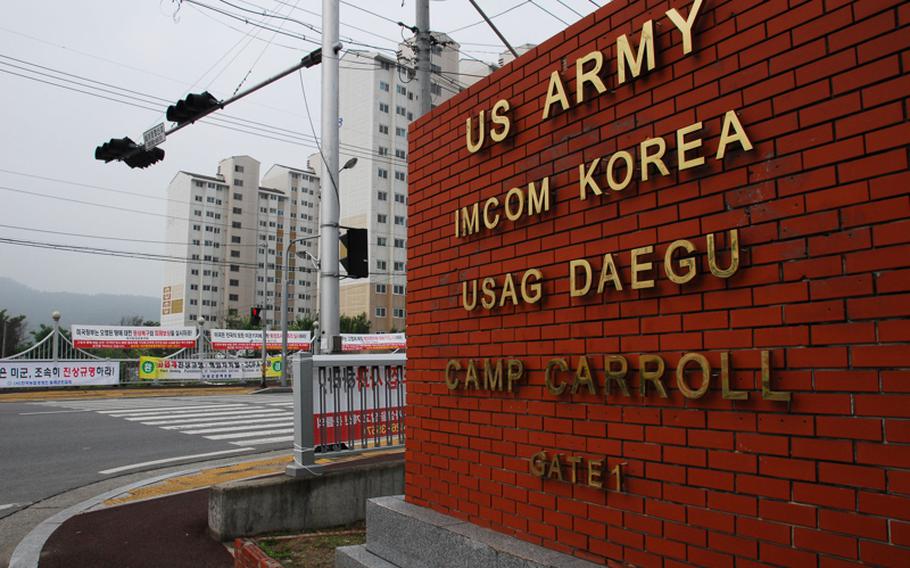 SEOUL — A Camp Carroll soldier sentenced earlier this year to three years in prison for raping a South Korean woman has had his sentence reduced by six months and suspended following an appeal.
Pvt. Joseph Finley, 31, of the 2-1 Air Defense Artillery Battalion, was convicted of rape resulting in injury in Daegu district court in February. He was sentenced to three years in prison for the July 24, 2011, attack.
On Monday, the Daegu High Court reduced Finley's sentence to two and a half years, and suspended it for three years, according to 8th Army spokesman Col. Andrew Mutter. A court judge said the suspended sentence is equivalent to being put on probation. The judge also said Finley is free to leave South Korea at any time. It was unclear how much, if any, time Finley had served in prison following his February conviction.
Personal data about Finley will also be posted for three years on a government website intended to notify citizens of the location of sex offenders, the judge said.
According to court documents, the High Court reduced Finley's prison term because he had no previous rape convictions. The court also took into consideration Finley's age and character, an unspecified agreement Finley made with the victim, and requests made by Finley's family for a "favorable arrangement."
A Daegu High Court spokesperson said the victim requested that Finley not be punished.
Mutter said Finley's commander has "various options" regarding Finley's future in the military.
"At this time no decisions have been finalized," he said.
Finley is one of several U.S. Forces Korea servicemembers convicted of raping South Korean women within the past year.
In November, Pvt. Kevin Lee Flippin was convicted of brutally raping a South Korean teenager in her boarding house. He was sentenced to 10 years in prison — the longest sentence given to a U.S. servicemember in South Korea in nearly 20 years. That case led to an outcry in South Korea against a perceived increase in U.S. servicemember crime and was part of the reason for the reinstatement of an off-post curfew in October.
---
---
---
---