Ban on some Japanese foods being lifted at commissaries
by
Seth Robson
September 15, 2011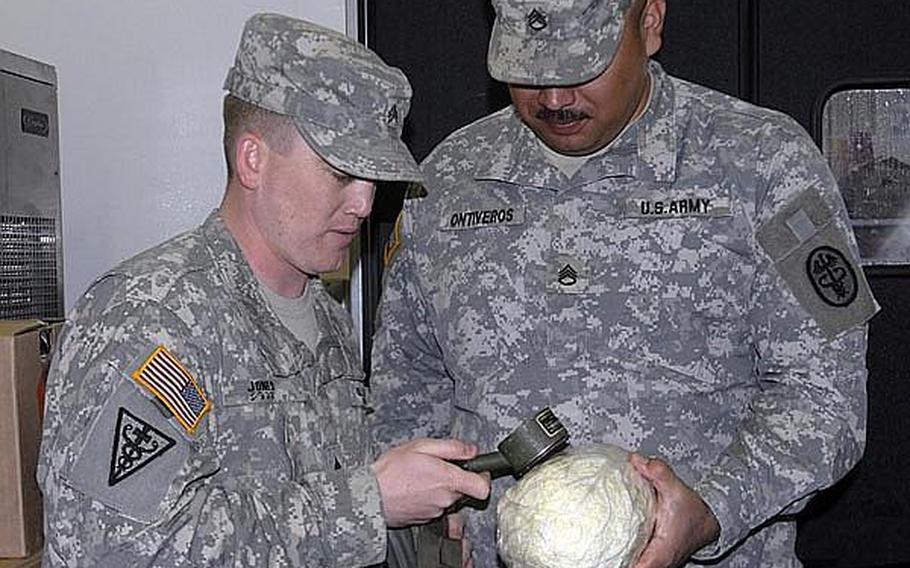 YOKOTA AIR BASE, Japan – Commissary customers will be seeing more Japanese produce on the shelves since the U.S. military started lifting food bans put in place following the March 11 earthquake and tsunami.
Food deliveries from 26 food producers in northern Japan were suspended due to a range of health concerns, including the proximity of some processing plants to the Fukushima Dai-Ichi nuclear reactors, which were severely damaged by the quake and tsunami. The suspended producers — among 60 that deliver to U.S. bases — make a variety of foods ranging from baked goods and eggs to fresh fruit, vegetables and processed items.
Within the past two weeks, the Department of Defense has lifted a ban on apples from Amori Prefecture in the northern part of Japan's main island of Honshu, according to the Japan District Veterinary Command, which is responsible for food safety on U.S. bases.
Lt. Col. Margery Hanfelt, commander of the veterinary command, said her personnel are working to approve more foods for consumption on U.S. bases.
"That (the apple approval) was just the first one," she said. "Now they (food approvals) will just be coming in one by one from here on out."
Some of the facilities, which Hanfelt declined to identify, were damaged by the earthquake while others had supplies of basic ingredients cut. For example, a farm supplying grain to one plant was destroyed by the tsunami, she said.
Defense Commissary Agency public affairs officer Nancy O'Nell said in an email Thursday that it's been DeCA's goal to get local products back on shelves as soon as they are approved by food safety specialists from the Army.
"We received and have been selling the current crop of apples from the Amori prefecture in our commissaries in Japan since the end of August," she said.
Apples on sale at the Yokota Commissary on Thursday were labeled as a "product of Japan" but information about where they came from in Japan was not provided.
"We are getting back to a more normal receiving schedule from our Japanese business partners," O'Nell said. "Nearly all of our suppliers in Japan are delivering to us again."
Yotsuba Milk, located in Hokkaido prefecture, is sending commissaries about 50 percent of the products that they received before the earthquake and tsunami; Coca-Cola Japan is sending 80 percent of the items commissaries carried before the event, she said.
"One company we received product from before the earthquake and tsunami, Daiichiya Seipan Bread Company, is still not producing, and we do not know when they will be ready to start supplying us again," she said.
Some of the factories whose products were banned from bases after the disaster also haven't started operations yet, Hanfelt said.
"The final ones (to be approved to supply to U.S. bases) won't depend on us," she said. "It will be when they are ready because some were more affected that others."