Army's top enlisted backs lengthy sentence for GI convicted of rape in S. Korea
by
Ashley Rowland
November 7, 2011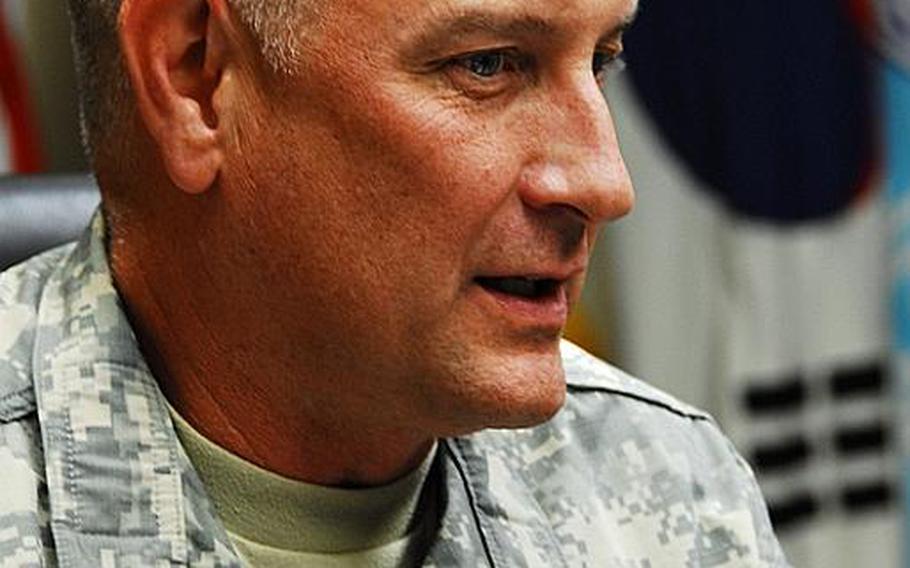 SEOUL – The Army's senior enlisted soldier told reporters here Monday that he fully supports last week's lengthy jail sentence handed down to a U.S. soldier convicted in the brutal rape of a South Korean teenager.
Sgt. Maj. of the Army Raymond Chandler is traveling across the peninsula this week to visit with soldiers in his first visit to South Korea since taking the top enlisted post in March.
The trip comes amid strained relations with some in the South Korean community after two recent high-profile incidents have led to numerous protests and calls for a revision to the status of forces agreement between the two nations.
Last week, Pvt. Kevin Lee Flippin was sentenced to 10 years in prison for the Sept. 24 attack on a 17-year-old South Korean girl.
"That young man has brought discredit among the U.S. Army and the American people, and he will go to jail for a period of time for his crime and that is appropriate," Chandler told reporters during a stop at U.S. Army Garrison Yongsan.
The Flippin case — along with an alleged rape in Seoul by a U.S. soldier Sept. 17 — led to a curfew being placed on U.S. Forces Korea servicemembers. Initially planned for 30 days, the curfew has been extended through Jan. 6 by U.S. Forces Korea commander, Gen. James Thurman.
The restrictions on the troops' liberty give the military time to "evaluate where we're at," said 8th Army Command Sergeant Major Rodney Harris, who appeared with Chandler at Yongsan.
"I think to extend to 6 January gives us more time to evaluate programs and make sure we have the right fighting stance," Harris said.
Crimes being committed by U.S. troops in South Korea have become a topic of discussion as of late.
The Korean National Police say reports of "violent" crimes were up for the first six months of the year compared to 2010.
Sexual assault and rape charges were down during the first six months of 2011, with two charges filed, according to Korean National Police figures obtained recently by Stars and Stripes. There were 11 sex crime charges in 2010 and five in 2009, according to the figures. However, there have been 89 charges of assault and other crimes placed under the category of "violence" by police during the first six months of 2011. The pace exceeds the 154 violence charges last year, which itself was an increase from 100 charges in 2008.
But USFK has disputed those figures, saying that in fact, crime has been decreasing.
"We have not seen anything to indicate the number of violent crimes claimed is accurate," USFK has said in an earlier email.
On Monday, Harris said USFK crime data, which is tracked by the provost marshal, shows that in South Korea, crimes committed by servicemembers have decreased in every category except for offenses related to Spice, a relatively new form of synthetic marijuana.
USFK has not responded to numerous requests to provide its version of the crime statistics.
---
---
---