2 veterans urge S. Korean lawmakers to pressure U.S. over Agent Orange
---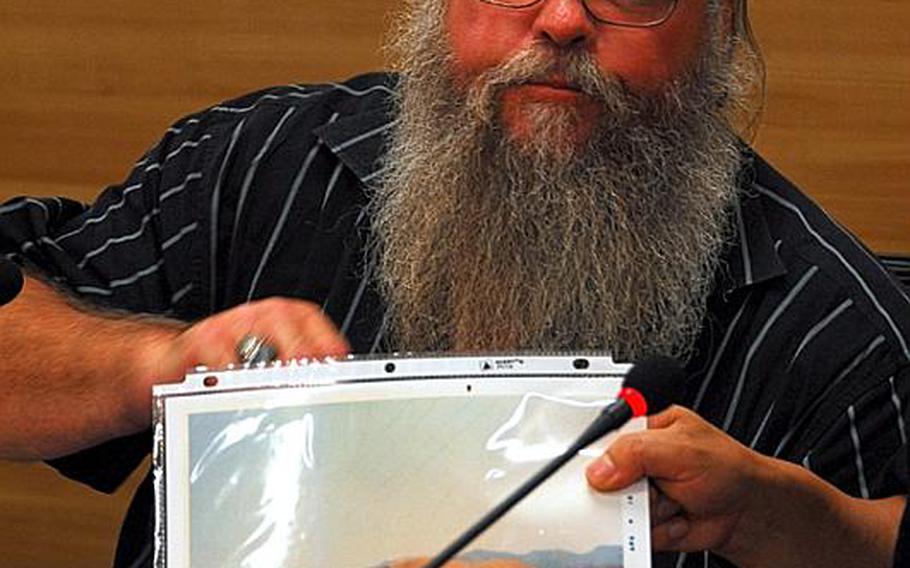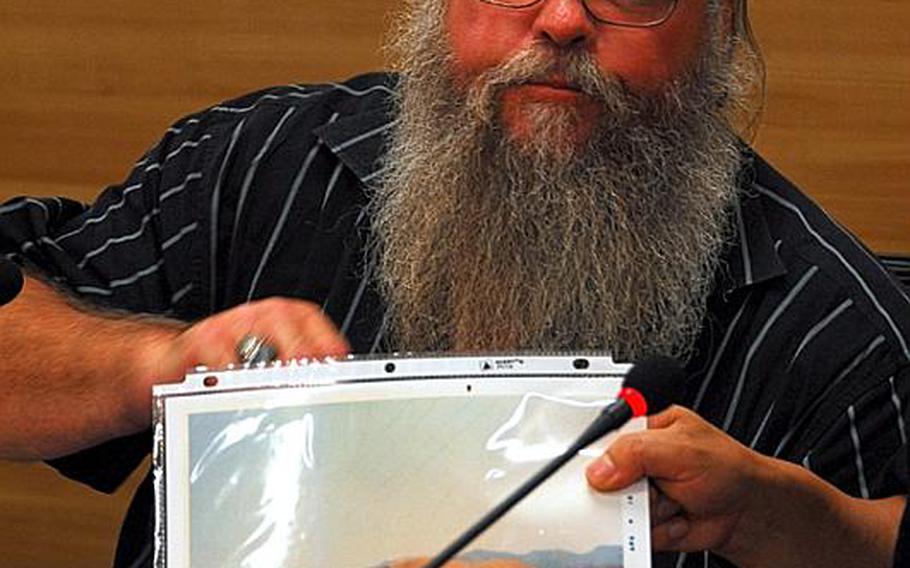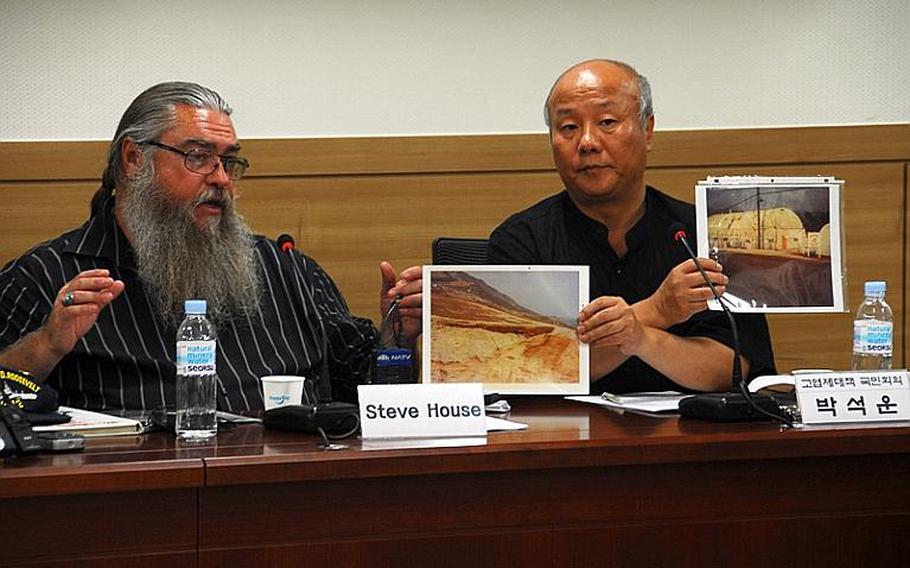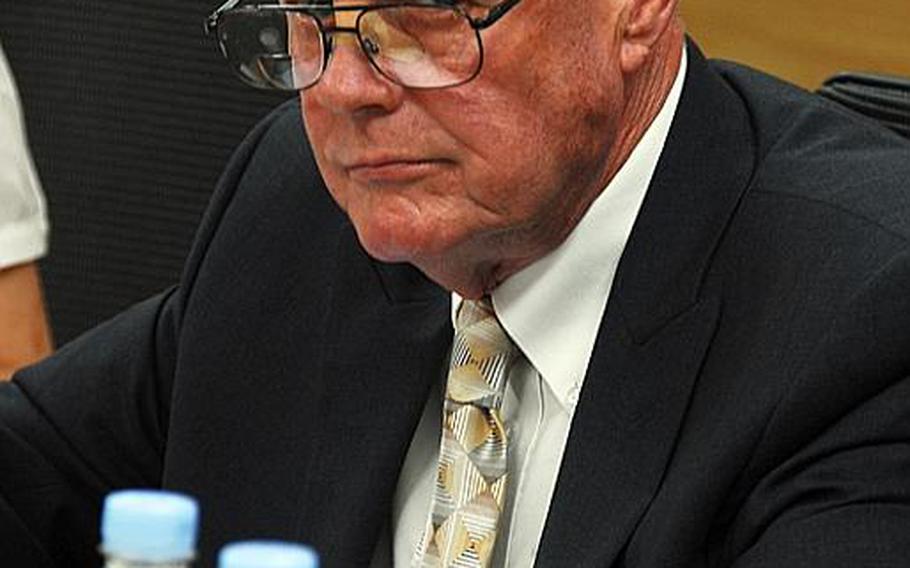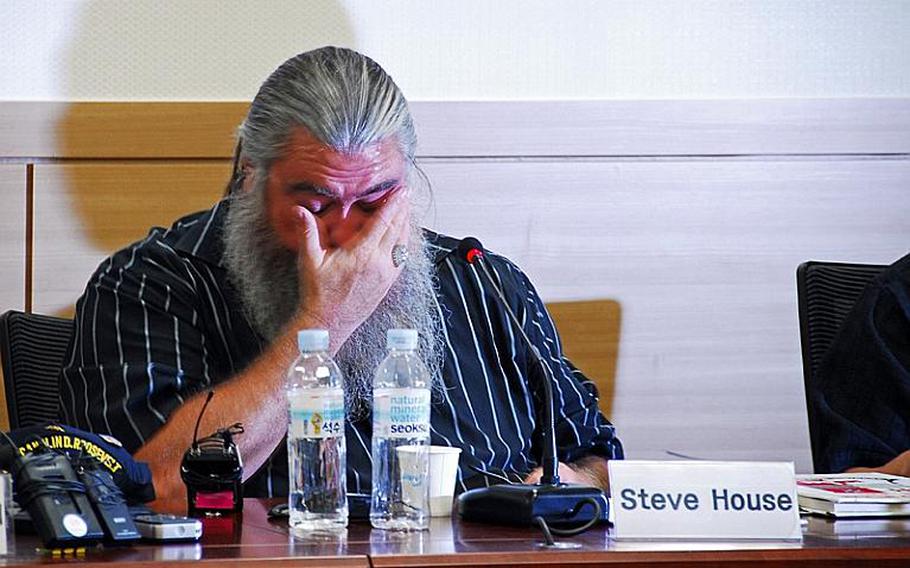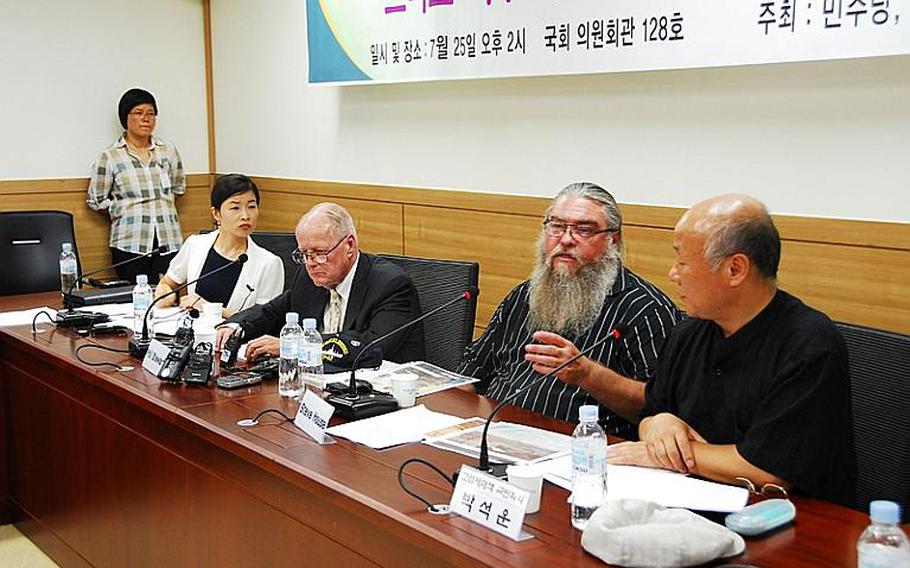 SEOUL — In testimony that was critical of the U.S. military and at times emotional, two U.S. veterans asked South Korean lawmakers Monday to pressure their American counterparts to admit the U.S. extensively used Agent Orange here in the 1960s and 1970s.
"I've taken this as far as I can take it," former soldier Steve House said, wiping away tears as he spoke to seven National Assembly members and dozens of reporters in Seoul. The 54-year-old mechanic claims he buried the toxic defoliant at Camp Carroll in 1978 and is now dying from illnesses, including liver disease, known to be caused by Agent Orange.
"I'm running out of time," he told the lawmakers. "It's up to you to take it the rest of the way, so we can get some answers for the Korean people and the Americans who were exposed to this stuff."
House and two other veterans sparked deep concern and anger in South Korea when they told Phoenix television station KPHO in May that they had buried Agent Orange on a remote hillside on Camp Carroll. The U.S. and South Korea are now conducting a joint investigation into their claims, with results of water and ground sampling tests due late this month and in late August, respectively.
The U.S. says military records show that chemicals were buried at the base in 1978 and then removed in 1979 and 1980, along with approximately 60 tons of dirt. However, those records do not specify if Agent Orange was among the chemicals. The herbicide was used extensively during the Vietnam War but was later shown to cause a number of birth defects and life-threatening illnesses.
Walking with a cane and at times looking visibly exhausted, House, who reportedly suffers from diabetes mellitus type 2 and uses an insulin pump, said he didn't want relations between the U.S. and South Korea to be damaged because of Agent Orange.
"This wasn't (done by) the American people, you know," the Phoenix-area resident and father of two said. "Nobody I know would do something like this intentionally."
House is scheduled to visit Camp Carroll on Wednesday, and was asked by lawmakers if investigators were searching in the correct spot for Agent Orange. House said they might be in the wrong location, but if he was able to visit the base he could probably pinpoint the correct site.
In a statement released Monday, the 8th Army said it had been informed that House was traveling to South Korea as a private citizen.
"We look forward to the opportunity to host him on Camp Carroll and learn any additional details he might have for our ongoing joint investigation into his claims," the statement said. "We are committed to conducting a thorough, transparent and complete investigation."
Accompanying House is Phil Steward, 63, who was stationed in South Korea in 1968 and 1969 at Camp Peterson and Camp Ethan Allen. Promoted to captain while in South Korea, he said his soldiers routinely sprayed Agent Orange on and around the base, despite the military's claims that the chemical was only used at the Demilitarized Zone and handled by South Korean troops. Other herbicides, including Agent Blue and Monuron, were also used, he said Monday.
"Agent Orange didn't stay on the DMZ," Steward said. "Agent Orange was sprayed through a wide, wide area of South Korea."
He said that at the time, he was told the chemical was safe.
"We were told, 'It's totally safe and it won't hurt you at all,'" he said. "We were told, 'You can drink it, you can brush your teeth with it, or you can bathe in it. It won't hurt you. Those were lies."
Steward, who said he is part of the advocacy group Veterans for Change, said he has contacted more than 300 veterans who claim they were exposed to Agent Orange in South Korea and gotten sick. Some have died, and some had children with spina bifida or other severe birth defects that he believes are linked to Agent Orange, he said.
He said the U.S. government refuses to admit the extent of its Agent Orange use because the cost of medical and disability payments would be "astronomical."
"The U.S. Department of Defense and Department of the Army have, in conjunction with the Department of Veterans Affairs, gone to great lengths to keep the real facts hidden from the American veterans," he told the lawmakers. "Clearly, there is no reason to think they have not done the same towards your government."
Steward said he has been rated 100 percent disabled by the Department of Veterans Affairs, due, he believes, to a long list of illnesses caused by his exposure to Agent Orange in South Korea: coronary artery disease, diabetes, cataracts, neuropathy and several skin cancers.
Several assembly members said the investigation at Camp Carroll was taking too long. None of the members were from President Lee Myung-bak's party, which supports a strong U.S. military presence in the country.
"I believe that the U.S. Congress and the National Assembly of Korea should join forces and undertake an investigation into the issue," Assembly member Kim Son-dong said.
House and Steward arrived in Seoul on Sunday and will meet with media and travel across the peninsula to visit areas where they were once stationed before leaving Friday.
The men were invited to South Korea — and their trip paid for — by a coalition of activist groups calling for a thorough investigation into the use of Agent Orange in South Korea.
Stars and Stripes reporter Yoo Kyong Chang contributed to this story.
---
---
---
---