Marine team giving specialized training to Uganda forces
by
John Vandiver
March 15, 2012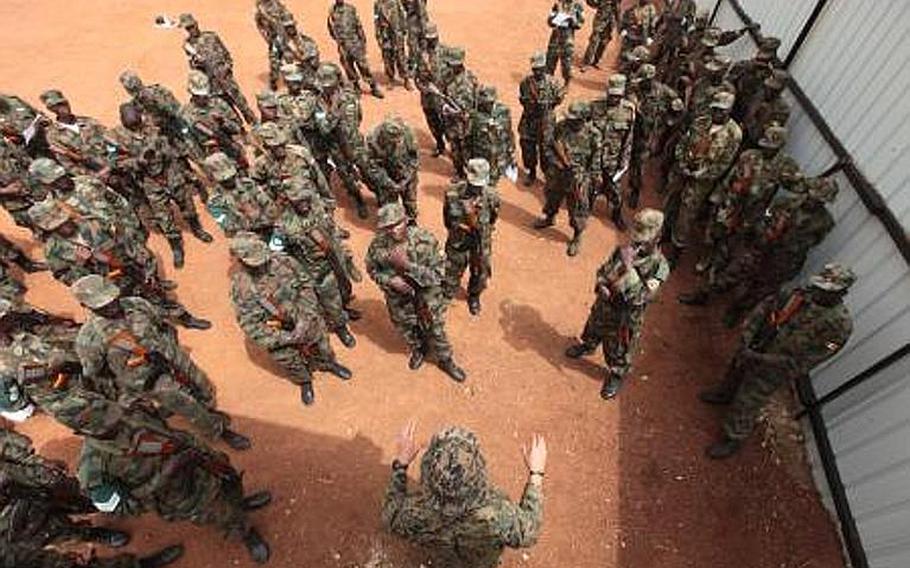 STUTTGART, Germany — A team of 30 U.S. Marines is in Uganda to give specialized training to forces assigned to the African Union mission in Somalia and better equip them to counter the tactics of the al-Qaida-affiliated insurgent group al-Shabaab.
"The genesis of this mission was operations in Mogadishu, Somalia, where African Union peacekeepers experienced IEDs (improvised explosive devices) and other complex obstacles, which exposed them to ambushes by al Shabaab," said Maj.Charles Baker, a spokesman for the Marine mission, in a news release issued by the U.S. Embassy in Kampala.
Marines also have helped train troops in Uganda for operations against the Lord's Resistance Army, a rebel group operating in central Africa, according to Marines.
As part of the Somalia-focused mission, the Marines are helping to transform combat-experienced Ugandan soldiers into counterterrorism engineers, who will then deploy to Somalia in support of infantry battalions already taking part in the AU mission there. The troops also will receive combat engineer tool kits, mine detectors and vehicles to support the mission, according to the U.S. Embassy.
The Marines are part of a new Special Purpose Marine Air Ground Task Force-12 based out of Sigonella, Sicily, which was launched last year as part of an effort to prepare African militaries to conduct counterterrorism operations.
"The soldiers on training will use the acquired knowledge in war-torn Somalia and in the hunt down of fugitive LRA commander Joseph Kony, wherever he is," said Ugandan People's Defense Force Lt. Col. Richard C. Wakayinja, in a separate Marine news release.
So far, the task force has deployed small teams to five African nations, including some threatened by the terror group al-Qaida in the Islamic Maghreb, according to a Marine news release.
The 180-person Marine task force is comprised of U.S.-based reservists, who are deployed on a six-month rotational mission. While the unit operates out of Sigonella, much of its time is spent on the ground in Africa. The task force dispatches to the continent Marines in teams as small as five and as large as 50.
---
---
---