Deadline nears for U.S. strategy on African rebel group
by
John Vandiver
November 12, 2010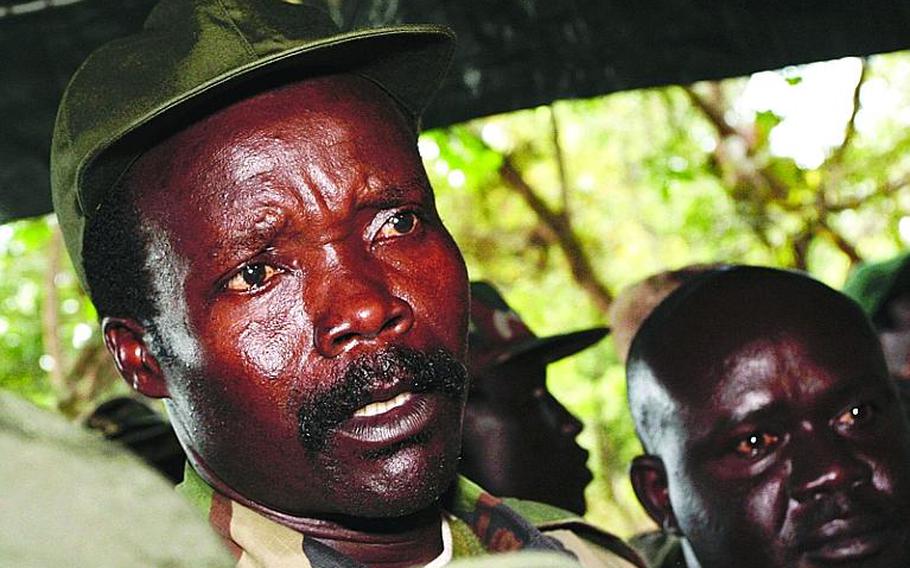 STUTTGART, Germany — By Nov. 20, President Barack Obama must make good on a bill he signed into law last May, which requires him to formulate a strategy for eliminating the Lord's Resistance Army, a ragtag rebel group that has been operating in the jungles of central Africa for the past 20 years.
As that deadline approaches for the strategy — mandated by the LRA Disarmament and Northern Uganda Recovery Act— activists are turning up the pressure on the administration.
Within the community of human rights groups, some of which were instrumental in the push for passage of the special legislation, a debate is raging over what the U.S. should do to bring the LRA and its elusive leaders to justice.
At the heart of the discussion is whether the United States should send special forces troops to African jungles to track down a small group of child abducting rebels. Those rebels have caused more than 1 million people to flee their homes during the past two decades.
"President Obama needs to put this principle into practice, and there is no better case for the humanitarian use of force than the urgent need to arrest Joseph Kony, the ruthless leader of the Lord's Resistance Army, and protect the civilians who are his prey," wrote Kenneth Roth, executive director of Human Rights Watch, last month in an essay advocating military action.
So far, the Obama administration has said little about how it intends to comply with the law or what a new strategy might include.
White House officials did not respond to requests for comment.
However, some lawmakers involved with the passage of the LRA legislation say the U.S. needs to be more active in the region.
Without getting into specifics about tactics, co-sponsor Rep. Ed Royce, R-Calif., said the U.S. should take more responsibility in the effort to eliminate Kony.
"I have long said that Kony's removal is essential for peace in the region, and look forward to seeing how this strategy will advance that goal. The U.S. has a role to play in this," Royce said in a statement to Stars and Stripes. "Any strategy has to ensure that Kony's oxygen is cut-off."
The call for Obama to include military action as part of his strategy against the LRA — a movement that started in Uganda and has rippled into the Democratic Republic of Congo, southern Sudan and Central African Republic — is coming from a variety of corners. Though militaries in the region have been coordinating some of their efforts to track Kony down, they lack the resources and rapid response capability to capture LRA leaderships, according to activists in support of more robust U.S. engagement. Some of the African governments in the region also have requested more assistance, though it remains unclear whether U.S. participation in a military mission would have popular support.
But this call to arms for humanitarian purposes has encountered disapproval, and in some cases ridicule, by seasoned military observers.
The prospect of waging a manhunt in the jungles of four African countries recently prompted Andrew Exum, a scholar at the Center for a New America Security and former adviser to retired Gen. Stanley McChrystal, to call the plan "the worst idea on the internet today."
"What could go wrong, right?" wrote Exum on his blog at CNAS. "And our efforts to track down and arrest two dudes in the border region between Afghanistan and Pakistan went off without a hitch in 2001, so we probably don't need to do any contingency planning or anything."
So far, the U.S. has only played a limited role in efforts to neutralize the LRA, restricting its efforts to logistical support for troops and some intelligence and equipment aid.
Gen. William E. "Kip" Ward, U.S. Africa Command chief, during an interview in late August with Stars and Stripes, didn't rule out the potential for a more active military role in the future. But Ward said his command is focused on supporting the countries in the region, which are coordinating their own efforts to go after the LRA.
"That is what we're doing: providing training assistance, providing equipment assistance to these nations that have come together to work," Ward said. "We are doing it and we are looking at additional ways of doing it — working with the Department of State, working with the nations themselves."
Whether U.S. troops could provide direct support in the form of boots on the ground depends on a range factors, Ward said.
"That is a decision that's made by the president, our secretary of defense. I would clearly provide input to that decision," Ward said. "But is it something that's in the realm of the possible? Sure it is. But it's a function of, again, all these other factors."
In the past 18 months alone, the Uganda-based LRA has captured some 700 people in the Central African Republic and the northern Democratic Republic of Congo, according to an August Human Rights Watch report. Nearly a third of those abducted are children, many of whom are forced to serve as soldiers or used for sex by LRA fighters.
As Obama's deadline nears, the Washington-based group "Resolve," which lobbied for the special legislation targeting the LRA, has been turning up the pressure. The advocacy group is counting down the days at its website — resolveuganda.org — and calling on supporters to press for more American involvement in the region.
However, when Obama signed the LRA disarmament bill into law, he pledged support but also gave no hint about whether that the strategy would involve a major U.S. shift in policy.
"I signed this bill today recognizing that we must all renew our commitments and strengthen our capabilities to protect and assist civilians caught in the LRA's wake," Obama said in a statement on May 24. "The Bill reiterates U.S. policy and our commitment to work toward a comprehensive and lasting resolution to the conflict in northern Uganda and other affected areas"
---
---
---
---