Football Athlete of Year
Zama's Encarnacion was tough to bring down
by
Dave Ornauer
November 20, 2012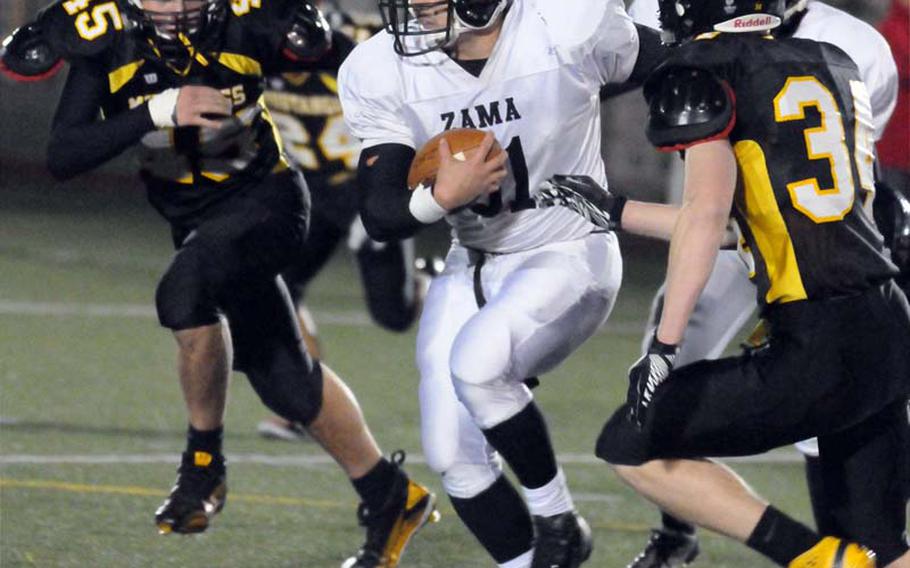 Every now and then, a player comes along who is so synonymous with the success of a football team that he virtually becomes that program's cornerstone for however long he's there.
Zama American football has had a long line of them, the latest being senior fullback-linebacker Andre Encarnacion, who departs the program as the Trojans' career leader in touchdowns (37) and yardage (2,732) on 380 carries over three seasons on varsity.
"Whenever we needed a good, power run, if it's going to be got, he would go get it," said sixth-year coach Steven Merrell of a Trojans program that has featured Encarnacion and Michael Spencer before him in recent years.
During the three seasons with No. 31 in the backfield, Zama has gone 14-16 overall, playing against mostly Division I opposition in the DODDS Japan and Kanto Plain Association of Secondary Schools leagues.
But solely against Division II opponents, Zama's gone 9-2 with Encarnacion in the lineup, including a 5-0 ledger in the just-completed 2012 season, the first one in which all division opponents played each other at least once to determine title-game berth space.
After dispatching two-time defending champion Daegu 45-12 at Zama on Sept. 8, then Osan American 19-2 the next week in Korea, Zama faced Robert D. Edgren twice in the regular season, then again in the title game, and won all three by a combined 52 points.
Through it all, Encarnacion gained a division-best 1,349 yards and scored a Pacific-best 19 touchdowns, leading the region for the second straight season.
It wasn't so much the yards he gained as how he gained them, Merrell said. "It's amazing how he carries five guys with him. You shake your head sometimes. You can't believe it."
But for his size - 5 feet, 11 inches and 190 pounds - Encarnacion was also blessed with "quickness, agility and speed," Merrell said. "It's certainly impressive to watch a kid like that run."
Together with his fellow graduating backfield mate Mitchell Harrison, Encarnacion and the Trojans appeared in three straight D-II title games, losing twice to Daegu before capping their careers with a 35-20 home win over Edgren for the D-II championship.
"He's definitely a big loss for our program," Merrell said of Encarnacion.
2012 Stars and Stripes All-Far East Football TeamBacks, receivers, defensive backs, returnersStanley Speed, Sr., Yokota; L.J. Aguon, Jr., Guam High; Jarrett Mitchell, Jr., Kubasaki; Andre Encarnacion, Sr., Zama American; Ronald Dogan, So., Seoul American; Ronald McLean, Jr., Daegu; Quinton Holden, Sr., Nile C. Kinnick; Tegan Brown, Jr., Guam High; Ken Yajima, Sr., American School In Japan; Henry Wallrapp, Sr., American School In Japan; Morgan Breazell, Sr., Yokota; Raymond Butler, Sr., Yokota.InteriorJesse Hogan, Sr., Yokota; Victor Madaris, Sr., Yokota; Max Lester, Sr., Yokota; Jake Jackson, Sr., Yokota; Dylan Kessler, Sr., Yokota; Michael Patterson, Sr., Zama American; Xavian Washburn, Sr., Daegu; Aaron Stravers, Sr., Kubasaki; Sidney Malau'ulu, Jr., Seoul American; Chance Horvath, Jr., Guam High; Josh Foronda, Sr., Guam High; Tyler Putt, Sr., Kadena.