Upstart Sigonella, favorites reach volleyball finals
by
Jennifer H. Svan Gregory Broome
November 2, 2012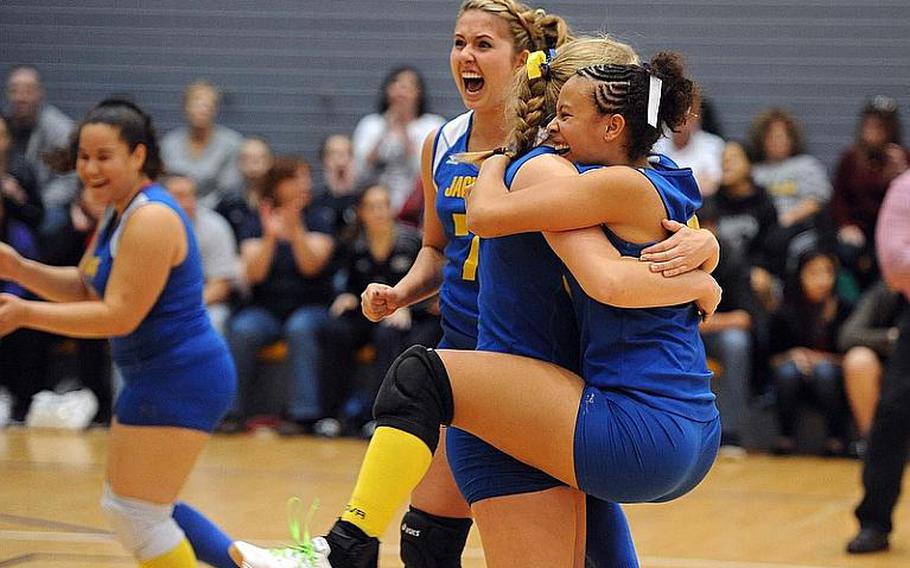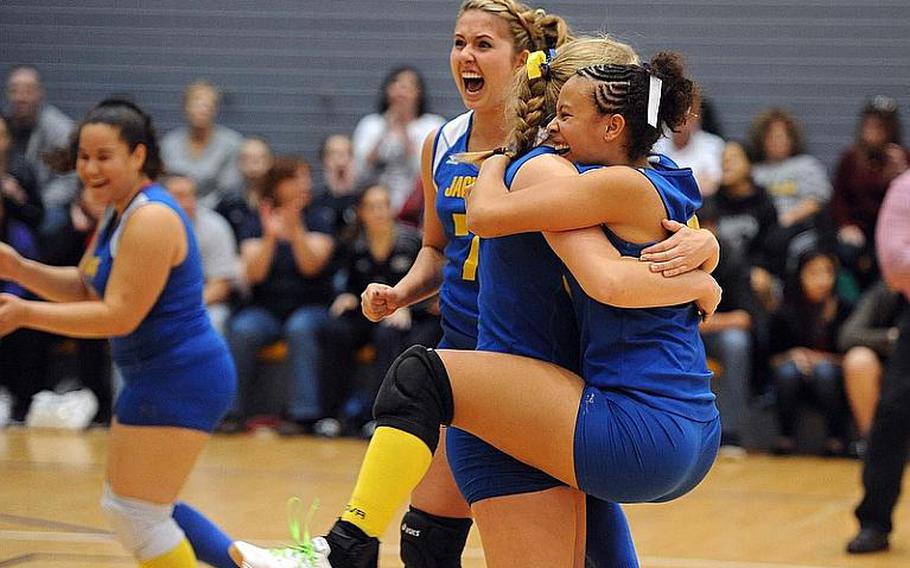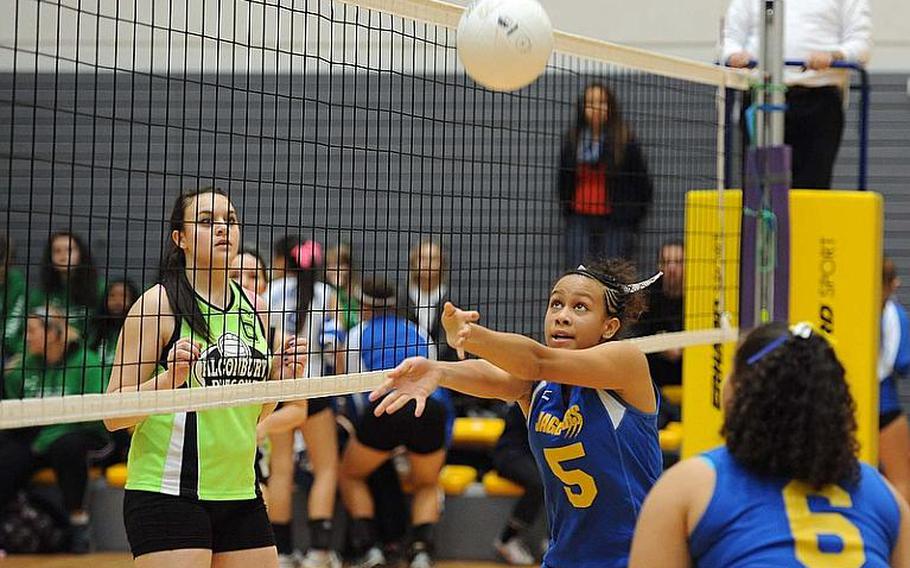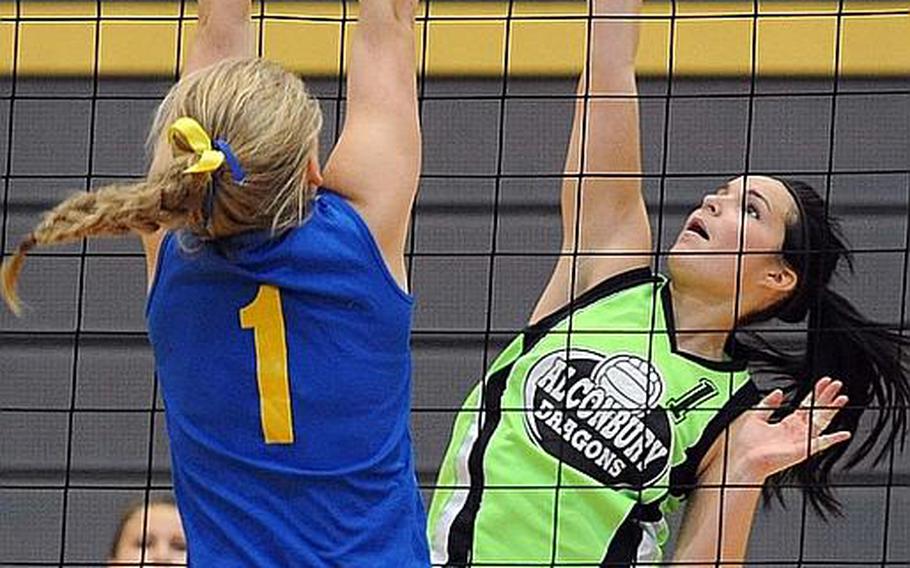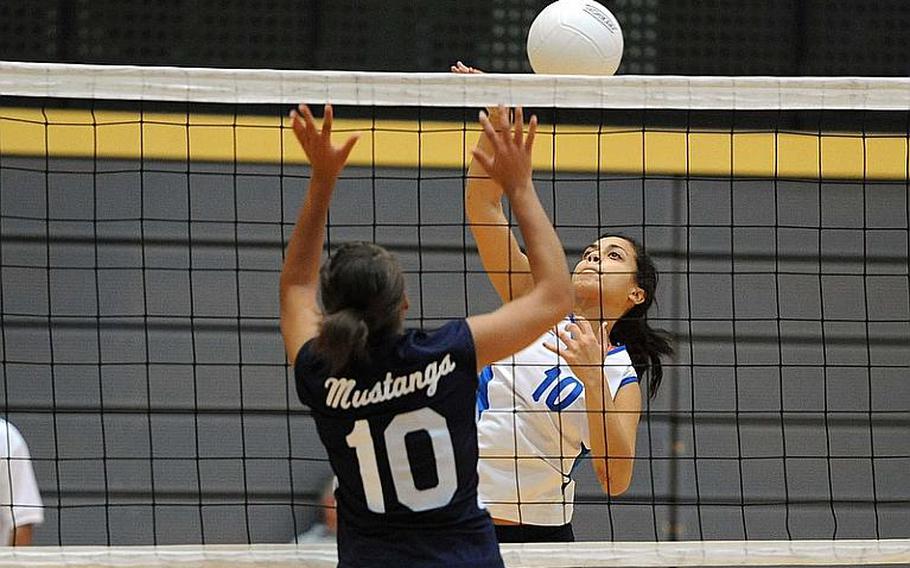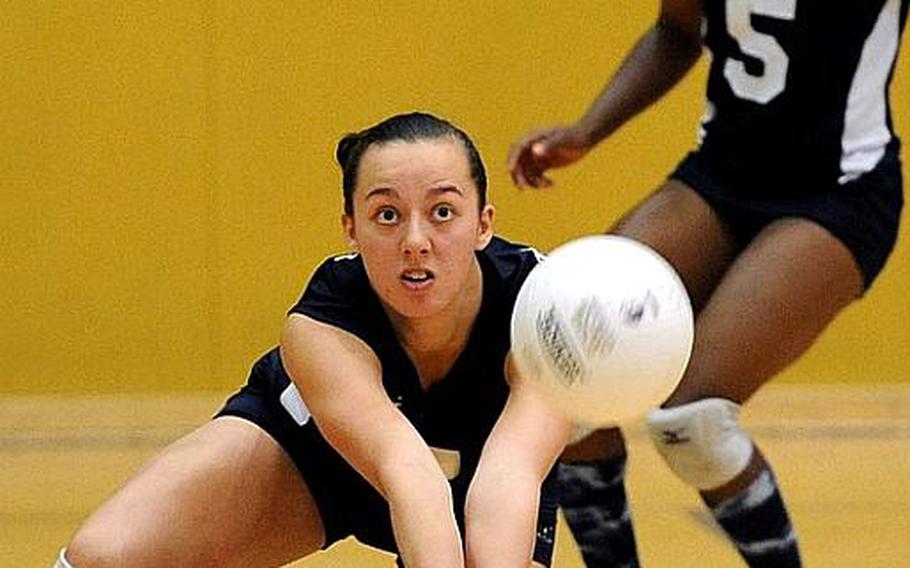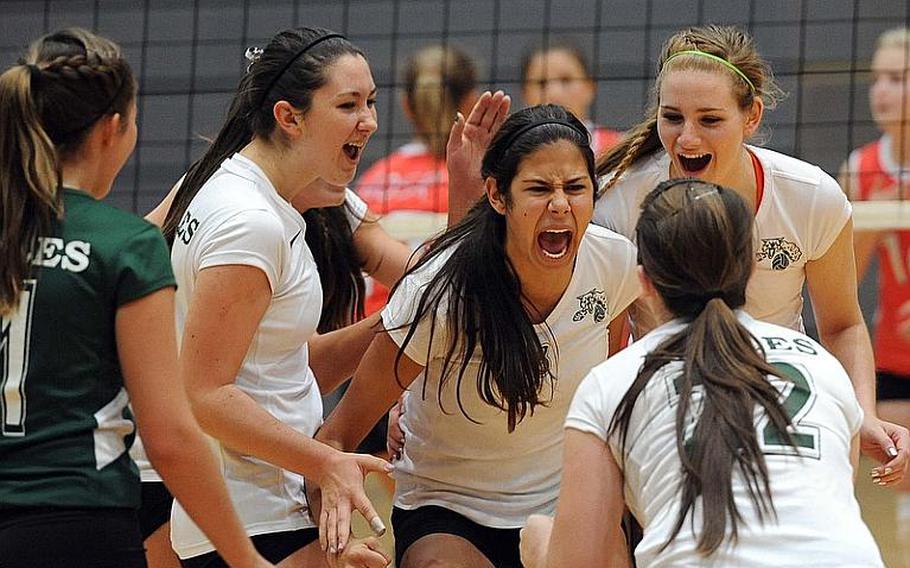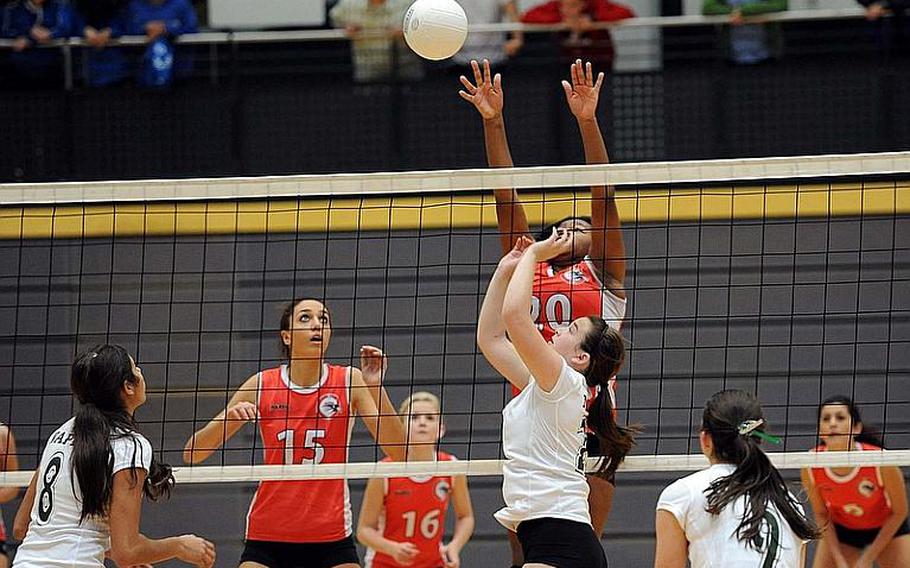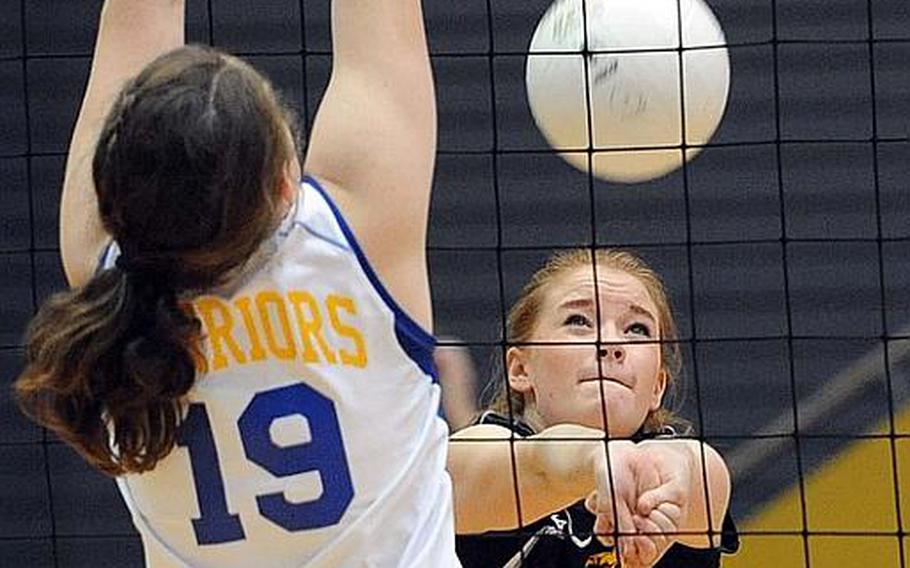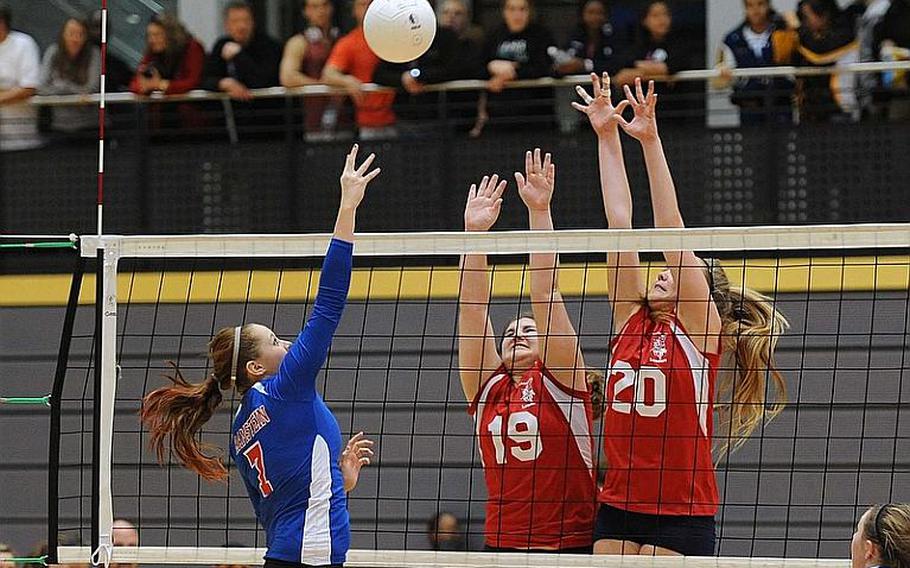 RAMSTEIN AIR BASE, Germany - Sigonella co-captain Alessia Briggs stalked Ramstein's South Side Fitness Center court Friday, slapping hands and inspiring hearts as she pleaded with her Jaguar teammates for just one more point.
"Let's go guys, let's go. This is it," the senior shouted. "Who wants it more?"
That answer was revealed moments later as the fifteenth point of the fifth set of the longest, most competitive match of the 2012 DODDS European Girls Volleyball Championships fell in Sigonella's favor, propelling the eighth-seeded Jaguars over favored Alconbury 25-20, 25-23, 22-25, 23-25, 15-13 and into Saturday's Division III championship match against two-time defending champion Rota.
"We really, really wanted it," said Briggs, still beaming from the fresh triumph. "You have no idea."
Second-seeded Alconbury got the idea quickly and clearly. The Jaguars claimed the opening two sets and were on the verge of a shocking sweep before a combination of unforced errors and fresh fire from the Dragons forced a fourth set, then a decisive fifth.
As impressive as the first two sets were, it was Sigonella's response to adversity that ultimately produced the win.
"As we started losing points, we got really down on ourselves," explained sophomore Rachel Vosler.
The leadership of Briggs and co-captain and fellow senior Deeanna Brown led the recovery.
"We just came out strong," Brown said. "We wanted it."
Sigonella's reward for its perseverance Friday is a Saturday morning date with Rota, the coldly efficient top seed. The rolling Admirals looked invulnerable again Friday, but the Jaguars can extract confidence from their strong showing against Rota on Thursday, in which they forced a 27-25 first set before submitting to the loss.
"I think we'll be fine as long as we stay consistent," said Rota coach Melinda Luna. "They are a good team, so we've got to play our Admiral ball."
Division IThe defending champion and No. 1 seed Ramstein Royals looked on from a safe distance Friday as a sea of upstarts battled for a chance to claim their throne.
Kaiserslautern, Vilseck and Lakenheath offered valiant efforts as the seven-team Division I field completed round-robin play at both Kaiserslautern High School and Ramstein Air Base on Friday. But it was third-seeded Patch, translating its season-long consistency into postseason success, which emerged from the pack with the opportunity to play against Ramstein for the title Saturday.
Ramstein won handily when it faced Patch in round-robin play. The Royals swept the Panthers 25-14, 25-12 on Thursday.
But the Panthers bounced back Friday with victories over Heidelberg (18-25, 25-20, 26-24) and Vilseck (25-18, 25-19) before falling to Lakenheath in a game that didn't matter at the end of the night, 25-12, 25-15.
It didn't matter for Patch, at least. Lakenheath, the No. 2 seed, used the win to earn a spot in the third-place game Saturday against Vilseck.
Underdog Vilseck, seeded last in the field, continued to exceed expectations, pulling out a squeaker against No. 4 Kaiserslautern, 19-25, 25-20, 25-23. The Falcons earlier in the day also beat a tough Heidelberg team in three sets.
After losing the first set, the Falcons in the next set grabbed the momentum with seven straight points, including two aces, on the serve of junior Destiny Hebron.
"Everybody's beating everybody. It's a great tournament; it's wide open," said Vilseck head coach Brian Swenty.
Patch had to rally to beat Heidelberg, playing its final day of volleyball with the school set to close at the end of the school year.
Patch outside hitter Mercedes Deets, who had five aces and six kills for the match, said the Panthers pulled together after losing the first set. "We worked hard to take that second and third set," she said. "All I had on my mind was 'nothing hit the floor.'"
Several of the Heidelberg players were in tears after the match. "Good games but heartbreaking losses," Lions head coach Ross Brand said of his team's play.
Ramstein started the day where it left off Thursday, with another win, this time against cross-town rival Kaiserslautern. The Red Raiders kept within striking distance throughout, making clutch plays, including a hard dive-to-the floor save by senior Grace Gonzalez, before Ramstein closed out the games, 25-20, 25-18. "Kaiserslautern had a really good day yesterday so we were a little nervous coming in today and we know how badly they want to beat us," said Ramstein head coach Erin Markus. "I told my girls to play strong and be tough and stay ahead of them and that's what we did."
Senior Sarah Szybist, a 6-foot, 2-inch right-side hitter, had 10 kills for the Royals in the match, while junior setter Sarah Schiller made 29 assists.
Division IIA grueling schedule and a spirited Aviano team cost Ansbach an undefeated Thursday. The Cougars were determined not to let that happen again with championship positioning at stake Friday.
A rested and rejuvenated Pool B top seed earned its shot at defending champion Naples with two early pool-play victories and a 25-13, 25-17, 25-21 semifinal sweep of Bitburg.
In the other semifinal, Naples withstood an American Overseas School of Rome squad that had found its rhythm at the best possible time and stayed unbeaten with a 25-22, 25-18, 25-13 triumph. The second-seeded Falcons knocked down yet another upset bid from Black Forest Academy on Friday morning to complete pool play at 5-1 and draw the Wildcats in an elimination match.
But the Falcons' momentum was no match for a battle-tested Naples program with another title in its sights, and the Wildcats won by increasingly wide margin.
After navigating six matches of pool play over two long days and evenings, Ansbach is ready to try its luck against the Italian powerhouse.
"Does anybody match up against Naples?" Ansbach coach Matthew Cochenour asked. "They're a tough squad."
broomeg@estripes.osd.mil; svanj@estripes.osd.mil