Unbeaten teams could see unfamiliar foes in DODDS-Europe softball tournaments
by
Rusty Bryan
May 27, 2010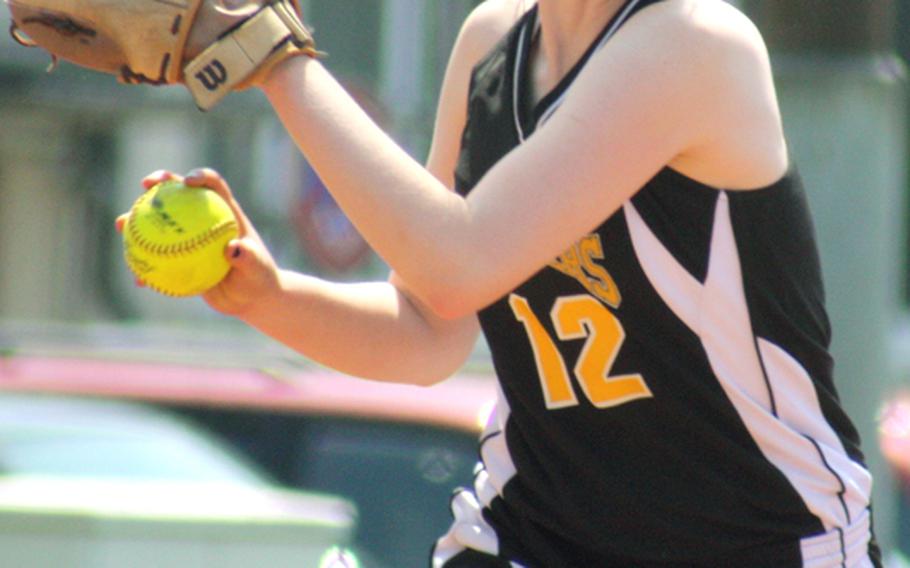 Regional play has kept them from one another all season, but if things develop as expected, the three teams entering the European Divisions I, II and III softball tournaments unbeaten will take the field Saturday against a team they haven't seen before.
Two of the unbeatens play in Division I, top-seeded Ramstein and No. 2 Patch. Ramstein, led by All-Europe pitcher-shortstop Lindsey Jones and All-Europe catcher Becky Pletzer, will be chasing a record seventh crown, while Patch, which counters with All-Europe pitcher Bianca Lopez, is seeking its D-I crown in its second season at that level. The Lady Panthers won the D-II title in 2004.
The third unbeaten, 2009 D-II champion Naples, outclassed the opposition in Italy for the second straight year. But the Lady Wildcats are likely to be taking on 2009 Division III champion Hohenfels and All-Europe pitching ace Mandy LaVanway in the final. Hohenfels is 11-2 going in, with both of those losses to Patch.
Here's a quick rundown of whom to look for this week:
Division I: Jones, batting .647 with 11 doubles, is 5-0 with three one-hitters and Pletzer is batting .655, but there's a lot more to Ramstein's No. 1 seed than those battery mates.
Freshman pitcher Kelsey Freeman is 6-0 with three no-hitters; Pletzer's sister, Crystal, is batting .648, as is third baseman Charnel Austin. Another freshman, Victoria Simpson, is batting .645.
Patch went 14-0 behind Lopez, 7-0 on the mound with a sub-1.00 ERA and hitting .530 with seven home runs; .480 batters Lauren Tannenbaum and Anne Wasson; .440 batter Shannon Wright, and another 7-0 pitcher, Vanessa Adderty.
This is not an exclusively two-team race, cautions Kaiserslautern coach John Culbreth, whose No. 3-seeded Lady Raiders have an offense led by the tournament's best hitter, Kaylin Hesler (.789 BA with 10 HR and 45 RBI) and solid pitching in Ashley VanAmberg (5-1, 2.40 ERA) and Katrina Jastrab (4-1, 3.50 ERA).
"You can never count Lakenheath out of the tournament," Culbreth claimed in an e-mail, "because coach (John) Gilmore will have his girls ready to play."
Lakenheath, the only team other than Ramstein to have won a European D-I title, is seeded No. 5, although the Lancers can call on veterans pitcher-shortstop Ali Parkerson (6-2, .545 BA), an All-European in 2009; catcher Nicole McBride (.472 BA), and a slick-fielding infielder Stephanie McAnallen. First baseman Whitney Brown is batting .452, leading Gilmore to conclude, "We'll be competitive."
Division II: Neither of the top two seeds has lost to a D-II team this season.
For Hohenfels, it's largely because of All-Europe pitcher LaVanway (11-2) and All-Europe catcher Kayla Starnes. They fueled the Lady Tigers to last season's D-III crown.
All-Europe shortstop Caitlin Eckert and All-Europe catcher Tori Ward lead Naples into this event, which does indeed figure to be a two-team race, unless clubs such as youthful No. 4 Bitburg grow up quickly.
The Lady Barons, who won D-II titles in 2001, '02, '03 and '06 and have senior leadership in Alex Schmidt, "plan to be taken seriously," vowed Bitburg coach Dan Vasquez.
Division III: The four-team race could be anybody's.
Rota, the small schools champion in 2000, '05,'07 and '08, is attempting to grow its young team, as is 2002 champ Alconbury. Tracy Smith's Incirlik Lady Hodjas are always an unknown, but report they hit the ball well.
That leaves Sigonella, toughened by weekly battles against D-II powers Naples, Vicenza and Aviano, as the favorite. According to coach Amy Driscoll, Courtney Albert is the team's ace, with offense provided by power hitters Lizz Adams and Mekayla Valentine and on-base leader Alexis Palmer.
Play begins at 8 a.m. Thursday in all divisions, with championship games scheduled for Ramstein High School on Saturday. There is no admission charge.
European softball championshipsWhen: Thursday-Saturday
Where: Ramstein Air Base and Kaiserslautern
What's at stake: Division I, II and III titles
Division I
(Pool play with crossover semis)
Pool A Pool B
1. Ramstein 2. Patch
4. Vilseck 3. Kaiserslautern
5. Lakenheath 6. SHAPE
8. Heidelberg 7. Wiesbaden
2009 champion: Ramstein
Division II
(Pool play with crossover semis)
Pool A Pool B
1.Naples 2. Hohenfels
4. Bitburg 3. Vicenza
5. AFNORTH 6. Bamberg
8. Aviano 7. Baumholder
10. Mannheim 9. Ansbach
2009 champion: Naples
Division III
(Round-robin; 1 vs. 4 and 2 vs. 3 semis)
1. Sigonella 2. Alconbury
3. Rota 4. Incirlik
2009 champion: Hohenfels