U.S., Japanese teams trade spikes, smiles
---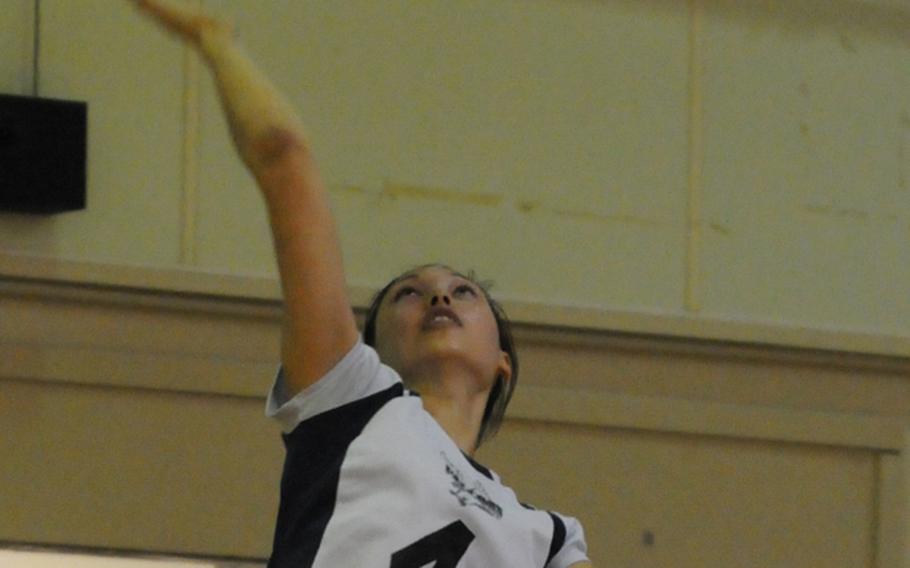 CAMP FOSTER, Okinawa – Though the matches had ended, the fellowship had just begun at Kubasaki High School's Dragons Den.
American and Japanese high school girls volleyball players took photos of themselves in groups with point-and-shoot cameras. Several traded bumping and setting techniques. Japanese sampled pizza from the Dragon Inn concession; Americans reciprocated by trying Japanese rice balls.
"It's a really cool experience," said senior middle blocker Tammy Garman of reiging Far East Division I Tournament champion Seoul American, one of five American teams and three Japanese teams that engaged in volleyball competition and friendship on Sunday.
It was part of the three-day Okinawa District Volleyball Festival, organized by Kubasaki and Kadena High Schools. Also along for the ride were Osan American and reigning two-time Far East Division II Tournament champion Daegu American of Korea.
On Friday and Saturday, just the American teams took to the court, with Seoul American coming out on top of the unofficial pool-play standings.
Then came Sunday, when Gushikawa Senior High, Futenma High and Gushikawa Commercial High visited Kubasaki and treated their American counterparts to a more defensive, fundamental game, a contrast to the power game favored by Americans.
"Defense, defense, defense," Seoul American coach Lori Rogers said. "It's fun to watch. Their fundamentals are so good, they are so precise in everything they do. I've only seen one power hitter; they don't hit it hard, they just hit it somewhere."
"Their defense and service … makes up for their lack of height and power," Kubasaki coach Mike Hogen said. "And they dig up everything."
Japanese and American teams took turns playing each other in two-set matches, playing up to 25 points per set. Seoul American took one two-setter, while the other schools won a set here and there.
Players from all the teams took turns keeping score at the official table, and serving as linesmen in each of the matches. But sometimes, the young players-turned-officials found themselves caught up in watching the action a bit more than what they were there for.
"Sometimes, you get carried away," Kubasaki junior Jienniphyre Soderlund said of watching the action instead of the lines."
As dominant as they were, the Japanese did take something away from the festival. Most Japanese high school players took up volleyball at an early age and are more studious and serious about it than their more fun-loving American counterparts, one coach said.
"Skill-wise, the Japanese will win, but all the Japanese coaches tell the Japanese players to look at the American girls' motivation and enjoyment," said Gushikawa Commercial coach Kazushige Kochihira, speaking through a translator.
"It's good for them to look at the Americans and see how they play. They're willing to play hard, go after every ball and never give up."
Plans are to expand the tournament next year to include more American and Japanese teams, said festival organizer Art Arao, a Kadena Air Base civilian who works with many Japanese school and club teams off base.
---
---
---
---