Girls track preview
Two champions lead host of contenders
by
Rusty Bryan
March 24, 2011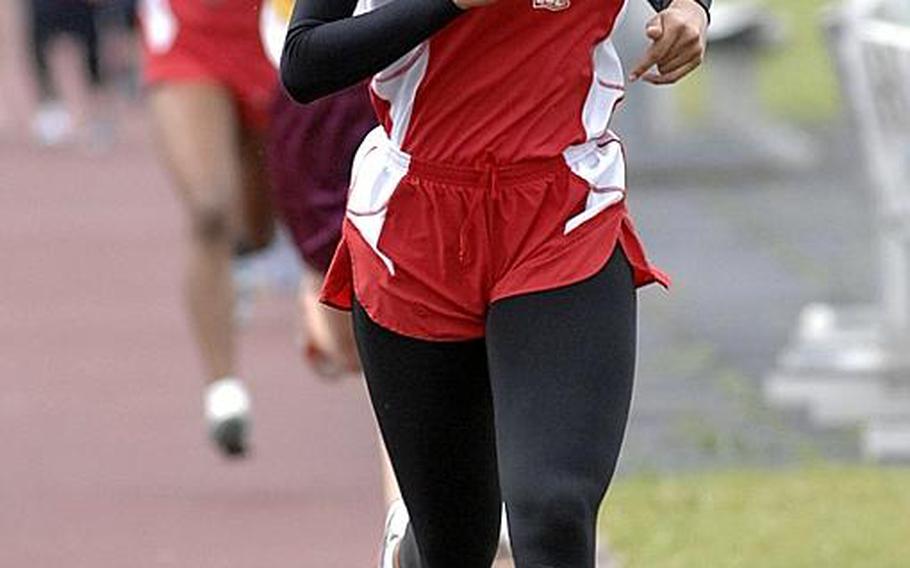 Double record-setting hurdler Tiffany Heard of Ansbach graduated last June, but the DODDS-Europe girls record book figures to remain under assault when the 2011 track season begins Saturday.
Only Lakenheath's long- and triple-jump gold-medalist Jasmin Walker and Kaiserslautern's 800-meter champion Rio Shaune Harris are back for another go. But several other high placers are back.
And although Walker's winning jumps of 16 feet, 4½ inches and 35-6¼ in long- and triple-jumps, respectively, were around 3 feet short of European records in each event, Harris represents another story altogether.
Harris, the 2010 silver medalist at 400 meters, ran a leg on Kaiserslautern's European record-setting 2010 4x800 relay team, and with another runner from that foursome, European 1,500-meter bronze medalist Colleen Davis, back for another turn, the Lady Raiders' best-in-DODDS-history 9 minutes, 58.43 seconds could be in danger.
Harris and Davis, along with returning teammate Ruby Plummer, also might threaten the 4x400 record of 4:03.70. According to K-town coach Dennis DePriest, his female quarter-milers clocked a school record 4:11 last season and will run sophomore 3,000-meter European bronze medalist Ashley Santos in that event this year.
Add to K-town's mix sophomore Emily Ciocca, a distance specialist, and impressive freshman Alana Dickerson, who can throw the discus, run hurdles and relay legs, and how good are Kaiserslautern's chances for an 11th straight team title?
"I am not sure if the second- and third-place girls teams combined could outscore the K-town girls at finals," Vilseck coach Eric Mead wrote in a recent email,
Look for Walker to dominate the jumps again, along with a foot race or two, according to her coach, Louis Martin.
"Jasmin has redesigned herself for this season, and we expect she will jump and sprint," Martin said.
Wiesbaden's Kelly Colbert is the other returning podium-finisher in the girls dashes. Colbert took third in the 100 and 200, and was third in the high jump.
Chasing Walker in the jumps are likely to be Mannheim's double 2010 silver-medalist, junior KaDedra Lea, and AFNORTH's Sara Sawyer, third in both events.
Vilseck's Mariah Morris, second in the discus in 2010, also returns.
Ansbach won the D-II team title in 2010, but graduated 38 of its 60 team points. Bitburg's 6-foot-1-inch Melissa Menschel has cleared 5 feet in the high jump, according to Lady Barons coach Brian Bent. He expects tennis star Kaitlyn Miller to score distance points.
AFNORTH expects to contend in D-II with 2010 400-meter fourth-place finisher Mercedes Ash adding her potential points to those of Sawyer.
Last year, Brussels was the lone Division III team to score at Europeans.
---
---
---
---