Pacific tennis player of the year
Torch passes from Gadsden to Gadsden
by
Dave Ornauer
November 18, 2011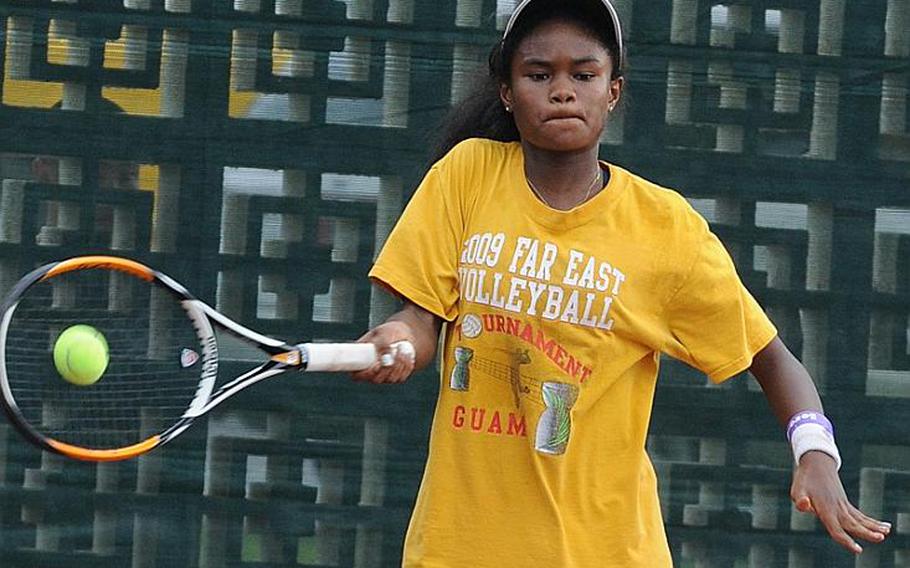 The name Gadsden has become synonymous with tennis success at Guam High and at Far East tournaments.
Almost a year to the day her older sister Amber won double gold medals in the Far East tournament, Chloe, a sophomore, followed in her footsteps, capturing the girls singles title Nov. 10 at Kadena Air Base's Risner Tennis Complex on Okinawa.
"She has the mental drive to outmatch her opponent," coach Juana Aguon said of Gadsden, who's been named Stars and Stripes Pacific high school Tennis Player of the Year.
Seeded No. 4 in the girls singles, Gadsden downed her first two foes, Aiko Allan of Nile C. Kinnick and Kelli Braun of Robert D. Edgren without dropping a game.
Natalie Burke of Zama American was up next, and Gadsden dispatched her 8-2, putting her in the Final Four, where she outlasted Yokota's Erika Ettl 6-4, 2-6, 6-3. That put her at Center Court against Burke's sister, Tia, the DODDS Japan and Kanto Plain champion.
Playing a corner-to-corner game and keeping Burke on the run most of the way, Gadsden took just under an hour to beat her 6-3, 6-3.
Gadsden "showcased her dedication, determination and continuous improvement to perform well in all her matches," Aguon said, adding that her best trait is taking time to "console her teammates and encourage them to do their best and try to win one point at a time."
Making Gadsden's feat even more significant: Guam High's tennis season doesn't begin until February, although the Gadsden sisters play year-round on the island's tournament circuit. Amber was named Player of the Year in Guam's high school regular season in 2010.
Kadena coach Robert Bliss said he'd watched Gadsden play an earlier match and only miss two or three shots.
"She is amazingly consistent and resilient," Bliss said. "I thought she had a good year last year" when she teamed with Amber to win the girls doubles. "This year, she was even better."
On the boys side, three sophomore international-school players distinguished themselves in Pacific-area regular-season and tournament competition:
 Kent Shikama of St. Mary's International repeated his Far East tournament singles title.
 Kentaro Ishihara of American School In Japan, a former ranked junior from Florida, went unbeaten in the regular season and captured the Kanto Plain Association of Secondary Schools tournament championship.
 Jeffrey Kim of Seoul Foreign went unbeaten for the second straight Korean-American Interscholastic Activities Conference regular season and won the Asia-Pacific Activities Conference tournament.
---
---
---