Boys basketball player of year
Three-time champ Owens starred again
by
Rusty Bryan
March 8, 2012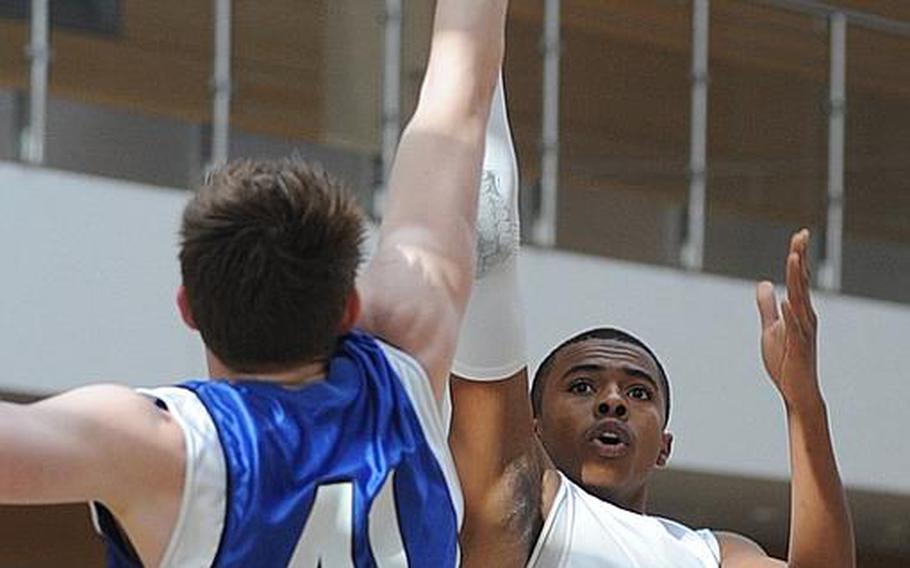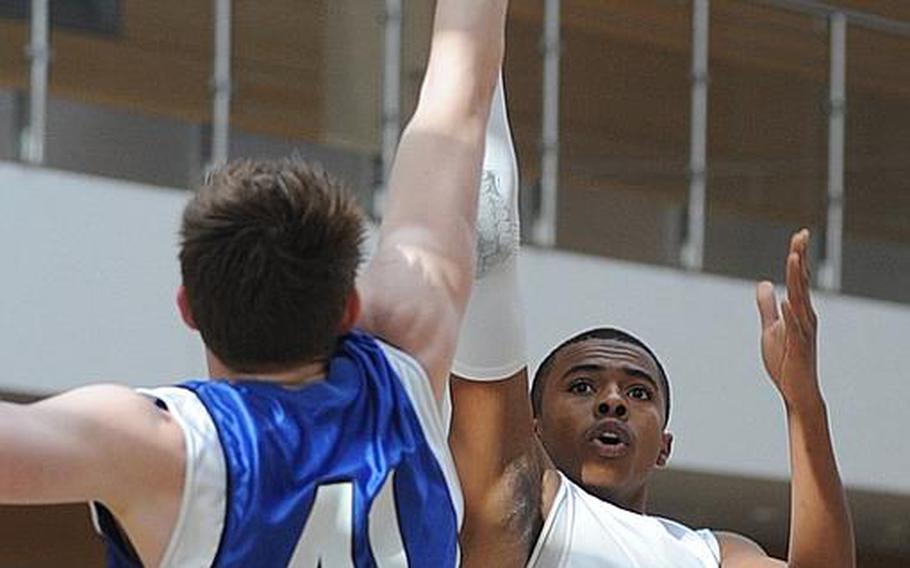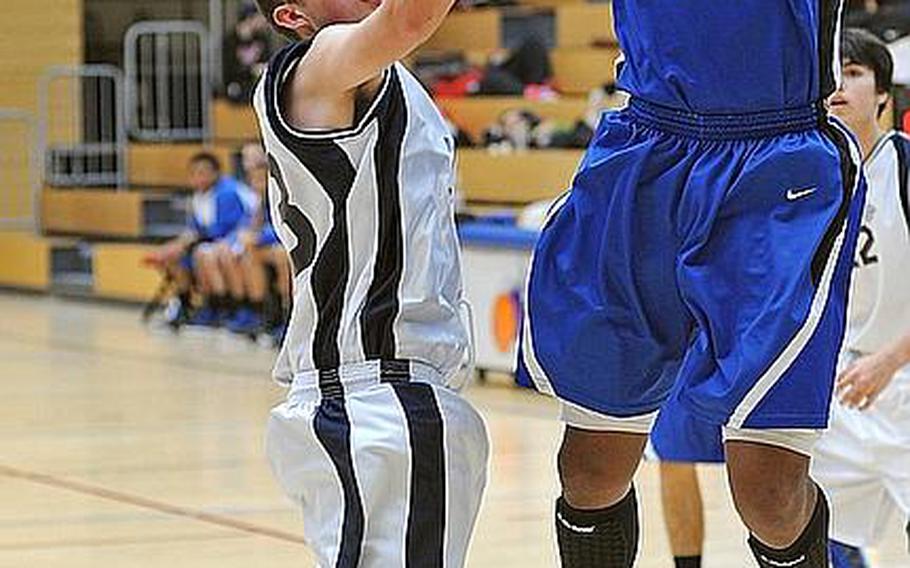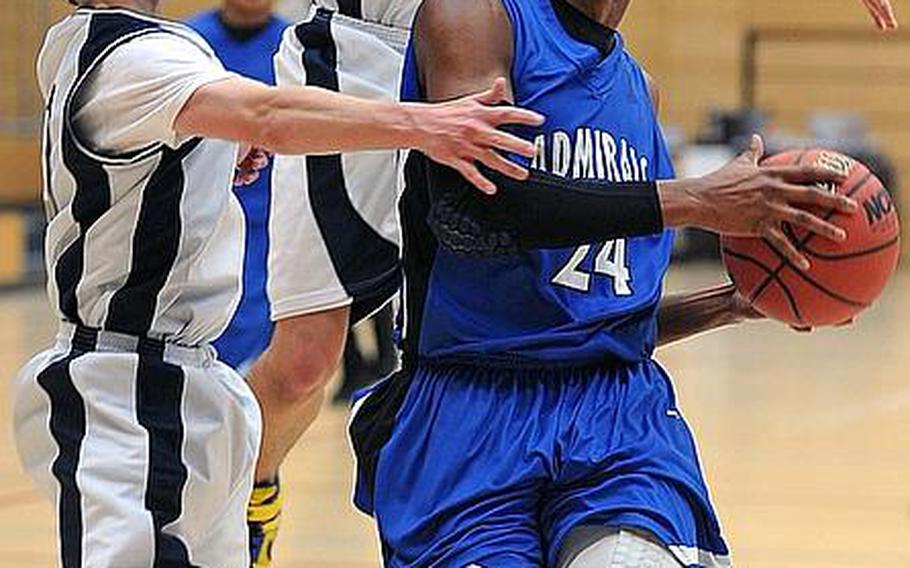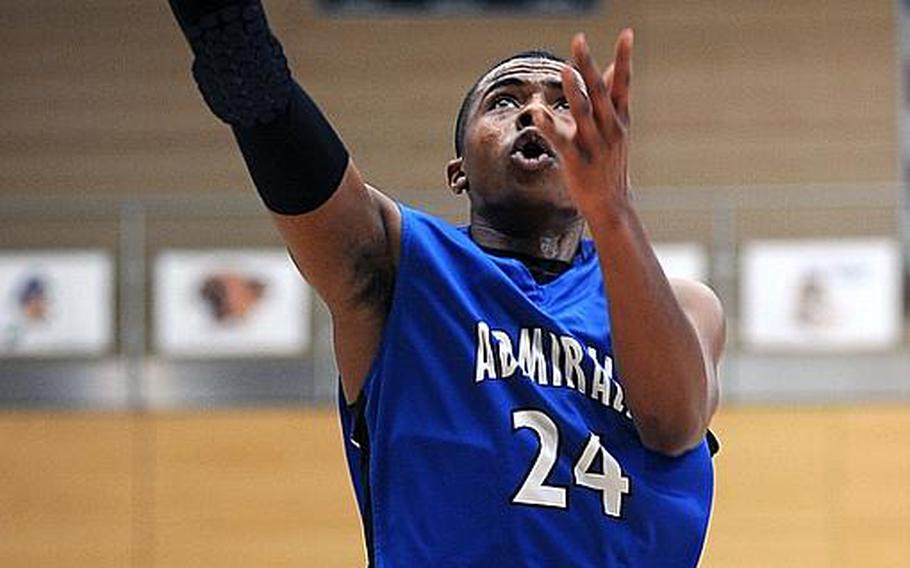 Anyone who thinks it unimaginative to name the Stars and Stripes' 2011 male basketball player of the year, Tre'von Owens of Rota, as the newspaper's 2012 male basketball player of the year should consider this:
According to his coach, Ben Anderson, this year's version of Owens, a 6-foot-6 guard who averaged 27.6 points, 12.2 rebounds, 6.3 assists, 4.4 blocks and 3.2 steals per game, is even better than last year's.
"He's improved every year," Anderson said by telephone on Wednesday. "Last year, he really developed his ball-handling. He improved on that this year, too, and he's a much better passer this year."
Anderson added that Owens delights in dishing the rock.
"The best thing is, is that he is just as happy passing the ball as he is when he scores," Anderson said. "That's what makes him special. In one game before we left for the tournament he had six points, and Terrence Paris had 24 and Marc Oden 20 thanks to the passes Tre'von made."
No one disputes Owens' physical skills.
Bamberg coach Tim Smith, who won multiple European titles while coaching at Hanau and whose Barons fell to Rota 50-34 in last month's Division III title game, puts the case succinctly:
"Good shooter with great range, great presence on the court," Smith wrote in an email. "Team player. Does everything well."
Observed Ramstein's Andy O'Connor, "I'm not so sure his team wouldn't have won the Division I title this season. His shooting would have kept his team in the game with any of our teams, and then he would be hard to stop down the stretch."
Adding weight to O'Connor's words was Rota's performance at the Patch Holiday Tournament in December. The Admirals downed reigning D-I champion Heidelberg in the pool-play portion of the unofficial event before falling to the Lions by a single point in the semifinals.
"…what Tre'Von did against Heidelberg in the semifinals of that tournament was incredible," emailed Lakenheath coach Alan Campbell. "He scored from everywhere (24 points in a 24-minute game) as well as got his teammates involved. … (E)veryone knew who the best team and best player on the court were that day."
Owens' superiority shows in ways the stat book can only hint at, according to Carter Hoff of Lajes.
"Tre'von has a vision of the court that is rarely found at the high-school level which has led to his ability to run the point well as well as be leading passer on his team," Hoff assessed in his email. "Most impressive for me, however, is his defensive ability. He stands out as one of the leading shot blockers in Europe and also excels at steals."
AFNORTH's Nathan Goolsby and Chris Vahrenhorst of Brussels were impressed by Owens' attitude.
"I like the fact that he doesn't act as if he is entitled to the ball out on the court," Goolsby wrote. "He goes and gets the ball on offensive rebounding opportunities. He is a quick leaper and he has a nose for the ball. Those qualities, coupled with the all the stuff you can see statistically, put him far above everyone else I have seen."
Owens' reaction to some "vulgar trash-talking" directed his way impressed Vahrenhorst.
"He said nothing, but talked with his play," Vahrenhorst wrote. "Class through and through."
Owens now takes his class act to the University of California at Riverside, one of several NCAA Division I schools which offered him a scholarship. Owens plans to pass the time until he reports in July honing his game and working out in the weight room.
"I need to put on weight," he said. "I can't report rusty and out of shape."
In the meantime, though, Owens can revel in his status as a three-time European champion.
"This season stood out more," he concluded Wednesday afternoon. "We were a more complete team. That was less work on me, but I still had to lead them."
Mission accomplished.