Three-sport star Gleaves has high expectations for her final year at Seoul American
by
Dave Ornauer
September 21, 2010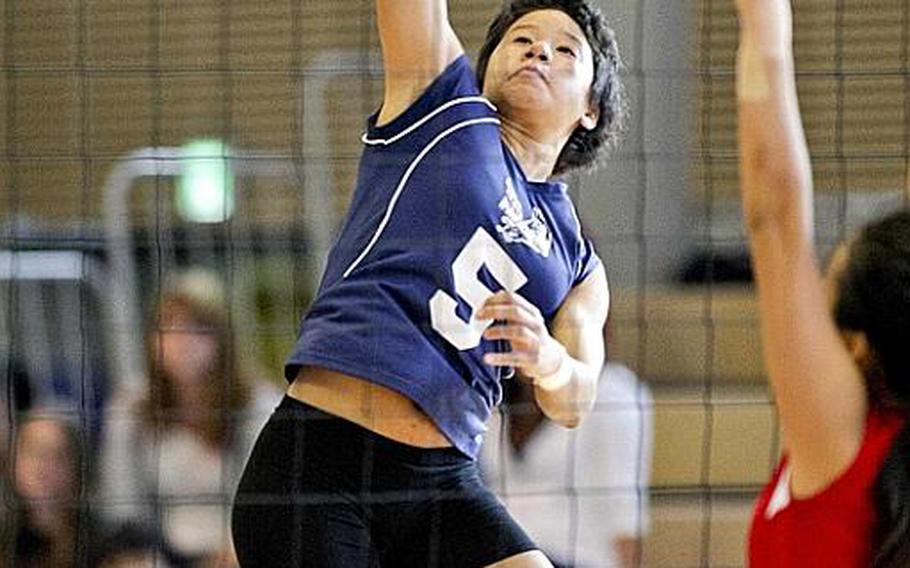 There's a certain cachet that goes with being a two-time most valuable player, a Far East Tournament champion in basketball and soccer, and a bronze medalist in a third sport: volleyball.
You're known. People stare, point and titter to their friends as you walk through the exchange, the school hallways or just on the street. The bolder ones come up and talk about how you amazed them.
A newspaper names you its Pacific high school athlete of the year. You even have a Facebook page entitled "OMG Liz Gleaves!" with 116 members.
But with that title come added challenges.
On top of being recognized everywhere you go, opposing players come at you twice as hard and won't back down in trying to knock you off that pedestal.
"It's pretty weird," said Gleaves, a Seoul American senior who has impressed teammates, foes and fans with her athletic ability since stepping onto the varsity volleyball court in September 2007 as a freshman. "I feel the eyes stare at me. I can hear them whispering."
Having a classmate put together a Facebook fan page left her "pretty surprised; I didn't believe her," Gleaves said. "It's hard to put into words. A player who works pretty hard and tries to do her best and gets those awards, it's worth it in the end."
Still, at times, the pressure, and bull's-eyes that go with it, feel like a 20-ton boulder on your shoulders. "I do feel the pressure, against every team we play," Gleaves said.
It might seem enormous after days like Saturday, when defending Far East Division II champion Daegu American handed the Falcons their first regular-season loss, 16-25, 28-26, 25-19, 25-22, in which the Warriors rallied from behind 17-19 and 10-18 in the third and fourth sets.
"We gave them that game. They deserved to win, they played without errors, but we played with all the errors. It wasn't even one of my good games," said Gleaves. She had three spike kills in 20 attempts and has 22 in 69 this season, down from 30 in 63 through four matches in 2009.
"I was really off. I wish I wasn't. I guess maybe I wasn't focused. I didn't relax. I was tense the whole game. We had so many opportunities, but we just didn't click."
So, how do you deal with the added pressures that go with being a "known face?" Plus remaining "humble" and "grounded," terms that Falcons and opposing coaches have long used to describe Gleaves?
It's rather tough, said coach Denny Hilgar, for Gleaves to top what she's done simply because "she's been doing amazing things" since her middle-school and youth sports days. "Each year became tougher to outdo the previous year," he said.
Part of the subdued side of her personality, Hilgar said, means she leads more by quiet example than vocally. "We just keep reminding her that she needs to be the go-to person."
Three kills or 23, Gleaves is still a "very dangerous player" who bears considerable attention from opponents at all times, Daegu coach Joanna Wyche said.
"She has the attitude that she's going to go out and get it done," Wyche said. "She gets the height. She adapts, she adjusts and comes back out at you in full gear. She absorbs things more quickly than the normal athlete and just goes out and executes."
Last year's glory was great, Gleaves said, but she tells herself that that was last year. She wants to move ahead and work toward not just equaling, but bettering herself and her team.
"I always try to push myself hard, no matter what," Gleaves said, adding that she's a big believer in former Seoul American three-sport coach Julian Harden's motto: If better is possible, good is not enough.
"I don't put myself out there saying I'm 'all that.' I know I'm a good player, but I always push myself to be better."
When a team such as Daegu knocks you off, you pick yourself up, dust yourself off and start all over again.
"I have to shake it off, be a little loose, be confident in myself and my teammates and just play the game," she said.
Having solid teammates, including hitting partner Destinee Harrison (56 kills, 120 attempts, 50-for-63 serving with 25 aces, eight blocks and 27 defensive digs) plus novice setter Tiffany Mitchell helps. Plus, there's the goal of sending out 31-year coach Denny Hilgar with his first Far East Tournament title.
In past years, "we've had some individuals (who) didn't work as a team," Gleaves said. "We have good chemistry this year. I'm excited. There's a lot of pressure because it's coach's last season, but we think we can pull through. No drama. We just need to develop more."
Gleaves feels the Falcons can finish in the Division I top four, perhaps even reach Center Court. Following the season, the Falcons take to the basketball hardwood with newcomer Jordan Elliott, a seasoned AAU transfer from Virginia, then the soccer pitch in spring.
Cleaves' overall goals in her final year in Falcons Navy blue and white: "To play my best, do as good as I can for the team, win Far East for Coach (Hilgar) and have a lot of fun. Make good memories at Far East. And I don't want to have any regrets."
---
---
---
---