Far East volleyball preview
Thornton makes ASIJ a favorite again
by
Dave Ornauer
November 2, 2012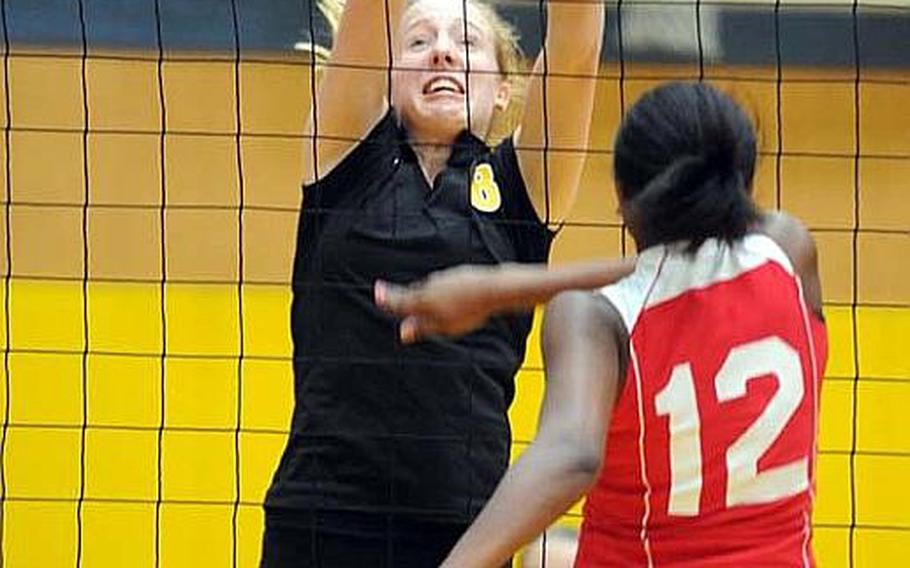 Around the Pacific, some coaches have said privately that the Far East High School Girls Division I Volleyball Tournament will be a race to see who finishes behind defending champion American School In Japan.
Eight of the Mustangs' 10 players return, including reigning tournament MVP Liz Thornton, the third of three Thornton sisters who've earned the same honor for an ASIJ D-I Tournament champion team, and senior setter and four-year Mustang starter Baileigh Gibson.
But don't tell that to Kubasaki's Michael Hogen and Al Garrido, coach of last year's runner-up Nile C. Kinnick.
"If you take yourself out of fighting for the prize, you've already lost," said Garrido, whose Red Devils are six-time DODDS Japan champions and three-time Kanto Plain champions on his watch, with a 106-3 regular-season record since 2009, including 30-2 this year.
"I definitely don't want to play for second place and Al will never settle for second," said Hogen, whose Dragons went 8-0, swept the four-match season series from Kadena and went 9-2 against high-school competition.
An optimistic outlook, but how to stop Thornton? That's another matter entirely. And important to note, Kinnick's two losses this season were to ASIJ, and one of Kubasaki's was to the Mustangs during their swing through the Tokyo area last month.
Thornton "is a high-level player who jumps at a high level," Hogen said. "She's willing to hit sets that aren't perfect, she doesn't make mistakes, she has power and good technique. She's a competitor."
Garrido coached Far East champion teams with Guam's Southern High in 2000 and 2002 and has been involved with the Guam National Team since the 1990s. He says Thornton and former Far East MVPs Kayo Wada of Academy of Our Lady of Guam and Iona Evangelista of Simon Sanchez are the best hitters he's ever seen.
A key to at least slowing her down is ensuring she has fewer touches when the opponent sends the ball over the net, preferably behind her.
"You try to ensure she gets the ball the least amount of times," Garrido said. "If she gets 10 sets, she'll kill eight. If she gets set five times, she'll kill three. Very smart ball placement. You need to get the ball over her shoulder and behind her."
Along with ASIJ, Kinnick and Kubasaki, Tokyo powers Seisen International and Christian Academy Japan along with Guam regular-season champion George Washington and postseason tournament champion Southern figure to compete for the title.
The Division I tournament returns to Guam High for the first time since 2009 and for the fifth time in history, while the D-II tournament is back at its longtime Daegu home for the fifth time in six years.
Coaches who've seen each team feel the D-II Tournament title could again come down to defending champion Morrison Academy of Taiwan and host Daegu with its junior triad of Sarah Wright, Lari Robertson and Kaitlyn Nott. DODDS Japan runner-up Matthew C. Perry, with left-handed banger Courtney Beall, figures to contend as well.