Home Team
There's not much Hill can't do on track
by
Rusty Bryan
May 4, 2011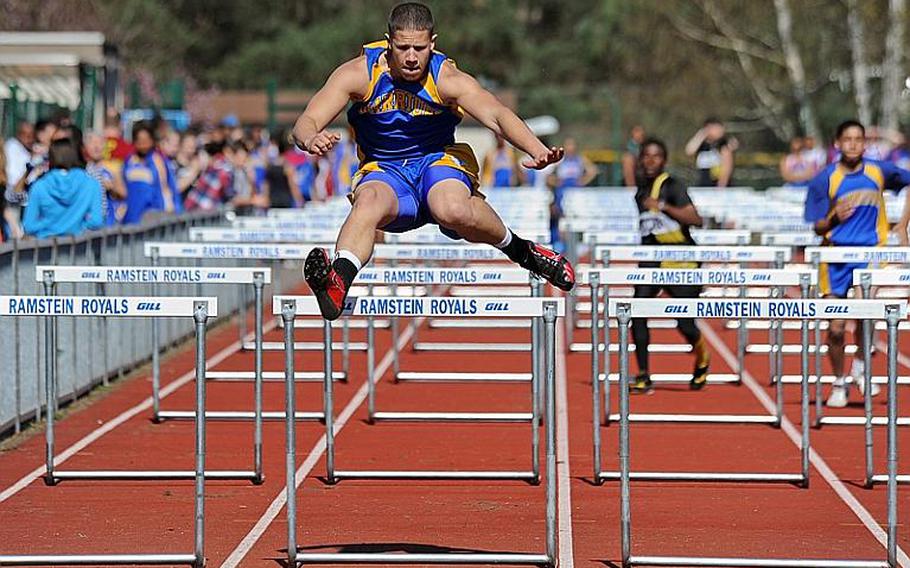 WIESBADEN, Germany — As he nears the end of a standout athletic career in DODDS-Europe, Wiesbaden senior Kenyatta Hill suddenly finds himself, in the words of head track coach Dave Eidem, "like a kid with a new toy."
In Hill's case, those new toys are the shot and discus. Three meets after taking up the 12-pound shot and 3½-pound discus for the first time, Hill, a sprinter, hurdler and wide receiver talented enough to have accepted an offer to play football for Baldwin-Wallace College in Ohio this fall, has qualified for the European championships in both events. Hill put the shot 40 feet, 6½ inches last Saturday to make the cut in that event, and spun the discus a European championships-qualifying 126-7½ the previous week in his first competitive meet in the event.
"I was surprised," Hill replied when asked about his rapid rise as a weight man. "I seem to have caught on pretty fast."
Hill's always been a quick study. He took up hurdling, an event as technically demanding as the discus, as a sophomore at Mannheim. Hill said the Mannheim coach told him that if Hill weren't transferring to Wiesbaden, he'd have him challenging the DODDS-Europe record of 14.40 seconds in the 110-meter highs. Hill's not there yet, but he qualified for this year's Europeans with a hand-timed 16.81 seconds last week at Hohenfels.
Hill said he was planning to run the sprints, hurdles and relays again this spring when Eidem and Wiesbaden throwing coach Alexis Klein suggested he take up the weight events.
"He's an extraordinary athlete," Klein said when asked why they had Hill try his hand in the throwing ring, "and he has big arms."
Both qualities paid off immediately.
"He put the shot 35 feet from a standing start the first time he tried it," Klein said. "After his first meet, he was three feet short of qualifying in the shot."
Saturday, Hill took care of surpassing the 40-foot qualifying mark, but he remains a novice, especially in the discus. In his second competition as a discus thrower, Hill continued to employ the less-technical, half-spin, "South African" approach, rather than attempting the all-out, whirling trip across the ring that experienced throwers use. It's a technique that, among other things, would maximize the speed advantage Hill brings to the event.
"There's more to it than just muscle," Eidem pointed out.
Hill agrees.
"Discus is all about technique," he said. "I'm working on the full spin. It's a work in progress."
With his latest skill, Hill has his eyes on more than just college football. He hope to take up the decathlon, indoors and outdoors, when he gets to Ohio.
Eidem thinks the idea is a good one for the strong and speedy Hill.
"He's one of our best high-jumpers, too," Eidem said, and while Hill's never tried the pole vault, his speed, strength and coachability augur well for him in that event, too.
That just leaves the 1,500, another event Hill said he's never tried. His history, however, points to success there, too.
"He really learns fast," Klein said. "He pushes himself every day."
Right now, Hill's putting his next-level future on hold as he prepares for his last go-round at the European championships, scheduled for May 20-21.
"College is circling around in my head at times," he said, "but for the next couple of weeks, I've got work to do."
---
---
---