DODDS-Europe tennis
Tahirovic, Bolla grab top seeds for championships
---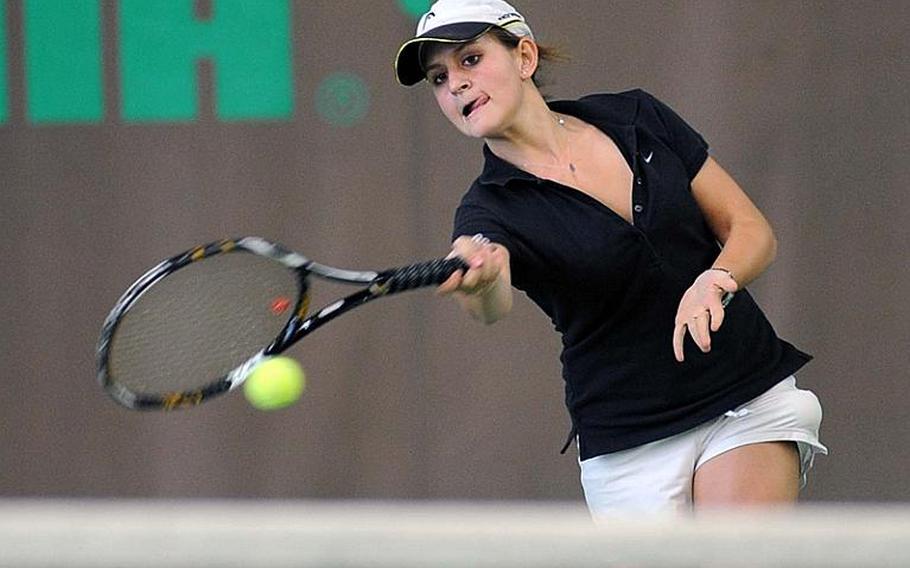 One reigning champ and one former champion go into the 2011 DODDS-Europe tennis championships as the seeds for this year's finale. The tourney begins Thursday at three sites in the Wiesbaden, Germany, area and is to conclude Saturday at the Vitis sports hall.
The reigning champ is Patch sophomore Ajdin Tahirovic, who's working on his second straight undefeated season. That former champ is a two-time winner, Ginevra Bolla of Marymount International School of Rome. Bolla prevailed in 2008 and 2009, only to be surprised by Heidelberg's Paige Chase 6-2, 6-4 in last year's title match.
Chase spent just one season in Europe before returning to North Carolina for her senior year. Bolla, according to Marymount athletic director Simone Trott, is determined to win it back despite the senior's heavy course load as she chases an international baccalaureate degree.
For all that, Trott wrote in a Monday email, Bolla is trying to keep as low a profile as a No. 1 seed can in an effort to reduce the pressure she feels. However successful she might be with that plan, she'll be subjected to plenty of external pressure along the way. If the seedings play out, Bolla will find herself across the net from an equally determined and undefeated Bitburg senior, Kaitlyn Miller, the No. 2 seed and Europe's reigning 3,000-meter champion.
Tahirovic said he was confident he could make it two straight in a Tuesday-morning phone call.
"I'm playing better than ever," he said. "All summer, I played three times a day – fitness training in the morning, and matches in the afternoon and evening."
Competition for Tahirovic is likely to come from Heidelberg's Cameron Meeker, the No. 2 seed, or SHAPE freshman Dimitrios Stavropoulos, the 14-year-old No. 3.
Tahirovic downed Meeker, who finished fourth here last year, 6-2, 6-2 on Saturday at Heidelberg. But he has never even seen Stavropoulos play despite a friendship with the Spartan's older brother Vasilios, a SHAPE junior who was unable to play for the school because of prior club and European tournament commitments. The elder Stavropoulos is the No. 1-ranked junior player in Greece and No. 4 overall in Europe, according to SHAPE coach Sam Ochinang.
Tahirovic, too, finds a family connection helpful to his game.
"Ajdin is one of the most mature players I've ever coached," Patch coach Walter Fritz said, attributing much of that maturity to the guidance of his sophomore's tennis-playing father Ismet. "I've never seen a more positive father-son relationship in tennis."
Heidelberg, AFNORTH and Alconbury are the defending team champions of this event, which combines points earned by a school's boys and girls to determine team champions.
According to SHAPE's Ochinang, many of those boys' points are up for grabs in a hyper competitive doubles' draw in which the Ramstein duo of Forrest Kamperman and Aryan Von Eicken are seeded No. 1.
"The boys' doubles field will be crowded this year," he emailed on Tuesday, "because I noticed that the better players are playing doubles and not singles."
Cases in point are International School of Brussels No. 1 singles player Sergio Valdes electing to play doubles instead with Shotaro Shobu, and AFNORTH No. 1 Westin McKinney skipping singles to play doubles with Saverio Young.
Things are more in line with the regular season in the girls' doubles, where Sayaka Goto and Haley Tan of ISB are No. 1 going in, with the Ramstein duo of Michaela Corral and Olivia Rockwell, a silver medalist in 2010, ranked No. 2
Play begins on indoor courts at 8:30 a.m. Thursday and Friday at the Vitis center, the Hochheim tennis center in that wine town, and the Medenhalle tennis center in nearby Medenbach. Saturday's championship and consolation matches begin at 8:30 a.m. Saturday at the Vitis center.
---
---
---
---