Spikers get tips, extra work before season starts
by
Rusty Bryan
August 15, 2011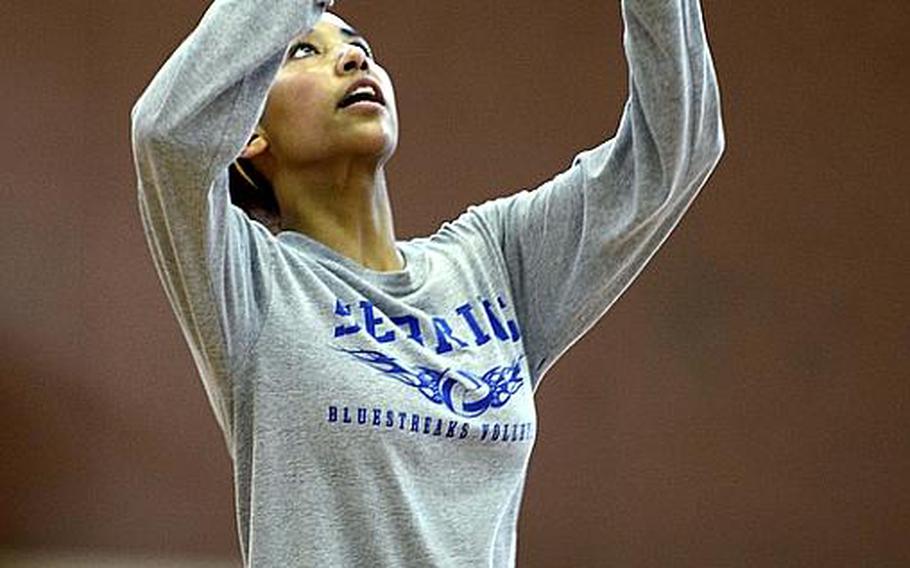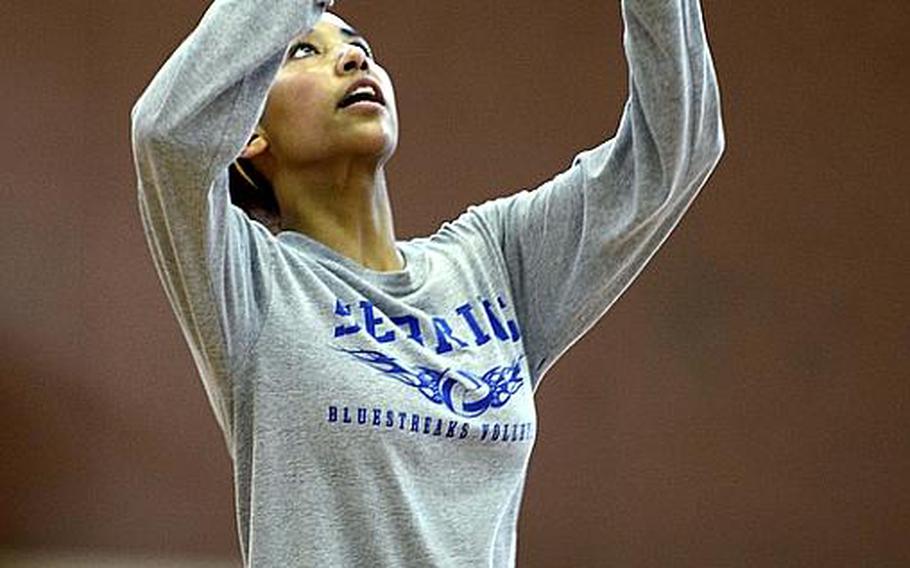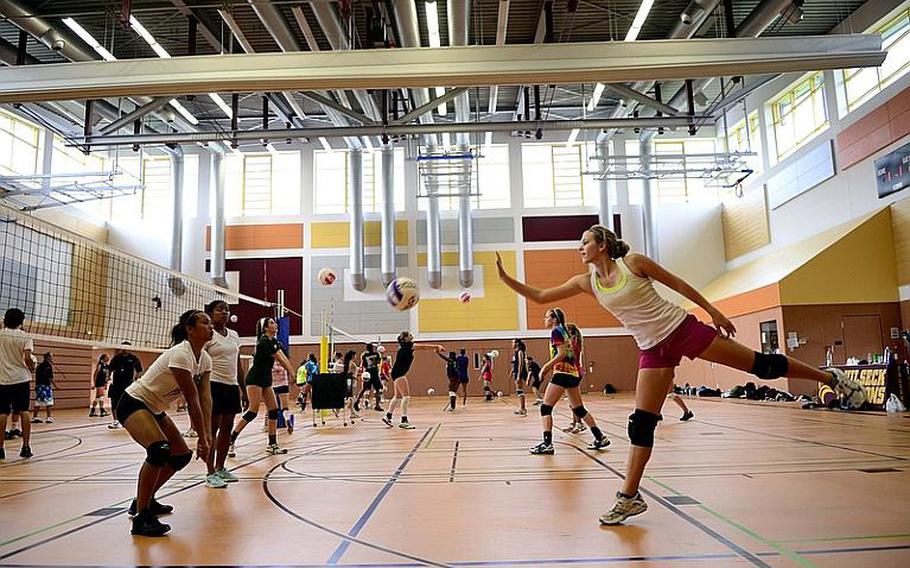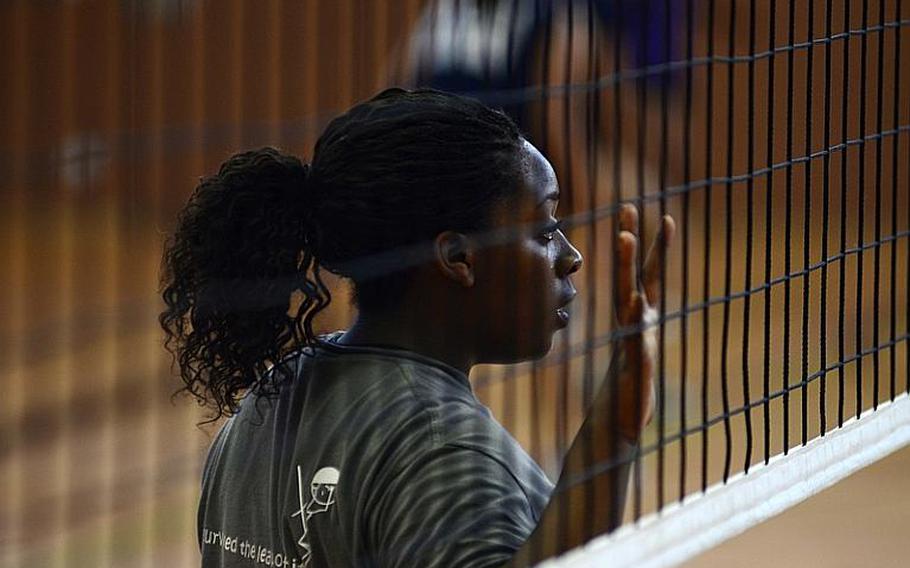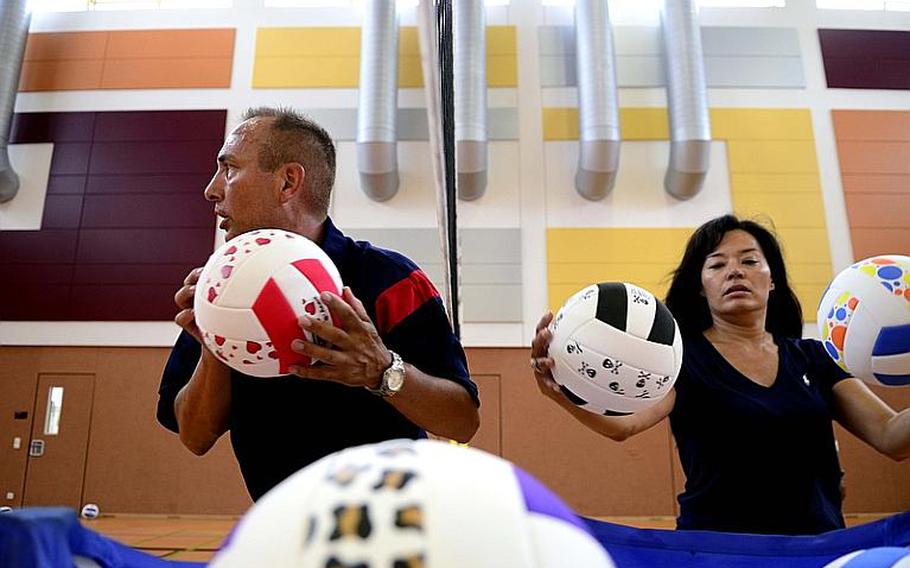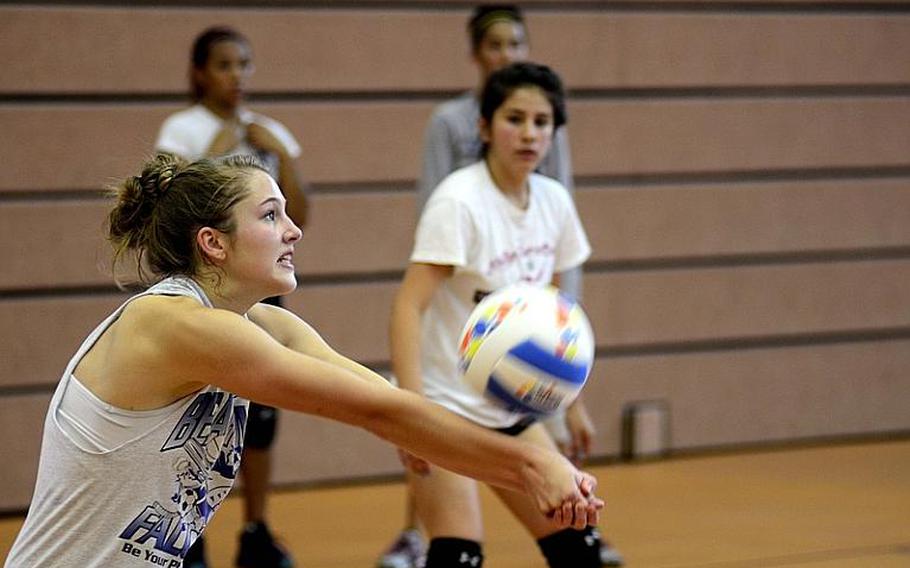 VILSECK, Germany – Some 160 high school students – more than twice as many who attended the initial preseason volleyball camp here last August – opened a week of skills development training Monday under the direction of 13 coaches, including camp director Brian Swenty of Vilseck.
"We initially thought we'd have 100 or so," said Swenty, who welcomed 74 campers last year. "Then in late May there was a surge of interest and I began to add courts and coaches. I don't want to be in the position of having to turn a kid away."
Keaton Pope, 16, who played last year at Bamberg but who's moving to Norfolk, Va., this year, said the drastically enlarged number of campers added something to the 2011 camp the 2010 version didn't have.
"The principles are the same," Pope said, "but you have more people you can learn from."
The process of adding courts led to an added camp activity for many of the campers – a three-mile round trip Volksmarch from the high school where two courts are in use for the two daily three-hour sessions and where the campers spend the night – and the supplemental courts at the Memorial Fitness Center here on this sprawling cavalry post.
Monday, the camp's hikers made the trip in a gentle rain, but few seemed to mind.
"It's really fun," said first-time attendee Rebecca McAdoo, a Baumholder freshman who played middle school ball last year in Kileen, Texas. "Friends told me it's a lot of hard work but it pays off in the end."
Payoff is the main point of the camp, according to staff coach Jamie Coate of Bamberg, a former setter at Georgia Tech who played professionally in Venezuela, "The camp provides skills development," Coate said, "for players at all levels."
One of those levels is rank beginner, according to C.J. Calabrese, 16, whose "Vicenza football" T-shirt bore a shoulder-pad size band of dampness from his morning stroll in the rain.
"Six or seven hours," Calabrese, a former lineman for the Cougars and one of the nine boys attending this year's camp, replied when asked how long he's been playing the game. "My best friend told me I should try (volleyball). We're going to have a great season."
In DODDS-Europe, only schools in the Mediterranean field boys' teams. But that didn't stop male campers from Ramstein and Vilseck from attending and improving the skills they use playing club ball in Germany.
"We're hoping to have a camp just for boys next year," said Swenty. "Italy would be the obvious choice for the camp."
Swenty explained that the benefit of boys-only is the chance to use nets set at the eight-foot height boys use. The girls' nets are six-and-half to seven inches lower.
Swenty said the staff – which includes two coaches from Puerto Rico, Roger Colon and Giovanni Galvez; Patch girls' basketball coach John Kohut, and a vacationer, Enrico Disciatti, from the Jacksonville (Fla.) Junior Volleyball Association – groups players in terms of ability after each day's work.
The grouping, initially based on tests of the campers' vertical leap, ball-handling ability and potential for growth, allows players to be pushed by others who perform at their level.
"The most important thing is to keep a kid in the right group," Swenty said. "If they're on the edge in a group, it's amazing how quickly they'll be pushed to the next level."
The next level also applies to the camp as a whole, said Swenty, who pointed out the camp is more than drills and scrimmages.
"We'll have sessions during the week on strength and conditioning, nutrition and fitness and playing ball in college," he said.
For now, however, the emphasis for most is on this year.
"I'm hoping to improve," Hohenfels junior Kiana Glenn said when asked why she was sacrificing a week of summer vacation to the camps. "Maybe I can bring something back to help my team."