2011 in review
Spending cuts altered military sports landscape
by
Dave Ornauer
December 21, 2011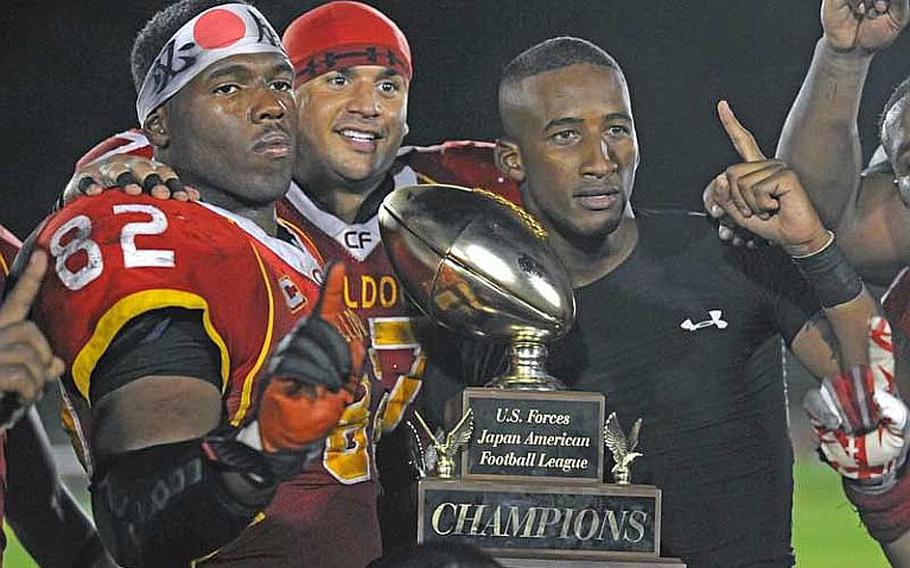 YOKOTA AIR BASE, Japan – Hundreds of billions in Pentagon budget cuts have permeated every area of spending, including military sports in the Pacific.
The drop in funds compelled the Marine Corps to change the way it selects players for its All-Marine sports tryout camps in future years.
A memo from Marine Corps sports headquarters in Quantico, Va., said the Marines plan to shift funds previously used for regional sports tournaments into other aspects of the program.
This includes increasing the number of Marines invited to camps and lengthening the camps' duration, according to Marine Corps sports chief Chuck Rose.
The major change: no longer will Marine regional tournaments be used in the selection process. Instead, the Marines became the last of the four services to switch to selecting tryout candidates by resume. The Air Force made that switch in 1992 and the Army and Navy in 1972.
"I believe this decision is necessary to try to keep our All-Marine sports programs at the highest level possible," Rose said. "It also brings all our (athletics directors) into the mix on who should or should not go" to camps.
Athletics directors "will be required to put (their) educated thoughts and comments on each application before it's forwarded" to Marine Corps sports.
The change has been named Stars and Stripes Pacific military sports Story of the Year for 2011.
No. 2: Bulldogs rally past Jets for second USFJ-AFL title
Misawa led 20-2 at halftime and appeared poised to continue home-field dominance in the U.S. Forces Japan-American Football League championship Torii Bowl. No road team had ever won the game, until Aug. 20, when Wylie Flowers and the Foster Bulldogs defense forced three second-half takeaways that they converted into points for a 24-20 come-from-behind victory. Quarterback James Sanford accounted for 321 offensive yards and three touchdowns.
No. 3: Army dominates Navy in flag-football rivalry games
Josh Harris' interception-return touchdown in the closing minutes proved to be the turning point, as Okinawa's Army unit rallied from a 21-12 deficit to upend Navy 25-21 on Dec. 10, giving soldiers a three-game sweep of 2011 Army-Navy flag-football rivalry week. It was Army's 17th win in 22 games in the Commander's Trophy series. Army also beat Navy 19-7 at Camp Zama, Japan, evening their Kanto Trophy series at 5-5. And in Korea's Peninsula Trophy series on Dec. 3 at Seoul American High School, Army routed Korea 30-0, making it 13 victories in 16 games.
No. 4: Hodgdon's catch sparks Scrapalators in Pac-wide softball tourney
All-Armed Forces outfielder Ralph Hodgdon played a huge part in Scrapalators comeback victory over Okinawa's American Legion in the Pacificwide Open Softball Tournament on May 30 at Yongsan Garrison, South Korea. He robbed Keahi Kapana of a three-run homer with a leaping catch at the right-field fence and Scrapalators rallied to win 31-30, forcing a second and deciding double-elimination final game, which Scraps won 33-16.
No. 5: Poo's bat helps 3rd MLG repeat Marine softball title
In what may have been the last Marine regional softball tournament in history, former All-Marine Francisco Poo played a major part in 3rd Marine Logistics Group's repeat championship. He batted 4-for-4 with two triples and two RBIs as 3rd MLG beat Marine Corps Base Camp S.D. Butler 11-9 in the title game Aug. 12 at Okinawa's Camp Foster.